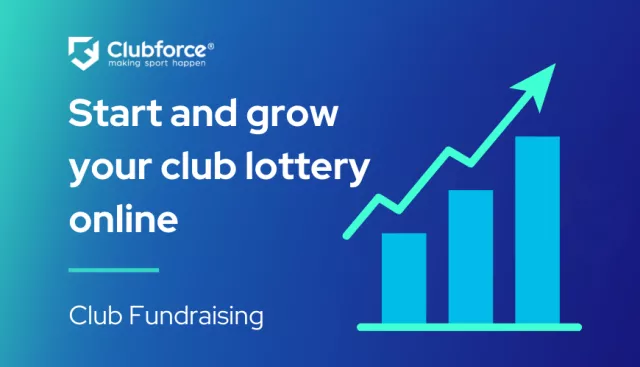 Clubforce sports clubs lotteries continue to grow year on year in 2023 and so there's never been a better time to get your new sports club lottery started. Whether you're starting from scratch or moving an existing online or offline lottery to Clubforce, we've got you covered with our ten simple steps to get your lotto up and running.
A lottery can be a fantastic fundraising tool for your club and by using an online lottery tool it's also possible to raise more money for your club with less effort. Whilst some clubs have simply sold tickets through an online shop, running a club lottery is easier with Clubforce as our platform delivers much more than just selling the tickets.
One key feature that is delivering continuous growth is our auto-renewal functionality. With Clubforce, 54% of lottery players choose to auto-renew their tickets meaning a regular, reliable income stream for clubs. Online tickets are automatically entered into sequential lottery draws and automatically checked against winning numbers. Results are also published via email and direct to social media and all receipts, results and reminders can be issued to the player via email and or app notification. When you use the Clubforce fundraising lottery system and membership system, it's easy to notify your entire club of fundraising initiatives and keeping everyone up-to-date is quick and easy using the communications module and app!

The steps below will walk you through the most common set-up for fundraising lottery on the Clubforce system:
Step 1 – Apply for a lottery license
To comply with the law, it's important to have a club lottery license. The process for applying for a club lottery license is fairly straightforward and this article on Clubforce explains how to go about it.
Step 2- Set a target
How much does your club expect to raise? Have a goal to work towards – many clubs have funded significant capital projects from club lottery fundraising alone. A little bit of effort from club volunteers in promoting the venture goes a long way to achieving very ambitious goals. Communicating the target to members and supporters – e.g. if it's for a new clubhouse or Astro facility – can also encourage them to play in support of the club.
Step 3: Choose your format
The most common options are choosing 4 numbers from 28 (winning odds circa 20,000/1) or 4 from 32 (odds of about 36,000/1). There are alternatives but these are the best-known, tried, and trusted formats.
Step 4: Select ticket value and entry types
The most common ticket value is €2 per line or £1 per line in the UK. This can be sold in multiples and many clubs add a discounted 52-week option for members to purchase once a year when they are in the process of renewing their membership, giving the club an additional revenue boost at the start of the year.
Step 5: Select prize values
Higher jackpots attract more interest – we recommend at least €1,000 or £1,000 as a starting point with weekly increments of €/£100. Secondary prizes can include small match 3 cash prizes (e.g. €/£150 – €/£200 win/share) and/or lucky dips.
Step 6: Seek a sponsor
A local business or existing club sponsor may fund some or all of the initial jackpot amount in return for having their company logo placed on emails sent to players through the Clubforce system. This would be far cheaper than most forms of online advertising for small businesses and gets them regular exposure to local people who might buy their products and services.
Step 7: Set draw date and frequency
Choose the day for hosting your draw – this can be any day of the week or weekend. Most clubs choose Sunday or Monday but the most important thing is to have a consistent day and time so players know the club's routine. For draw frequency, 95% of lotteries are run each week.
Step 8: Promote the lottery
Once set up on Clubforce, all you have to do is share the web link to let people start playing. Share on Facebook, in messaging apps and via the Clubforce app and newsletter.
Step 9: Manage the draw
Clubs can either run a physical draw (and broadcast on Facebook live) or choose draw numbers using the Clubforce random number generator. Training will be provided on how to do this on the Clubforce system.
Step 10: Repeat Steps 8 and 9
Repeat steps 8 to 9 each week to grow the lottery as a reliable club fundraiser and continuously increase baseline income. One person can do this in as little as 20-30 minutes per week which is a huge time-saving compared to running the lottery any other way.