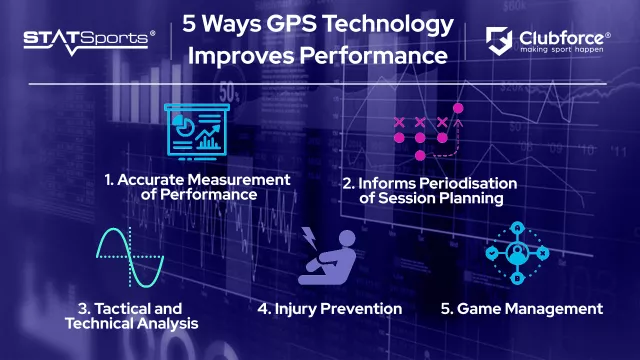 As part of a newly-launched partnership between Clubforce and STATSports, the world's leading provider of GPS trackers for sport, Connor Clancy from STATSports explores five ways that GPS technology can help increase performance in GAA club teams.
This blog is complementary content to the Performance Technology For The GAA live online event on Tuesday December 7th 2021. Click here to register.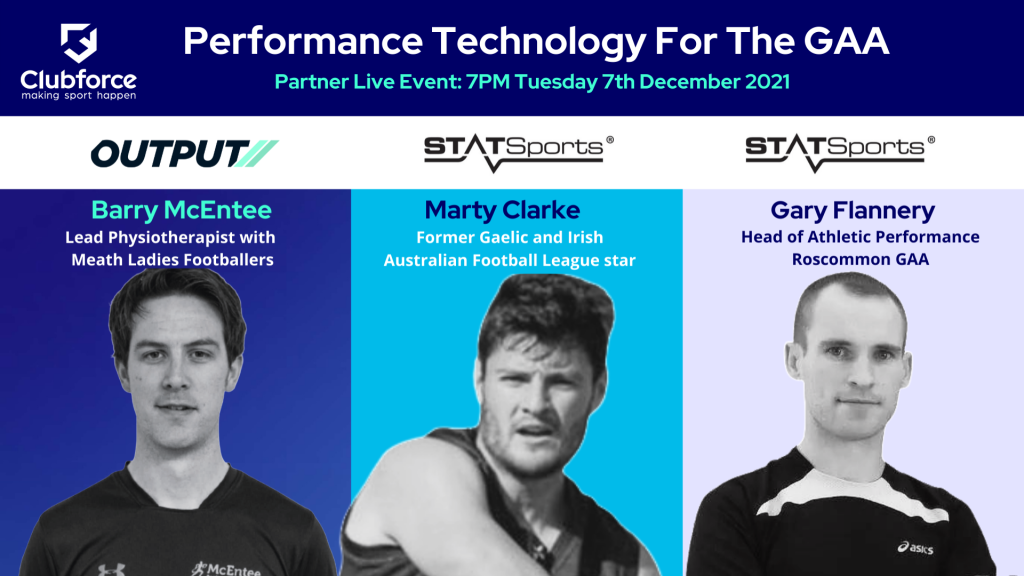 Performance Technology For The GAA
The rise of GPS technology in elite sport over the last decade has been enormous. Reflecting on the last 10 years and more, in an era when only the world's sporting giants pioneered the use of GPS, to the present day where there is not a single team in the top 4 tiers of English football not using some form of athlete monitoring system. In Ireland, a similar pattern has started to emerge with many sports, including GAA, starting to embrace GPS technology as the awareness and understanding around the sight of a GPS unit in the back of the county jersey has grown. This rapid growth in the use of player tracking technology from the top down in the GAA looks set to continue as products are developed with club teams and players in mind. No longer is GPS an unattainable concept but a real and tangible tool which can be used to drive competition, performance and overall development of amateur players and coaches alike.
For example, our STATSports Apex Coach Series was developed with amateur teams in mind to mesh some of our own metrics and features with an easy-to-use, clear and concise app. This type of technology gives coaches instantaneous feedback without any time-consuming downloading or analysis steps. The technology itself is built with our tried and trusted Athlete Series units as its backbone, with sessions being automatically synced back to a master Coach Series app.
Highly detailed measure of performance
As the roles of fitness and S&C coaches have evolved in club GAA so has the dreaded battery of testing that looms large after the winter break, and often mid-season, to track the progression of the squad over time. Clubs renting speed gates and spending time setting up courses for 6-minute runs or 1km time trials is a common theme. A player simply wearing a GPS unit during a testing session will save a lot of time and effort for coaches and avoid the frantic scribbling down of times for each player on the clipboard.
The first and most obvious thing a coach can see post-session (without any analysis or tinkering with spreadsheets) is each player's maximum speed. This output might be attained from a standardised 40m sprint or in a more game-specific training drill designed to elicit top-end speeds. Both will provide an objective marker of a player's speed profile in relation to their peak velocity. This speed can then be retested using the same method to check for any fluctuations over time. A coach can also look at distances covered in the session on their interactive app to get a more accurate look at each player's performance in the aerobic tests compared to the average.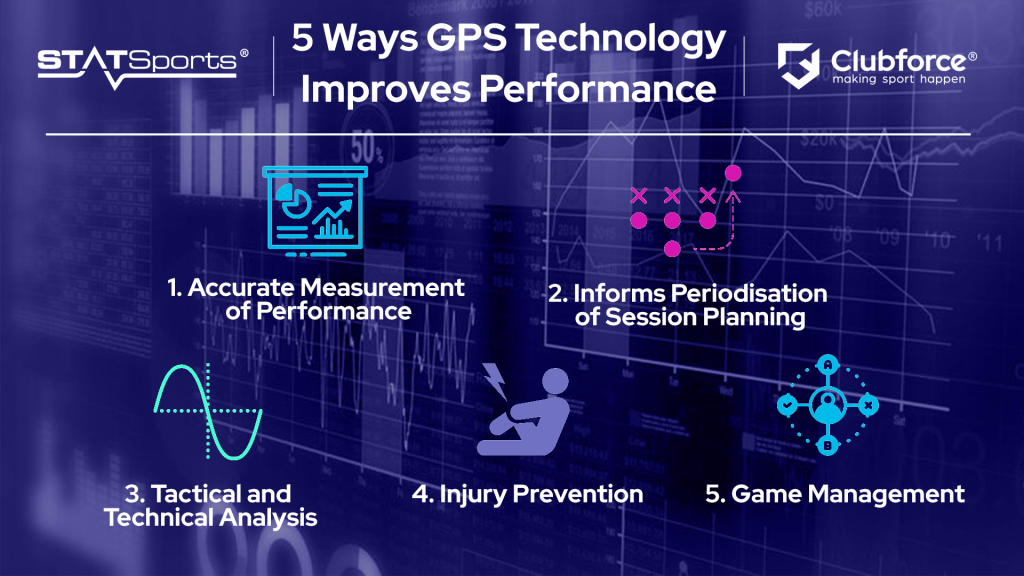 Session planning
In the GAA world, we have all seen poorly laid out spreadsheets and group messages from coaches and managers outlining the loose plan for the next few weeks as well as the inevitable last-minute alterations. With a GPS coach's app, members of management have the opportunity to add as many squad sessions and games to a custom-built calendar as they like throughout the pre-season, league and championship phases.
This is in addition to adding in any sessions prescribed to individuals or smaller groups to be completed away from the group setting (highly applicable during the off-season phase). The calendar also gives you the ability as a coach to add notes to sessions and games as well as logging the opposition, venue, score etc. for games throughout the season. This logging feature is of significance as it gives coaches the opportunity to look back on previous results against certain opposition teams or on certain pitches to give a snapshot of the physical output associated with those particular conditions when planning for similar games.
With many sessions being carried out individually rather than collectively, the system allows coaches to schedule sessions and send push notifications for players to complete said sessions. After completing a session, each player's data is automatically uploaded to the ACS application for analysis. The coach will then be prompted on how many members of the squad have not downloaded/synced a session. This has really improved player buy-in across the board and has allowed coaches to confidently set sessions and progress workload accordingly.
Detailed tactical and technical analysis
A key consideration when it comes to analysing GAA data is that it's not all about the numbers in terms of who has the most high-speed running metres or who is working at the highest intensity. With the skills of the game, tactics and positioning still being so pivotal in both codes to this day, concentrating all our attention on the data and the physical output of a player may be counter-intuitive. The Coach Series platform gives the user license to go beyond the numbers and delve deeper into the analysis of games and training sessions with the technical analysis tools.
These tools include heat maps and zonal breakdowns which gives coach and player a view of where each individual player spent the most time on the pitch e.g. analysing a midfield player to see what percentage of time they spent in the attacking third and how much time they spent tracking back to their defensive third. The sprints tool is also a useful tactical feature in which you can pinpoint where a player's sprints occurred. This may be handy when looking at a defender and what percentage of his sprints occurred driving forward on attack and conversely, what amount happened when tracking back facing their own goal. These features give context to a coach on a player's positional sense and tactical knowledge without having to use any camera tracking systems etc.
Minimising the risk of injury and burn-out
When it comes to preparing correctly for important games and protecting against injuries, the GAA has come a long way in recent times with "over-training" and burnout being big talking points especially relating to young players. The case of the player being part of a number of teams at once, however, is still commonplace, with talented young players often expected to line out with underage teams, adult teams, inter-county development teams as well as participating in other sports alongside the GAA season.
This makes it more difficult for coaches to ensure their athletes are not "over-trained" or to a lesser extent, "under-trained" leading into critical periods of a season. Having comprehensive data on players gives coaches from all teams that a player is involved in a comprehensive view of the player's load for the weeks leading up to competitive games. As this becomes the norm, coaches and players will be able to regulate workloads and put in place proper recovery and tapering strategies to ensure optimum performance and to reduce the incidence of burnout and the associated injury risk.
Informing in-game decisions
Following the pre-season testing, the first thing coaches and players will be keen to examine is the individual and collective output of the team on game day, whether it be a challenge game, a league game or a full-blooded GAA Championship game. Analysing and understanding the physical output in game scenarios is amongst the most important aspects when it comes to utilising GPS as it gives you the chance to get a real feel for a player's capabilities as well as a chance to appreciate what you are preparing a team for during periods of training. A GPS system displays data at the fingertips of the management team post-game can be interpreted and used in countless ways.
Conclusion
The key use that stands out to me personally is the ability to track an individual player's progress over a season, from the first challenge game in the rain in January to the first round of the championship and beyond. With this data, you can compare a player's output in different positions as well as in different roles, depending on opposition, conditions, etc. This may be particularly important when looking at a young player for the first time and assessing whether they can physically carry out the role you have in mind for them when compared with a more experienced player. With any player, but particularly with young players, monitoring progression is fundamental to long-term athletic development. The data collected over a player's career can provide invaluable insights in training and game demands for future generations of aspiring hurlers and footballers.
This blog is complementary content to the Performance Technology For The GAA live online event on Tuesday December 7th 2021. Click here to register.