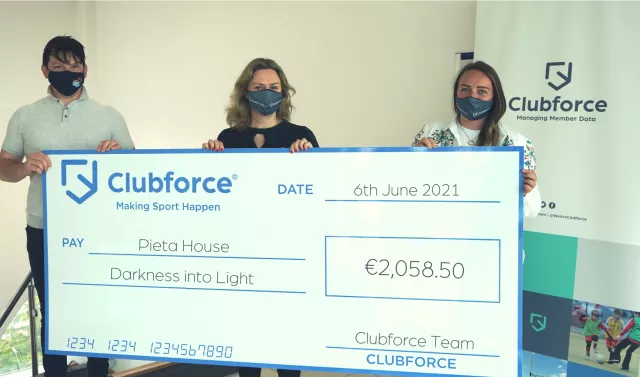 The team was delighted when Pieta House confirmed last week that Clubforce had raised €2058.50 for the charity during the Darkness Into Light campaign in 2021. Pictured above is Joe Burke from Pieta House (left) with Rachel Kavanagh, Chief Marketing Officer at Clubforce (middle) and Nicole Fowley, Event Organiser at Clubforce (right) receiving the cheque at Clubforce Headquarters in Galway, Ireland.
As well as raising valuable funds for a worthy cause, Darkness Into Light proved a great ice-breaking exercise for team members newly hired and served as a way to connect with colleagues across the company and across the country.
Still very much at the peak of the restrictions, the Saturday morning provided an opportunity to informally gather for a collective positive goal. Many of the team had never, and still have not, met in person as the company has almost doubled in size since January. Despite dreadful weather and a very early start, sharing sunrise moments truly felt like a spark of hope in a time of (self) isolation.
Mental Health And The Benefits of Sport
Many of the Clubforce team are highly engaged in sport and recognise the important role that participation in any sport can play in good mental health. Tomas Jakeman from our sales team captures this nicely in his article Darkness Into Light And A Return To Mental Wellbeing Through Sport. Tomas highlights the lost benefits of sport during the COVID-19 pandemic. He also provides some practical insights on how to feel good again by engaging in a sporting activity or joining a club, along with the proven benefits such as social support, reduced stress and improved concentration.
Pieta House relies on public donations for almost 80% of revenues and we were delighted to contribute in particular this year with feelings of isolation and depression at an unprecedented all time high and six in ten people reporting that their mental health has been negatively impacted by COVID-19.
We would like to thank Donna Burke, Joe Burke and all at Pieta House for giving our team at Clubforce our own spark of hope and we wish them all the best with the wonderful work they do.
What Is Pieta House?
Pieta House first opened its doors in Dublin in 2006. Since then the organisation has helped over 60,000 people in suicidal distress, engaging in self-harm or those bereaved by suicide. Pieta now operates at 20 locations across Ireland employing over 200 therapists and support staff. Pieta provides a professional and confidential one-to-one therapeutic service. All services are provided free of charge and no referral is needed.
What to do if you need help?
Don't hesitate to call Pieta helpline on 1800 247 247 or text "help" to 5144 any time of the day. Visit the website at www.pieta.ie
About the Author