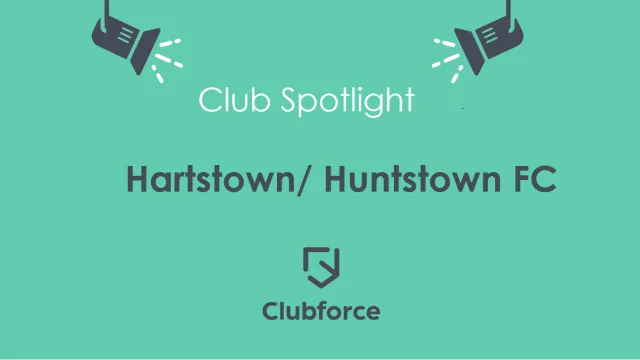 This month Clubforce is highlighting another club using the Clubforce sports participation management system to manage club membership, raise funds and communicate with members. The idea behind the Club Spotlight is to shine a light on the efforts of club volunteers, to draw attention to well-run amateur sports clubs and to share ideas and best practices with other clubs around the country who are looking for ideas on how to run their clubs more efficiently. The club to be featured in Club Spotlight is Hartstown/ Huntstown FC based in County Dublin.
Club of the Month: Hartstown/ Huntstown FC
About the Club
In 2011 Hartstown United & Huntstown Villa joined forces to create Hartstown Huntstown FC after previous years had led to a decline in participation at the respective clubs. Since their amalgamation they have transformed as the club membership totals have soared to over 500 consisting of 450 registered players, 60 voluntary managers, coaches and committee members and continues to grow year-on-year.
Hartstown Huntstown has eighteen teams in total which includes two senior teams. The club have had a lot of success in recent years with their senior team winning three league titles in the last five years. There has been a big emphasis on the youth within the club and last year proved that as their U-14 team became league champions and also the U-13's secured a cup title.
The club is very efficient at keeping members updated with their latest news, fixtures and results and their latest fundraising events. Interest for fundraising events increases by posting through their Facebook page which currently has 3,600 followers and their Twitter page which has 300 followers.
The club's last big fundraiser was a Strictly Come Dancing event which was in aid of mental health awareness. The club is also keen to promote their youth teams, the picture below is the club's up and coming under 7's team which was posted on the Hartstown Huntstown Facebook page.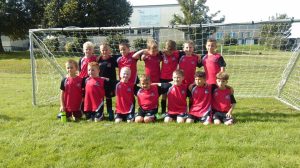 The club website is constantly updated which has helped to generate interaction with fellow members as there is a direct link to their Twitter page.
The website is very user friendly which grants members to pay for membership and camps easily and allows members to buy their latest club gear online in their club shop section.
Moving Online With Clubforce
The club joined up with Clubforce in 2018 to register members online and have also been using Clubforce's system for camps and fundraising events. Tony Lawless, the club chairperson stated the club have only been on board less than a year and are pleased with the impact the system has had on the club, drastically reducing the administrative burden on volunteers – with the FAInet integration in particular something Tony is thankful for.
"It really makes life so much easier; it has definitely saved us many hours if not days of hassle with regards to paperwork. In previous years everything was done manually but now it's so much more efficient – not having to send off the FAI forms is something I won't miss," he said.
Tony also mentioned there was a great uptake in the first year of using the online system to register members.
"We pretty much had a 99% success rate with membership payments," he added before highlighting some of the time-saving the new features in the Clubforce app:
"Being able to glance at who has paid their membership has been very helpful. The days of doing up our own excel sheet are gone, and once the money is paid online it sends a direct link to the FAI which cuts out so much man hours!"
Tony noted that the club's membership information is now much easier to access, making it a far simpler process to prepare for club meetings:
"It's brilliant really! It's very useful for printing off reports and particularly when we have club meetings, the information is there online and I think we are actually making use of this information since Clubforce was installed."
Summer Camps
Hartstown Huntstown are very much a club that are growing in numbers and similarly their soccer camp events seem to be evolving. The first camp that was promoted through Clubforce's system was their 2019 Easter Camp which turned about to be a major success, "selling out in less than two weeks" according to Tony.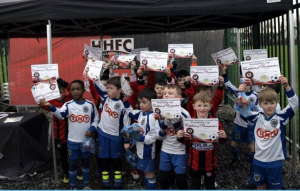 Due to the success of this, the club has set up another camp – the upcoming June Mini Leagues which take place next month.
"The youth system we have in the club is very well run and we do place a big emphasis on the youth teams, they are the future of the club after all. Parents being able to pay online is a big help and I think it will help members be more familiar with paying online when the club has fundraisers in the near future."
The club also hosted their Friendship Cup event which was very popular on the day and encourage the youth to interact with fellow team-mates.
Tony also made reference to the number of volunteers it took to organise these camps prior to using Clubforce and says that they system has reduced the volunteering burden considerably:
"It helps a lot with man power and its not as much strain on the parents when we're collecting the money."
Clubforce provides a variety of different functions to make life easier for club volunteers, if you would like to see how Clubforce can help your club run more efficiently, call us today on +353-91-506048