Sports clubs across the country are coming up with innovative ways to raise funds and more clubs are turning towards using their facilities to host concerts, youth discos and other entertainment events in an effort to boost the club's bank balance and engage their local communities in the process.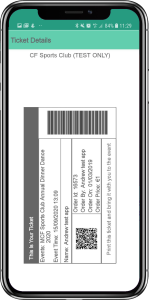 Clubforce helps these clubs by providing an online ticket platform as part of the overall sports participation management (SPM) system. The Clubforce ticket module allows club members (and non-members) to buy tickets online and receive their ticket via email. Tickets include a barcode which can be scanned to gain entry – either in printed form or on the attendees mobile phone, removing the need for the club to buy, print and distribute physical tickets with all monies raised immediately available to club officials to transfer to the club bank account. All scanned tickets are then reported in the Clubforce admin panel – a very useful feature for keeping attendance records, particularly for underage discos.
Many of the club using Clubforce have events upcoming with tickets for sale here on Clubforce, check them out below:
2nd June: West's Awake
Clonoulty Rossmore GAA Grounds, Co. Tipperary
Headline act for the music festival taking place in Tipperary this weekend is none other than The Blizzards. Support acts include The 2 Johnnies, Rebel hearts, THE PAPA ZITAS, Strings and Things. Food and full bar facilities available with doors opening at 12:30pm. Tickets are €20 and can be purchase here.
22nd June: ShedFest

Buffers Alley GAA Grounds, Co. Wexford
Now in it's 10th year, ShedFest . Early Bird Tickets to ShedFest are €20 online (early bird offer ends today) and available here. Thereafter, online tickets are available at €25 which is still €5 cheaper than paying on the day.
22nd June: Bernard Casey
Mallow GAA Grounds, Co. Cork
Comedian Bernard Casey takes to the stage at the Mallow GAA Complex in aid of Mallow Camogie. Show starts at 9:15pm and tickets for Bernard Casey cost €20 and can be purchased here.
20th July: Jake Carter
St Laurence's GAA Grounds, Narraghmore, Co. Kildare
Liverpudlian pop star and 'Dancing with the Stars' winner Jake Carter will play with his live band at the St Laurence's GAA Grounds in July. Tickets are €25 and available on Clubforce through Kiltegan GAA here. Doors open at 7:30pm with a fully licensed bar in operation.
Got your own gig to share?
Send us your club gig to be added to the list for upcoming club events on the Club Gig Guide and if you would like information on how your club can sell tickets to events through Clubforce call us on +353-91-506048 or fill in the form at the bottom of this page and we will contact you!