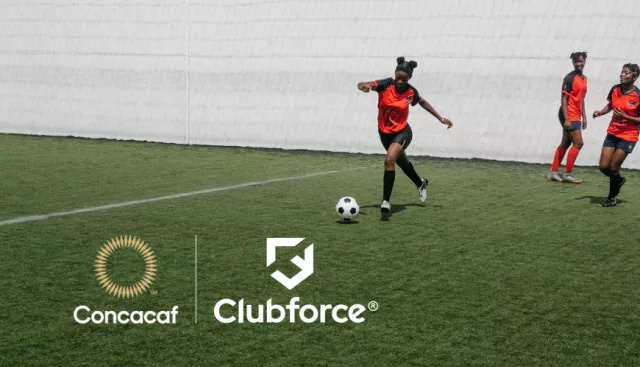 Clubforce, the sports technology business making sport happen, has been retained by Concacaf, the Confederation of North, Central America and Caribbean Association Football to help drive forward the development of young football players. The partnership will see Concacaf use Clubforce's sports management platform to underpin their development programme, which extends across Concacaf's 41 member associations, from Canada and North America in the north to Guyana, Suriname and French Guiana in the south.
Clubforce's platform will be used to monitor the delivery of the Concacaf development programme and provide intelligent insights through the built-in analytics capability. Clubforce will be used to keep track of young people taking part in the programme, as well as the community activators and facilitators delivering the programme, significantly reducing the administrative burden. In addition, Clubforce will provide actionable insights to allow Concacaf to optimise the delivery of the programme.
Clubforce's responsible approach to data security was a key reason for Concacaf's confidence in the platform. Clubforce is certified to ISO27001 standard for information security. This ensures that the best practices in relation to data security are in place, maintained and regularly reviewed throughout the organisation and platform.
The project represents another significant step in Clubforce's international expansion as Noel Murray, Chief Executive Officer at Clubforce explained: "We have invested significantly in building a secure, connected ecosystem which delivers a complete sports management solution for organisations from governing bodies, like Concacaf, all the way through to clubs and coaches. I'm delighted that the power of our platform to unlock the value of data has been recognised by an international organisation on the scale of Concacaf."
Speaking about the launch of the project, Colm Ó Méalóid, International Key Accounts at Clubforce, said: "We're very excited to support Concacaf with this project. Our aim is to not only solve the administrative burden that comes with deploying such a programme across multiple regions but also to generate actionable insights from the data via our analytics tool. This will allow stakeholders to easily understand how the programme is developing across the various regions."
Both organisations share a vision to make sport happen and accessible to all. Through the optimisation of the development programme, young people, including those from underprivileged communities, will have the opportunity to improve both their own lives and the prospects of their communities through the transformative power of football.