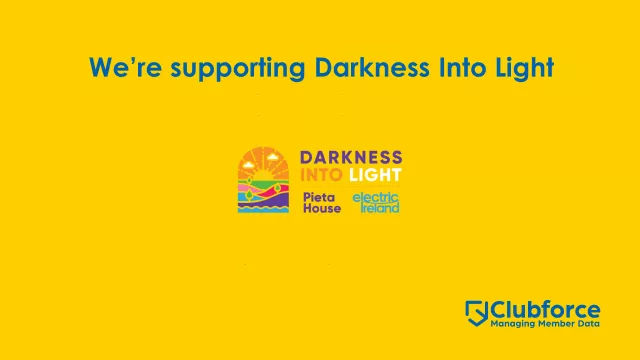 Sports participation helps your mental health
Darkness into light
On Saturday, the 11th of May Darkness into Light will take place over 168 different venues across Ireland. The annual walking event fundraiser originally began in 2009 at Phoenix Park where 400 people took part. Since then the event has been an amazing success with 2018's participation figures reaching 200,000 people and taking place over 16 different countries across 5 continents. Since the event began the public have supported the campaign massively helping to raise almost €20 million. This money in turn has enabled Pieta House to continue their service and to provide a 24-hour help service.
The continued growth of Darkness into Light has provided an opportunity for people to connect with their community and to support those who have been affected by suicide. The fund-raising event has extended globally with dedicated volunteers travelling from far and wide to support mental health awareness and to continue the fight against suicide and self-harm.
Here at Clubforce, we see great value in the role sport has to play in improving and maintaining good mental health. It's an important and topical conversation and we are looking forward to participating in the walk this weekend.
Sports participation at all ages contributes significantly to positive mental health, many of the benefits are outlined below. We feel this is an important message to share with all parents, coaches, volunteers and members of any sports club and anyone who is not currently involved in sport.
The benefits of playing in a sports club
We work with thousands of dedicated volunteers across Ireland who make a massive contribution to their communities. The realisable benefits apply to volunteers and to members:
Improves mood
It has been proven that any kind of physical activity triggers the release of chemicals called endorphins, by increasing your heart rate and having fun at the same time. This is the reason for having that feel-good factor after burning a sweat. Being involved in a club can encourage a member to work towards goals which in turn can be extremely rewarding and empowering. Goals can differ, but accomplishing a goal is an achievement in every walk of life that can generate feelings of self-worth and confidence.
Improves concentration
The power of exercise keeps your mental skills intact which is vital for critical thinking and concentration abilities. Participating in physical activity such as playing in sports can help to prevent cognitive disorders and helps to create positive thought processes.
Reduces stress and feelings of depression
Exercise has been proven to reduce levels of stress hormones which in turn can contribute to keeping depression at bay as well as playing your favourite sport.
Socialization/ Support group
Being involved in a team environment can provide the perfect opportunity for social interaction and to spend time with friends. It also provides a valuable support system to someone who may feel vulnerable.
The positive link between sport and education
The ex-Ireland rugby captain Fiona Coughlan says giving up sport during exams is one of the "biggest mistakes" a student can make in their school years. The former athlete and teacher at Lucan Community College has stated that being active in sport can do wonders for a student's stress and mental health.
"You can only study so much and making time to exercise and clear your head is essential. Young people need to have outlets in their lives and being active in a sport is one of the best things they can do," Fiona told the Irish Independent.
According to a 2013 ESRI report it is clear that students studying for the leaving cert can benefit from playing sports to relieve that ferocious pressure on the points race.
Ali Twomey, a 20-year-old event management student in DIT, played camogie for Lucan Sarsfield's during her time in secondary school. Ali swore by playing sport during her exams and felt it was a key element to her being able to relax while she sat her exams.
"It definitely helped me in the Leaving Cert because I had greater control over my emotions.
"Therefore, I didn't crack or panic under pressure when it actually came to the exams," Ali told the Irish Independent.
What to do if you feel low
Both Pieta House and Samaritans provide a completely confidential service who are here to help if anyone is feeling depressed. Pieta House operates a suicide bereavement counselling centre, free counselling and support.
Please don't hesitate to call Pieta House helpline on 1800 247 247 or call Samaritans on (091)561 222