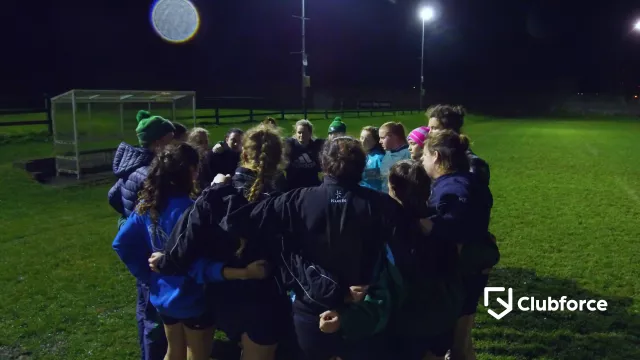 The Clubforce Emerging Talent programme was created to help bridge the gap between underage and senior level women's rugby in Connacht. Clubforce have agreed a three-year partnership with Connacht Rugby aiming solely to grow and develop the women's game in the West of Ireland.
The first training session took place on Wednesday the 6th of November. This session included some new initiatives such as body fat testing, fitness testing and position specific skills work with Connacht Rugby Regional Development officer Craig Hansberry and Connacht and Irish International Mary Healy. This is the first time body fat/skin-fold testing has ever been carried out on a Connacht women's team.
Speaking about the Programme, Emer O'Dowd, Head Coach said:
"Thankfully Connacht Rugby has ring-fenced this partnership/funding with Clubforce, it allows us to offer new initiatives like the skin-fold testing with Sophie Conroy (Connacht Rugby Nutritionist), it allows us to bring Ann Caffrey in who works with the IRFU and Connacht to do the necessary tests to give us an idea as to where they are at as a player"
This partnership gives Connacht Rugby the means to invest more in women's rugby throughout the province. Each player will be given gym programmes and nutritional guidance outside of the collective pitch sessions. There will be several tests carried out in the coming months to see how each player is progressing.
Ann Caffrey, Strength & Conditioning coach also outlined her plans for the programme:
"At this level as the game has got more physical and more demanding, I want to see an increase in movement patterns. I will take them into the gym and work on their jumping and sprinting techniques. I want to get them comfortable being under a bar and get them use to being in a tested competitive environment"
This initiative allows Connacht Rugby to bring in outside coaches such as Connacht Head coach Andy Friend and Defence Coach Peter Wilkins who will be taking some sessions. For the first time in the history of Connacht women's rugby, a tour outside Ireland is being organised, with games being scheduled overseas.
Natalie Fox has been appointed as team manager this year, she has previously been involved with the U18 Connacht women's squad. Natalie sees this appointment as a great opportunity for her as a manager and volunteer, it's a step up from last year and she's really looking forward to the challenge.
Natalie added that an exciting year lies in store for the all involved:
"Everything is going to be done on a larger scale, so it's far more exciting, it's a very big programme and a great opportunity not just for the girls but for me, I'm really looking forward to it"
With the women's game growing vastly around the world, Connacht rugby are making sure that they are educating and developing this squad not just on the pitch but off the pitch too. In some countries the women's game has turned fully professional or semi pro. With this funding from Clubforce, Connacht Rugby are doing everything to ensure they are laying the foundations of a professional culture for this squad. Sophie Conroy (Connacht Nutritionist) will be looking into their daily nutrition and making sure they are fuelling their bodies correctly.
Nutritionist Sophie gave an insight into how her role helps the players develop:
"We try to stay away from food plans and really educate them to be able to know the right ways to eat specific sports nutrition, to benefit their performance in training."
"The hope is to increase lean mass and reduce body fat which can potentially benefit performance in a positive manner."
Clubforce are delighted to be involved and excited to see what the future holds for this group and for women's rugby as a whole in Ireland.
Emer O'Dowd tied this partnership together in one simple sentence:
"At the end of the day, we want to improve Connacht rugby as a whole throughout the province"
Stay tuned to all our social media channels for updates on this programme in the new year.
Click here to watch the video.