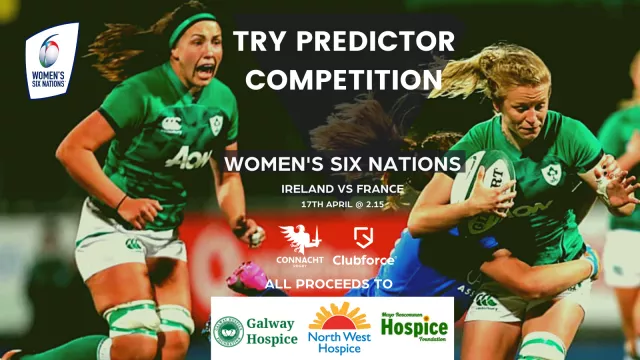 Try Predictor Competition
As a keen sportswoman from the West, and a former Irish International rugby player, one of the benefits of working at Clubforce is an ability to mix business and pleasure. Not only do I have the chance to support clubs with automation but I also get to support causes that are truly my passions. A massive highlight has been our partnership with Connacht Rugby and sponsoring their three-year plan to encourage young girls to play rugby. Our alliance is aimed solely at growing and developing Women's Rugby in the West of Ireland, helping to bridge the gap between underage and senior participation.
We've decided this month to proudly celebrate the three Connacht players representing Ireland in this year's Six Nations; Laura Feely, Nichola Fryday and Beibhinn Parsons. We're launching a Try Predictor Competition for their home game vs France on April 17th at 2.15pm.
This is the first Connacht Rugby competition for the Women's Six Nations with entry fee of €5 and all proceeds going to the three Hospice's in Connacht, North West Hospice, Mayo/Roscommon and Galway. A charity that is close to the heart of Connacht Rugby and also here at Clubforce.
Two great prizes up for grabs, a zoom Q&A with Connacht captains Jarrad Butler and Nichola Fryday and one of the brand new Connacht jerseys.
And the controversial question… what if the winner is male? Should we have Jarrad on his own?
We knew that wasn't the right answer and would go against everything we are working towards in our partnership with Connacht Rugby. The two stars will appear online as both Nichola and Jarrad are role models for both male and female athletes all around Ireland. Having Nichola alongside Jarrad shows the sports community that women's rugby is just as important as mens.
This echoes the sentiments of Sue Anstiss CEO of Fearless Women who spoke at the Sport for Business Women in Sport conference just a couple of weeks ago.
"Change will only happen if we can engage and work with our male allies. It's about visibility. Sharing the stories of the sports doing well, to get others on board. Visibility is where it starts for me".
And I agree. Times are changing, with great role models like Katie Taylor and Rachel Blackmore influencing girls and women as well as men in the sport, but there is still much to do. It's my personal goal to continue to work for visibility, driving women's sport forward and creating equal opportunities, with Connacht Rugby, at Clubforce and beyond.
Our competition link is now live, click here to enter: https://bit.ly/3mUX9Z6