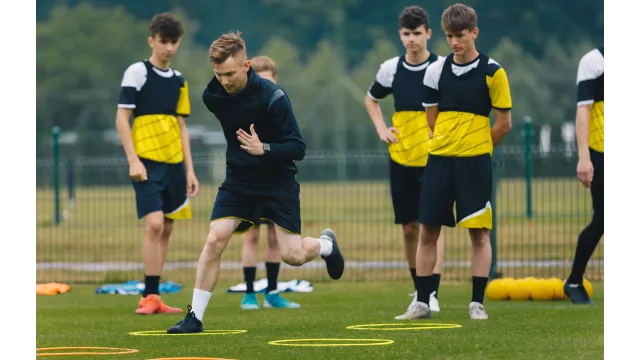 In the second of our Club Management webinar series, Ian Morris looks at how a club can plan for the development of their coaches over a 12-month period with a sample calendar to implement at your club. Better performing coaches leads to greater enjoyment for club members and improves retention and player development – so it's important to take the time to look at improving coaching as a whole at your club. A club-wide programme for Continuing Professional Development (CPD) of coaches is one way of ensuring this happens and can instills confidence in existing and prospective members of your sports club.
Improving as a coach isn't all about paying for professional coaching courses – much learning and development as a coach can come from having a defined Continuous Professional Development (CPD) Programme at the club.
This was the topic of our latest Club Management webinar with Shelbourne FC manager Ian Morris.
As well as responding to individual questions from coaches in this interactive and engaging session, here's an overview of what Ian covered on the webinar:
Creating a CPD calendar – plan your coaches continuing professional development before the start of the season factoring in what sessions you need to cover (planning training sessions, mental health, coaching practice etc.). In the webinar, Ian outlines a sample calendar that can be used at your club – as long as you are factoring in your club's own situation in terms of access to resources, existing coaching standards etc.
Does your CPD plan suit your club? Is it aligned to your club's philosophy? e.g. if your club has player trials versus open training. Can your club accommodate open training or are you limited by numbers? Is your training area big enough? Or are players selected purely based on ability with the best chosen to join your squad? Is there capacity for additional teams e.g. fielding two teams in separate divisions? Is there a family ethos? The answers to all of these questions help to frame what you expect from your coaches and then shape content of the CPD programme for those coaches.
Planning your session – this was covered in the first club management webinar and looks at making the most of limited resources of space and time and having a central theme to keep your session focused while ensuring that participants get the most enjoyment from the session.
External resources – What external resources can you get access to? Perhaps you can look at visiting successful clubs, speak to qualified coaches, learn from successful teams in other sports, attend Clubforce webinars, coaching seminars, build your network. These don't necessarily require the club to spend money but may provide coaches with a valuable new skills or a different outlook and can keep things fresh for the coach and particpants.
Parents Night – It's important to get parents involved so that they can understand the club's philosophy, what's expected from them and can help to build a bond between parents, kids and the coaches. Providing clear information on club policies, expected behaviour pitchside and parents code of conduct. It's also an opportunity for parents to ask questions and maybe even offer to volunteer.
Coaching Sessions – Coaches can learn a lot from other coaches. The head coach or coaching coordinator bring coaches together to show them what you want to implement at the club; the session can also be used to exchange ideas, build rapport amongst coaches (fostering teamwork) as well as picking up nuggets of information. There may be an opportunity to introduce guest coach or a strength & conditioning or nutrition expert along the way. It's important also to cater for different ways of learning – different personalities will learn differently (seeing / doing / listening etc) so it's worth thinking about varying the approach with hands-on sessions, tactic boards, presentations etc. Another factor to consider is balancing the ability levels for coaches – splitting the sessions to match ability levels – make it enjoyable for all wherever possible.
Club Pathway – This ties into the club's philosophy again and involves thinking about and planning for progression from academy to Under 9, Under 10, Under 12 etc. The coaches at these age grades really shouldn't be acting in isolation and trying to cover every aspect of coaching in a single year. They should be changing the content depending on level / age of the participant in order to aid progression. There should be continuity in learning between the different age grades as there would be learning at school. Things like session tempo and technical difficulty should increase as kids get older too and this needs to be factored into the overall coaching plan and implemented by the coaches. When are you likely to introduce the concept of offside or a passing diamond? There needs to be a logical sequence in introducing new terminology at training – otherwise kids can get lost if they don't understand what's being said.
Player Welfare – This can be as simple as not barking instructions and focusing on making the training sessions fun but gradually increasing the level of expectation and the challenge as the years progress. Other things to consider here are general health and safety at training, mental health & well-being and introducing skilled third-party coaches where necessary
End of season review – How good is your club's coaching? Without taking a moment to reflect on the season and compare to other years and map out improvements for the year ahead it's difficult to really say for sure if things are going well or not.