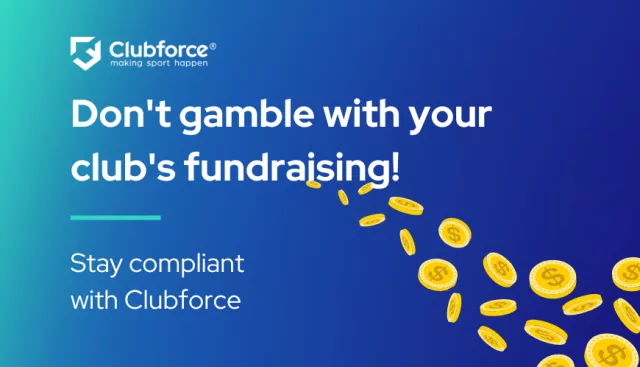 Fundraising online has quickly become one of the core processes to generate extra revenue (and recurring revenue) for sports clubs. Online fundraising, through lotteries and other forms of online gambling (e.g. bingo) are valuable fundraisers for clubs but cannot be run without meeting certain legal obligations first.
Clubs need to be aware of their legal obligations in running lotteries or other forms of gambling as part of their fundraising efforts – especially when they are selling tickets for lotteries in Britain.
Lotteries are governed in Britain & Ireland by gaming legislation. Before your club promotes a particular type of gambling-based fundraiser, it's vital that you consider these key questions to ensure your fundraising efforts are compliant and your club isn't running the risk of having to refund funds raised or even pay penalties.
Has your club met basic legal requirements?
In Ireland, clubs and societies must obtain a lottery licence under section 28 of the Gaming & Lotteries Act 1956-2019. This includes any competition for money based on guessing or estimating future events including raffles, sweepstakes and bingo. For more information see how to get a club lotto license.
In Northern Ireland and Great Britain, club lotteries are governed by the Gambling Commission. Clubs can run lotteries without a licence but must be registered with their local authority.
Is your club planning to sell tickets in Britain?
For any sports club or society selling lotteries – or any other form of gambling – to consumers in Great Britain through online channels, they must first ensure that their gambling software suppliers are licenced to operate in Great Britain.
From the Gambling Commission website:
"If you provide facilities for gambling to consumers in Great Britain you must get your gambling software from suppliers that have a licence from the Gambling Commission."
Clubforce is licensed by the Gambling Commission to provide remote gambling software.
Does the software meet specific technical standards?
Clubs selling tickets in the UK are also responsible for ensuring that the software they use "is capable of being deployed in a manner that complies with" remote gambling and software technical standards. As an example, the Random Number Generator (RNG) used to generate numbers for online lottery must undergo rigorous testing and be deemed sufficiently unpredictable to meet the Gambling Commission's technical standards.
Clubforce software is built to meet technical and compliance standards and is approved for safe use by the Gambling Commission.
If you are wondering about the technical capabilities of lottery software solutions you are evaluating for your club it's worth reading this article comparing lottery management systems to shopping carts.
Are you planning online advertising?
Any organisation advertising lotteries or other forms of gambling to consumers in the UK must also be licensed by the Gambling Commission and will require certification from Google to advertise on Google search and display results in Great Britain.
Clubforce is certified by Google to advertise gambling software in Great Britain.
Checking is easy!
The Gambling Commission in Britain makes it easy for clubs and societies to check which providers are registered with an online public register of licensed remote gambling software providers. You can check that register at any time here.
Before your club engages a software company to help with your online fundraising – don't take chances, use these four simple questions to ensure your club is not taking any unnecessary risks with club fundraising.
To learn more about secure, compliant online fundraising for your club fill in the form below and a member of our team will be in touch!