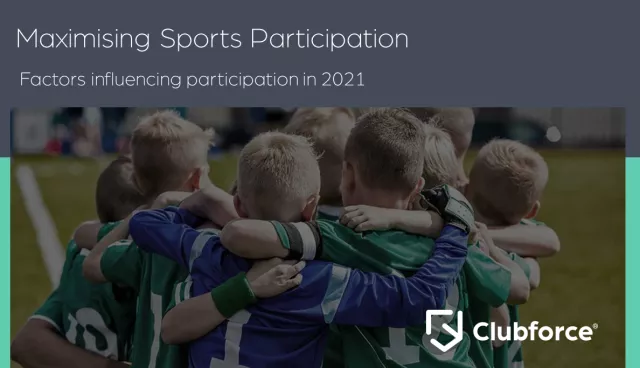 By Paul Madden
It is generally accepted that participation in sport has many benefits with studies showing a direct correlation between greater involvement in sport and improved academic performance and better physical and mental health. Following the interruption to amateur sport around the world during the coronavirus pandemic, it seems fitting now to look at the factors influencing sports participation in order to ensure that any decline in participation is temporary.
Outlined below are some of the key factors affecting sports participation to consider as sports organisations plan for a return to action in the not too distant future and how COVID-19 may affect these key factors.
Policy
Government policy in Ireland aims to elevate Ireland to be a global leader in participation in sport and high performance. Priority in this 10-year National Sports Policy is given to sports like swimming, cycling and running as these have the greatest potential for higher levels of active participation across a lifetime. Other sports will indirectly benefit from a healthier population but must be more proactive and self-sufficient in terms of how they manage funds and drive participation in their own sport.
Following the success of the London Olympics in 2012, the government (and National Lottery) allocated £1 billion to Sport England to create sporting habits and increase opportunities for sports participation with governing bodies of sport tasked with increasing participation in the Under 16 age bracket under Whole Sport Plans (contracts of delivery with Sport England). Eligibility for funding requires governing bodies to adhere to high governance and financial control standards and allocation of funds is results-based.
In Northern Ireland, a 10-year strategy focused on participation, performance and places and aimed at tackling declining rates of participation, concluding in 2019. But government policy has indirect impacts on sport also….
COVID-19
Sport, like many sectors of the economy, is to receive a much needed funding boost to recover from the impact of the global pandemic. COVID-19 has impacted all walks of life and through wider government policy has changed the landscape of sports participation but in the process, increased the workload on sports club volunteers who must now shoulder the additional responsibility of tracking and tracing participation at training as an unofficial extension of the health service.
However long it is before 'normal' resumes, this will be an important topic within sports club administration in the interim with social distancing guidelines in place and the ability to track attendance at training and at games now a necessity for most clubs.
It's worth considering also, to what extent the mindset has changed for sports participants in the short, medium or long-term – and when and how any apprehensions around a return to sport might be addressed.
Funding
Whether from government through once-off COVID funding, sports capital grants or through self-funding, generating sufficient finances is a constant challenge for sports bodies. Governing bodies and amateur sports clubs can never have enough funds to maintain and develop amenities to the highest standards as well as paying insurance, investing in equipment and technology as well as covering the cost of things like training for coaches. The ability to raise funds for a sports club in a flexible, sustainable way will be vital for all sports bodies in 2021 and beyond and this will be mostly done online as the move to a cashless society gathers pace in 2020.
Funding affects sport at an organisational level and right down to a member level. Studies in the economics of sport have also found that where income declines some sports activities (e.g. participation events) may be more favoured than sports club membership – which is something that clubs may need to bear in mind in a post-COVID-19 world where household incomes may be significantly affected. One way of countering this would be for sports clubs to offer a discount as part of the checkout process for members who have had their income reduced due to the pandemic (or another cause).
An additional funding headache arises for sports that are typically high-cost e.g. golf (for equipment and membership fees), equestrian (horses, transport etc.) and for any sport or area of high performance that requires specialist lessons, diets or high competition fees. Is it likely that participation in these sports will suffer as an economy contracts?
Access
How easy is it to surf if you don't live on the coast, or ski without snow? While access is a constant challenge for participants in many sports, it may seem counter-intuitive but research shows that this isn't simply a matter of investing in amenities – if the environment around the physical amenity is not conducive to getting there (poor lighting on roads as an example) or participating (e.g. anti-social behaviour), new amenities can be underused.
This ESRI (Economic & Social Research Institute) study from 2015 suggests that and may have been a key factor in driving increased investment in greenways, walkways and cycle tracks across the country which in turn make it easier for people to get active. This same study suggests that greater investment in amenities doesn't correlate to greater participation (other than those for cycling, walking and swimming).
There is an opportunity for sports organisations to collaborate and share amenities too for the benefit of their local communities and scheduling tools may help to manage this – especially in areas of high population and increased demand.
Motivational Factors
Different sports have different characteristics which can appeal to different personalities and populations. Some people will be directly motivated by the physical and/or mental health benefits of sports participation and these might be particularly relevant in the era of social distancing. Others may enjoy the social interaction – which has also been disrupted by restrictions. For other people it might be the opportunity to get outdoors or it could be the competitive aspect of sport that motivates them or to follow in the footsteps of a hero.
Role Models
Recent success of Irish Women's Hockey in reaching World Cup final for the first time in their history and qualifying for the Olympics is likely to spur interest in the sport.
Olympic hero Katie Taylor has a similar impact for boxing but also as an ambassador for women's sport more broadly, while Manchester United footballer Marcus Rashford has been a notable role model in the UK since the COVID-19 outbreak, championing free meals for underprivileged school children. Ex-sports stars and TV role models supporting nationwide initiatives and community-focused sports shows (e.g. Operation Transformation / Ireland's Fittest Family) also feeds a culture of participation and staying fit and healthy.
Role models typically come from much closer to home too – and it's no surprise that siblings, children and extended families of successful sports people (at all levels) go on to enjoy an active sporting life too.
Demographics
Sports participation at all ages and through all walks of life leads to a healthier lifestyle – whether that participation is casual or competitive or somewhere in between.
Age and gender
Age and gender are important factors in sports participation the world over and can be taken as separate factors to identify trends but when combined they paint a quick picture of where participation is lagging. It's important to build the habit early and address drop-off rates – for instance, participation among teenage girls seems to be a recurring issue and is mentioned in this Sport Ireland report, which identifies the decline in participation by post-primary girls as an area of real concern.
Knowing where the gaps exist is the first step to addressing and improving participation. Clubforce has partnered with Connacht Rugby to drive greater participation in women's rugby – we believe initiatives like this are vital to ensuring active sports participation and an upward trend in groups where rates of participation were historically low or declining.
Developing motor skills from early ages and ensuring a basic foundation of physical education through school forms a good base for better participation and develops a better attitude towards the value of sport. Whether physical education is compulsory or not, there seems to be a decline in participation during second level education, which is more pronounced among teenage girls. This Australian study suggests there are a combination of factors at play – changing motivations for participating, competing interests and commitments and the lack of game time as sport gets more competitive. There is also evidence that parents taking sports too seriously kills the enjoyment for kids playing sport – does less support from the sidelines mean less pressure on kids to 'do well'?
Other demographic factors
Sports policies at government level, strategies at governing body level and club policies at grassroots level are increasingly focused on inclusivity and breaking down barriers to participation. The impact of religion on sports attire and timing (due to rituals / times of worship) and other factors such as the visibility of different ethnicities and diversity in coaching and volunteering are now key considerations where they may have been ignored or discriminated against more commonly in days gone by. Disability is another area where opportunity is improving and Sport Ireland is one national body which sets out to deliver a measurable, evidence-based approach to developing participation within the disability sector.
Time constraints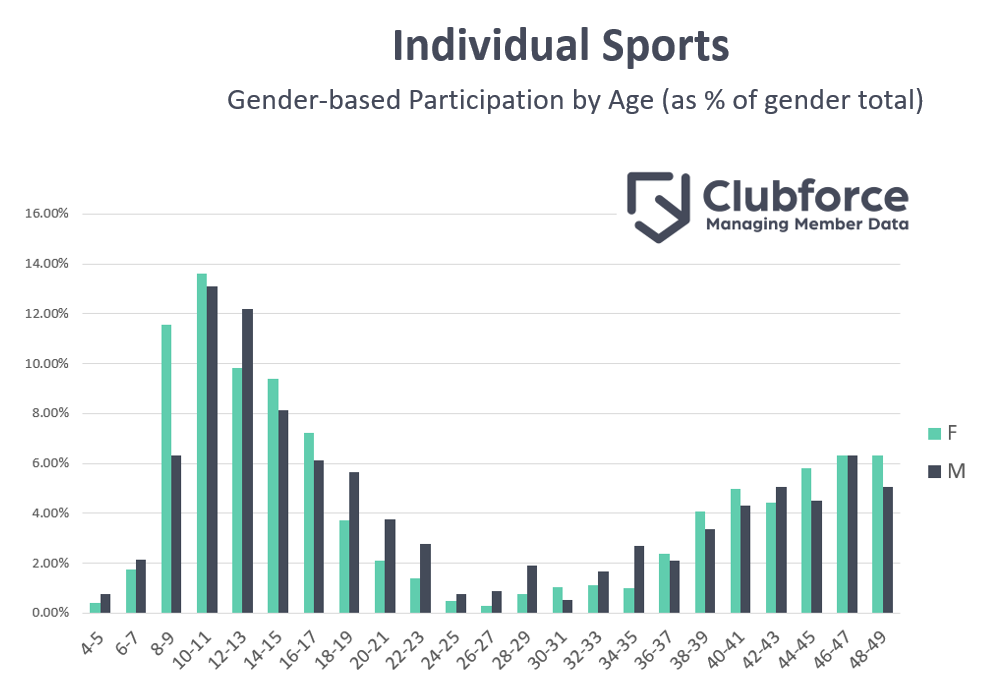 Creating sporting habits early in life and addressing bottlenecks and/or drop-offs in participation are important to maintaining a positive trend in sports participation amongst teenagers and younger children, but pathways for adults to resume (or start) sporting interests are also important for maintaining a healthy population. Gaelic for Mothers & Others is one initiative which addresses this but as Clubforce data has shown, there is a greater likelihood for parents (especially mothers) to pursue individual sports which are not as time-bound as team sports (e.g. being able to train alone or in smaller groups).
Planning for increasing adult participation in sport must take these factors into account rather than assuming they will continue to pursue a team sport because it is more familiar to them as a result of playing regularly in their youth.
Time can also be a factor in kids attending evening training sessions where both parents are working and commuting long distances to work. The impact of this might be lessened by increased working from home in a post-pandemic world but driving awareness of this opportunity for better participation will be key as sport resumes.
Measurement
Ultimately, maximising participation in sport requires consistent, reliable measurement of comparative data. "If you can't measure it, you can't improve it" is a quote attributed to business management guru Peter Drucker but it applies in sports participation as much as it does in any area of business. At elite and high performance levels in sport, GPS tracking devices, heart monitors and other data tracking devices have become the norm as athletes and clubs look to lay down benchmarks for improvement and reaching new heights.
The same can – and must – be said for the broader world of sports participation. Establishing a reliable benchmark for all different sports by region, by age, by gender, by time of year will be important to sustaining upward trends in sports participation which lead to healthy populations and allow for a full recovery from pandemic-enforced social distancing or any other interruption to normal sporting activity.
Systems
Clubforce, as a complete sports participation system, provides sports organisations with the tools to promote, fund, measure and demonstrate participation from grassroots to governing body level. A secure, end-to-end sports participation system gives sports bodies the data and visibility they need to drive better decisions and implement a more targeted strategy.
Summary
An holistic view of sports participation in 2021 *and into the future) needs to consider the community as a whole, whether at a national, regional or local level and recognise the barriers that exist for people to get involved in sport. The challenge will be different for every sport and each community will have it's own context that must be understood as the sporting world starts to look beyond lockdowns and social distancing. Data-driven decision making helps to paint a clearer picture of the challenges sports organisations face from grassroots level to international elite performance and allows clubs and other sports organisations to learn from similar organisations as they strive for greater participation in their community.
For a custom end-to-end system for your national governing body, fill in the form below and a member of our team will be in touch.