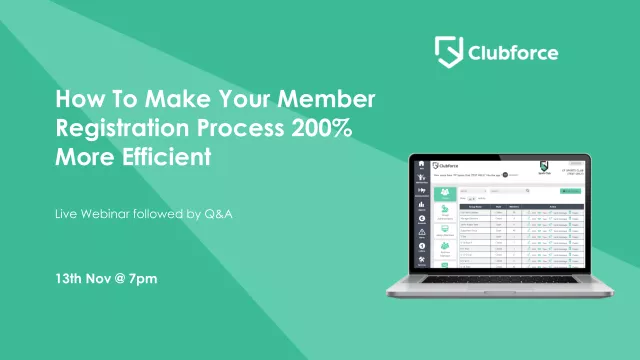 Each Wednesday we host a webinar showing how Clubforce makes life easier for your club's officers. Join Clubforce training specialist Francis Creaven for a presentation and Q&A session to discover how your club officers can get more done in less time.
This Wednesday (23rd Oct) Francis will be discussing "How To Make Your Member Registration Process 200% More Efficientent". This webinar would best suit, secretaries, registrars and treasurers.
Click here to Watch the Recording.
Membership renewals each year can be a tedious process for club volunteers – making announcements, hosting registration evenings, chasing payment, reminding members to pay. Using mobile apps that are not fit-for-purpose means people who have paid often receive reminder notifications AFTER they have paid.
With Clubforce, there's a far simpler way, that will increase member retention and grow revenue for your club in an efficient and effective way. In this webinar you will find out:
– How to reduce the workload announcing and reminding members
– How to eliminate registration evenings from your membership season
– How Automated Reminder Mails (ARMs) drastically increases membership payment
– How club coaches get full real-time visibility on who has and has not paid
– How to sync your data efficiently with NGB systems (not all NGB's included) For the average club, this reduces the time spent on membership renewals by over 200% and larger clubs make more significant time savings
For club volunteers, reducing paperwork means less chance of clerical error and less missed-deadline fines.
Club members can register online – at a time that suits them and the club can send automated reminders and easily check and report on member and volunteer status through the admin panel.
Clubs can have multiple admin users accessing the system for different features of the system. Treasurers can transfer funds to your bank or NGB in one click, registrars can check member payment status and issue reminders and secretaries can get status updates on members and volunteers via Single Member View and lots lots more.
To find out more about "How To Make Your Member Registration Process 200% More Efficientent", why not register for our webinar next Wednesday (23rd) @7 pm.
If this evening doesn't suit, Click here to see the full schedule.
For more information on how Clubforce can help your club, call us today on +353-91+506048 or fill in the form below and one of our team will be in touch.