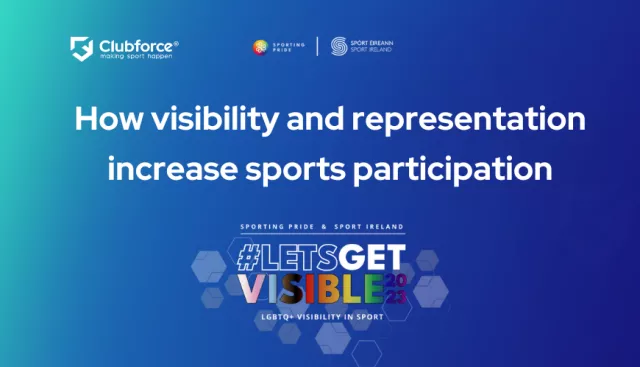 As we reach the end of Pride Month 2023, it's important to remember that inclusivity in sport is something that all of us in sport should be considering throughout the year. Here at Clubforce, we believe strongly that sport is for all and so we were taken aback at the figures released by Sporting Pride as part of the relaunch of their #LetsGetVisible campaign in conjunction with Sport Ireland.
LGBTQ+ community members often don't feel comfortable in the sports club environment.
Sporting Pride has found that 55% of LGBTQ+ men and 56% of LGBTQ+ women are not active enough to maintain good health. This compares to 33% of men and 45% of women in the general population. The research has shown that this is in part due to members of the LGBTQ+ community not feeling comfortable in the sports club environment.
Increasing visibility for inclusive sports clubs
To try and help address this, Sporting Pride are looking to raise awareness of both the importance of being active to your physical and mental health and showcase the LGBTQI+ sports clubs around the country. There are over 30 clubs now listed across the country on the Sporting Pride website across a range of sports from GAA to hiking and football to squash.
Speaking to the Farmers' Journal, Debbie Hickey, part of the team at Sporting Pride said: "Sporting Pride's #LetsGetVisible campaign helps showcase the importance of fitness and exercise to one's physical and mental wellbeing, as well as offering opportunities to meet like-minded people in a relaxed, welcoming environment,"
"Increasing the visibility of these sports clubs is vital as many 'closeted' Irish people who play sport are unaware of their existence. Knowing that there are people like you, who are interested in physical activity, can help reduce the sense of isolation many LGBTQI+ people feel when they are coming to terms with their sexuality."
You can find out more about #LetsGetVisible, how to support the campaign and the clubs involved at sportingpride.ie