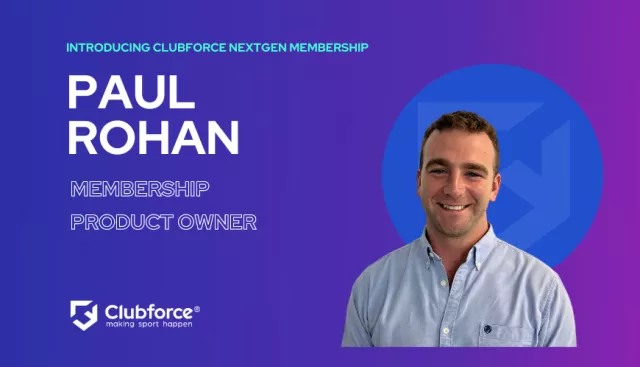 Since the launch of the Clubforce NextGen platform, we've been speaking with each of our product team to understand more about the thinking behind the platform. Today we conclude our series by speaking with Paul Rohan, the product owner who's led the development of the membership aspect of the NextGen platform.
Paul, great to have you with us today – you must be delighted to see the membership platform in use now by clubs?
100%, we've been working on the new membership platform for a long time now and so it's great to see the product being used. Seeing how people use the platform really helps us understand what's best to build into the next updates too.
Clearly, membership was a key part of the older Classic Clubforce platform, what can clubs expect in terms of the key differences on the new NextGen platform?
The Classic platform was, and still is, an incredibly powerful platform providing a huge flexibility in how a club could configure their memberships. The NextGen platform tries to take all the best bits of the Classic platform and combines them with a completely refreshed user experience and design.
The main thing that people will notice is the new user interface – it's cleaner and quicker to complete a purchase for members and presents the club in a really professional light.
For clubs, all the powerful features are still there to capture the information you need from your members plus now our new integrated checkout allows your members to purchase lotto tickets alongside their membership.
The Clubforce Connect mobile app is also a key addition providing an easy way to communicate with your members and organise everything from training and matches to social events.
That sounds like a useful feature for clubs who run online lotteries – how does that work?
The integrated checkout has been designed to help drive more lotto sales for you as a club. Given the member is already on your website and purchasing something, it's a great opportunity to get them to purchase a lotto ticket. Clubs can choose to switch a prompt on so after a membership is added to the cart, a pop-up appears suggesting that they support the lotto too.
The integrated checkout provides the member with all the flexibility to choose whichever lotto ticket they want and switch on the auto-renew independently of the way they choose to pay for their membership. For clubs, it saves a lot of hassle by the lotto ticket automatically being managed in the club's back office in the same way as every other lotto ticket, rather than having to do anything manually.
What would you say the key benefits of using the Clubforce NextGen membership product are?
I think for a club it's four-fold – number one, it takes away all the pain associated with collecting membership. We make sure all the information is easily accessible, payments are reconciled and you can get all the reports you need at the click of a button.
Number two – it's really simple for your members – they can quickly and easily sign up for memberships for themselves and their family. The whole system is then a single platform meaning they can do everything they need to in the club from that single account.
Three – you are in control as a club, not only can you customise the membership forms in a wide variety of ways such as custom questions an discounts; you can also make changes yourself directly from the club's backoffice making it quick and easy to adjust any settings you want.
Finally, number four – security and data privacy are more and more important to people these days and using Clubforce's platform you can be confident as a club you've fulfilled your responsibilities under GDPR legislation. Clubforce is the only provider of this sort of platform in Ireland who are certified to international standards for data security – this really should be a minimum requirement that any club should set for a provider of a platform that's going to hold as much personal data as is required around membership.
It sounds like you and the team have a lot of ideas of how to move this platform forward?
Yeah, we have a lot of ideas and are constantly talking with clubs to understand what would make their lives easier. As with the whole of the platform, we'll be consistently pushing out updates so that NextGen remains the best platform for sports clubs and makes life easier for sports volunteers around the world.
Thanks Paul – we look forward to seeing some of the features coming down the line!
The Clubforce NextGen platform is available now for sports clubs, sign up today to find out more and get a demo for your club.