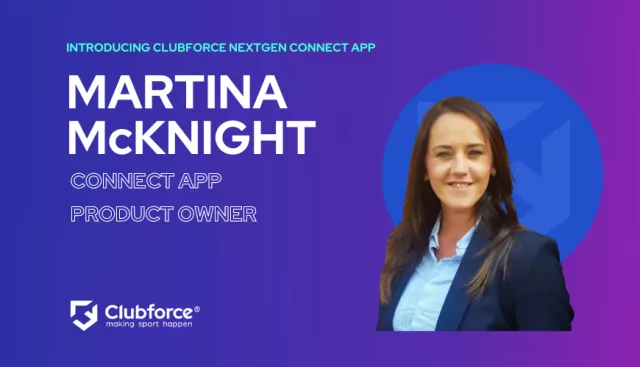 With Clubforce NextGen now available for clubs to start registering their next round of memberships, we've been catching up with some of the people behind the scenes who've helped create the updated platform. Today we're speaking with Martina McKnight, one of our Product Owners who has led the development of our Clubforce Connect mobile app.
Thanks for joining us today Martina, can you start by giving us an overview of what the mobile app is designed for?
Sure, the mobile app is designed to make the day to day running of a club really simple and easy. It's focused around communications and events, and by that I mean any type of event from training sessions, matches, social events or even committee meetings.
The Connect app allows different groups like a team, squad or committee to be created and for the members of that group to be invited to events. There's also a simple and easy to use chat messaging functionality.
With the messaging functionality, why would you choose Clubforce Connect as an alternative to tools like WhatsApp?
WhatsApp is clearly a really popular tool and nearly all of us use it, but it has some big limitations when using it within a sports club. There's three key advantages that I would say Connect has in this sort of environment.
Number one, Clubforce Connect is built with GDPR considerations at its core – unlike WhatsApp individual club members are not able to see each other's information, ensuring the privacy of the group.
Number two, our mobile app separates out events and messages meaning that the key information you need isn't lost in the depths of a thread of memes! Your events tab contains all your events, along with the events of any children you might have linked to your account, meaning you're easily able to coordinate your schedule.
Finally, number three, keeping tabs on WhatsApp groups can be a nightmare – especially when you throw in the complication of parents and guardians. Clubforce Connect is directly integrated into your club's membership database making it simple to add people to groups and keep track of their details.
So tell us a bit more about that connection to the member database, how easy is it to create groups?
A key piece of feedback that we had from clubs on our previous mobile app was that they wanted to be able to delegate group creation to those who were running the groups so it didn't all fall on one person. A club admin grants access as a Group Manager to a person and then they're good to run their own group.
It's really simple for them to add the right group members, they just select the members they want from a list straight from the database that they can search and filter by things like date of birth.
How do the event invites work then?
Once you've got a group set up, the group manager or coach can then just create the different events. When created a push notification is sent to all the members (or their parents in the case of children) asking them to respond to the invite.
The group manager can then see a simple list of who's attending and not attending each event – even better, a key innovation we've added is the ability to create a recurring event. That way if a coach knows that there will be training every Tuesday night for five months, they only have to create that once and set it to repeat.
This is an approach we've tried to take across the app, wherever possible, we'll do our best to save time and effort for the volunteers running clubs.
It's easy to see how this works for team sports but can this app work with other clubs such as sailing and rowing?
Yes, the Clubforce Connect app can work with any sport and can even be used to organise your club committee meetings! We've tried to think outside of the classic team-sports model when developing this app to make sure it's as flexible as possible.
Once an event is over, what happens with all the data around responses?
We all know that there's always someone who either says they can't come and turns up or vice versa. For that reason, the Group Manager is able to update the original responses after the event to act as a register. That facilitates one of my personal favourite parts of the new app – the insights tab.
This provides a simple visual dashboard which allows the coach to go in and track overall attendance trends in their group across the different categories of events and across the different group members. This provides a really objective way of seeing at a glance if there's any members who, for example, might not be attending training enough or equally might be at training all the time but not getting a chance to play in games.
What's next for the mobile app?
We've got a number of ideas up our sleeve that we're working on and we'll be constantly iterating and updating the app as we get more feedback from clubs. Even since we first launched, we've already added new features such as the insights and also direct messaging. Keep your eyes peeled though – there's lots more to come!
—
The Clubforce NextGen platform is available immediately. If you'd like to find out more about the NextGen platform, request a demo from our sales team.