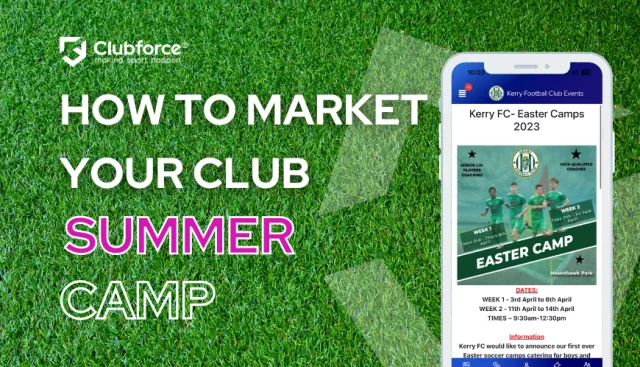 Summer camps provide clubs with an opportunity to stay connected with current members, gain new ones and build a sense of community within your sports club. By sharing updates, news, and stories about your club through social media, email newsletters, or other communication channels, you can foster engagement and encourage participation in club activities.
Check out how to market your summer camps this season in eight simple steps:
1. Define your target audience
Before you can start marketing your summer camp, you need to know who you're marketing to. Are you targeting parents, kids, or both? What age range are you looking to attract? Once you know your target audience, you can tailor your messaging and marketing efforts to appeal to them specifically.
2. Highlight the benefits
Summer camps are an opportunity for kids to learn new skills, make new friends, and have fun in a safe and supervised environment. Make sure to emphasise these benefits in your marketing materials, such as brochures, flyers, and social media posts. You can also include testimonials from previous camp attendees and parents to help build credibility.
3. Create an eye-catching logo/camp graphic
A memorable logo/graphic can help your summer camp stand out from the competition. Make sure it's colorful, fun, and appeals to your target audience. Online systems such as Canva can provide templated options for this (for free).
4. Leverage social media
Social media platforms like Facebook, Instagram, and Twitter are great places to promote your summer camp. Use targeted ads to reach parents in your area, post engaging content such as photos of previous camp attendees having fun, testimonials, and maybe even some behind-the-scenes glimpses of a day at camp.
5. Offer early bird discounts
To encourage early sign-ups, offer discounts or other incentives to families who register before a certain date.
6. Partner with schools and community organizations
Reach out to local schools, sports teams, and community organisations to spread the word about your summer camp. You can offer to give presentations or distribute flyers and brochures at events.
7. Host an open club/house
Hosting an open house is a great way to give parents and kids a firsthand look at your summer camp. Offer tours, activities, and Q&A sessions with club volunteers/staff to help with any concerns or questions.
8. Build a referral program
Encourage satisfied parents to refer their friends and family to your summer camp by offering discounts or other incentives for referrals.
By following these steps, you can create a successful marketing campaign for your summer camp that attracts families in your area and helps make their summer unforgettable!
Benefits for your club
Running children's camps during school holidays is a great way of growing membership and participation at your sports club whilst generating extra revenue in the process. The benefit of running your own club camp means the registration data and revenue stays within your club and not with a third party.