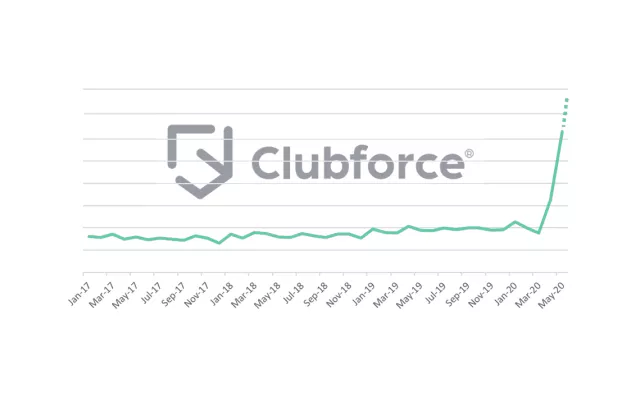 Sales of online lottery tickets through the Clubforce platform have reached record levels in May 2020 as the shift away from cash-based fundraising continues to gather momentum. GAA clubs, football (soccer) clubs, rugby clubs, golf and athletics clubs are amongst those benefiting from the transition to online ticket sales, with the average club set to quadruple the number of tickets they sell per month during the month of May.
The graph below illustrates the surge in ticket sales per club during April and May as club members and supporters dig deep to show their support for their local sports club during these tough financial times.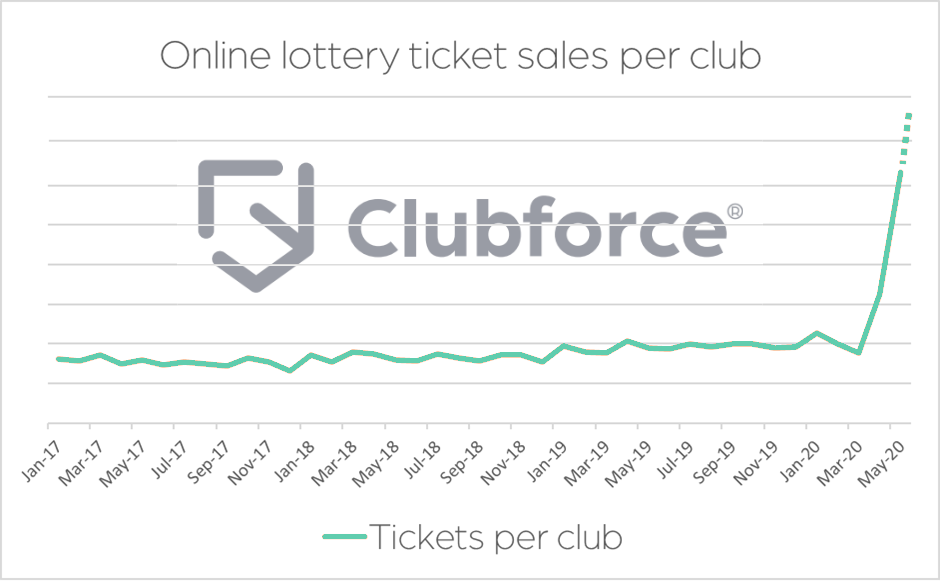 This huge increase in online lottery ticket sales suggests that the traditional lottery cash-in-the-envelope or paper ticket may soon be a thing of the past, with loyal supporters of all ages now making the move online. Even those who might have traditionally been technology-averse have embraced modern technology in many forms in recent weeks, including the likes of Zoom and Facebook Live for video chat and clubs are now recognising that the transition to online lotto is far easier than they might have assumed previously.
Ballincollig GAA have described the response to the online lotto as 'phenomenal' with Chairman Dave Walsh telling the Irish Examiner that the club has more than doubled their normal lotto takings and those may previously have been apprehensive about playing online are adapting with ease: "People who maybe were a bit dubious about it beforehand are now coming around to the idea and saying, it is not that difficult at all," Dave remarked.
There is an added bonus from a club's perspective as on average 54% of online lottery players choose to auto-renew their ticket, which leads to an increase in recurring revenue without the club volunteers having to do any additional work.
Football clubs in Scotland have also been using the Clubforce platform to great effect, with a number of clubs highlighting the fact that they have maintained fundraising despite recent social distancing restrictions.
The Clubforce lottery system drastically reduces the workload for club volunteers – instead of several volunteers selling and re-selling physical tickets week after week, the online system allows a club to grow their lottery with about 20 minutes effort for one volunteer each week. Clubforce are also offering a lottery accelerator service to clubs looking for assistance in growing their weekly lottery revenue – speak to your account manager for more details.
If your club is looking to maximise fundraising during the social distancing restrictions, fill out the form below and a member of our team will be in touch.