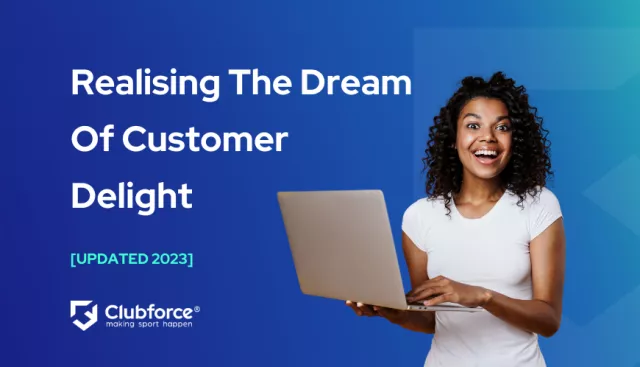 "Service with a smile" is what I was taught at my first hotel job during college. I wondered at the time what weight that phrase really carries and how transparent is the veil between staff and customer? A smile isn't enough to show a customer how much I enjoy doing what I do and how exceeding expectations and making an experience great is what drives me as a person. Some of us are built for roles like these and when you've got the right team in place the goal of delight is genuine all around.
Attracting and engaging customers are key in customer service but delighting them is what separates the necessary from the desirable. It comes from a place of true authenticity and when a service hits just the right tone it evokes loyalty to your brand.
What is customer delight?
Delighting a customer is delivering an experience that keeps them coming back for more. Whether it's offering a complimentary tea or coffee, an unexpected speedy response to an email or contacting a sports club on behalf of a volunteer, all of this is noticed even if it may not seem to be the case. Service "stickiness" is prompted by delight and can be recognised when customers refer to us by name and seek us out for a repeat experience. They don't even have to know why.
Measuring delight
In terms of metrics, many organizations, including Clubforce, use the CSAT (Customer Satisfaction) metric on Zendesk to measure customer sentiment which in turn allows us to identify "delight". The calculation of the overall satisfaction rating uses the following simple formula:

This means that the score is an average of the total positive ratings from the past 60 days. An agent with a score of 90% means that over the past 60 days, 90% of the ratings they received were positive. Clubforce had a CSAT of 92% with our customer service agents maintaining a consistently excellent score of 90%+ every 60 days.
Here are just a handful of our positive customer support reviews from both club volunteers and members:
I deal with Conor all the time. He is professional, efficient and courteous at all times.

David Kearney | Creggs RFC | Galway, Ireland
Great when a person responds with a name and take ownership of a query

Dundalk Gaels | Louth, Ireland
Conor was very determined and efficient in trying to resolve my problem with receiving emails. Delighted that between him and tech support this was achieved. Thank you.

Beauly Shinty | Beauly, UK
Brilliant support, everything was solved in no time. Very satisfied, thank you.

Castleknock FC | Dublin, Ireland
I found the support was very good, and managed to sort out my issue that I was really struggling with. Excellent service, thank you.

Rhayader FC | Rhayader, Whales UK
The magic ingredients
There are three key ingredients in the Delight secret sauce. Empathising with customers to establish an emotional connection is the first and it allows me to create a place of trust. Being transparent with the club members and the administrators of Clubforce is the second, honestly checking in along the way as we solve whatever the issue. Transparency is in fact one of our core values at Clubforce and in customer service it allows us to manage expectations and solve problems as a true partner rather than simply a supplier. The third ingredient I mentioned already and that's finding the right people for the job. There are people who just love to help others and are internally driven to make customers successful. If you can find these qualities in the people on your team you're already halfway there.
More important than ever
The post-pandemic has created a greater need to measure and ensure customer satisfaction so companies can navigate the uncertainty. With so many unknowns and so many disconnected people, it has never been more important to exceed expectations and reach out with empathy on a personal level. Working remotely and being limited to video calls certainly diminishes the essence of client-facing interactions. As an organisation we make a collective and conscious effort to recognise the opportunities to provide delight to our community which is going through an unprecedented and difficult time.
If I was to mark a difference between Clubforce and some of the companies in our industry, I would say that satisfying customers is only the bare minimum of what we aim to achieve. We're in the business of making a difference in our broader community and spreading joy through sport. Delighting customers is part of what we do and it's what makes Clubforce stand out from the crowd.