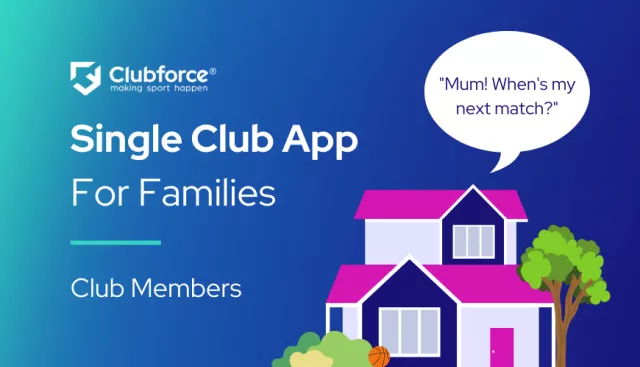 It can be difficult keeping track of everything – training notifications, requests for payment, club news, match fixtures and coordinating it all is a logistical challenge, to say the least.
Using your member account on Clubforce App, you can manage all of your family's sports activities in different clubs in one place – no other sports club app allows you to do it all from one place!
In a typical family of two adults and two (let's say teenage) children, there are many different sporting and social activities to manage each week – Mom could be playing tennis at the weekend; Dad might be playing golf on Saturday; a son or daughter might have a football training on a Tuesday, hockey training on a Thursday, a match on Saturday and another on Sunday. And that's just one week!
But there's a lot more to sports participation for families than playing and training – a parent may also be a team coach or administrative volunteer. Below are just a few examples of typical household questions that come up week after week – and how the Clubforce app can help parents stay organised and up-to-date with all of their club activities.
"Is training on tomorrow?"
You know got the text message, or was it an email? Maybe it was a WhatsApp message? Our phones are littered with different apps for different things and finding the last communication with a particular sports club can be frustrating. ALL club communication – training notifications, news updates, fundraisers – for any of the clubs on the Clubforce platform can be found in one place. You also only receive direct communication from the club – not every single parent's reply – so no more endless scrolling through various messaging platforms trying to find a message.
"Did you pay my football/hockey/basketball membership?"
For most clubs, this is a once-a-year event although many clubs choose to have their club membership paid in instalments on Clubforce. Remembering to pay club membership on time before the sporting season starts for different sports can be a headache, especially nowadays when kids are often involved in more than one sport at a time. With Clubforce, you will receive a prompt via app notification and email with timely reminders until your membership is paid – once it's paid, you stop receiving notifications unlike blanket repeat notices shared on other platforms which can be a complete nuisance.
"How much was it last year?"
If you are a parent budgeting for the year ahead and wondering how much the golf club membership costs? What was the basketball club registration fee? It's all there, in one place on your Clubforce member account.
"Where is my club disco ticket?"
Teenage discos are now commonplace in sports clubs as a social activity and valuable fundraiser for clubs. You might have purchased a ticket weeks ago but the disco is tonight. "Where did I leave the ticket?" If the ticket was purchased through the Clubforce system, simply login to your member account and go to My Ticket Events where you can access your ticket and either print it or scan the mobile device to enter the disco (or any other social event).
*Club must be using the Clubforce scanning system to scan the ticket.
"The club needs a copy of my passport for the trip…"
Sometimes clubs can organise international trips to take part in tournaments or as a social excursion. With Clubforce, you can upload a copy of a passport securely to Document Wallet in your member account. This function can also be used to upload police vetting forms if you are a club volunteer – or for permission slips or any document, you need to share securely with your club.
"Where's my club lotto ticket?"
Sports club lotteries are extremely effective fundraisers for amateur sports clubs. The draw takes place each week but you don't always get the results or remember to check your ticket – having all of your previous entries in one convenient place would be useful; having an app that notifies you each week with the results would also come in handy.
Clubforce does all of the above with a full historical record of payments with each club, backed up by email receipts in your inbox. If email isn't your preferred way of communicating, you can change your details in communication preferences in your member account.
"When is the next match?"
Keeping up-to-date with fixtures for different sports can be challenging – but with Clubforce, you can get fixtures and results for any club you are a member of – or any club you follow through the Clubforce app.
"Where are my football boots?"
Sorry, we can't help with this one. Not yet at least.
Is your club getting the full benefit of the Clubforce system? Share this with your club members and get them using the app today! This is just one of the ways Clubforce makes life easier for club volunteers.