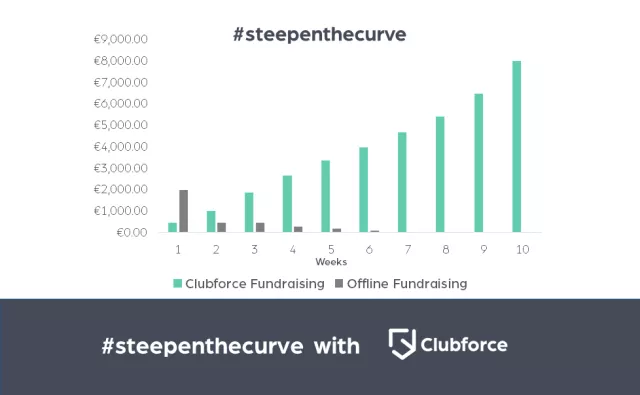 We have seen the sporting calendar decimated by cornonavirus and are still in limbo about when sports participation is likely to resume and in what format – will it involve empty stadia and some form of virtual atmosphere? We just don't know and no sport has escaped this bizarre twilight zone.
We do know that social distancing will be part of life and sport for the foreseeable future and a return to the full-blooded, pulsating sporting action we all know and love will most likely be a gradual process.
The new normality for sports clubs
Every day that passes in this lockdown period is a day closer to sports participation resuming and while some clubs have gone into hibernation mode, many others realise that running a club must continue and are putting this time to great use by modernising their approach to fundraising and preparing for the new world that is slowly revealing itself.
They say necessity is the mother of invention and Cobh Ramblers have modernised the classic 'Spot the Ball' competition to revitalise their fundraising efforts in these strange times as more typical fundraising ideas for sports clubs are curtailed by temporary restrictions.
Football clubs like Dundalk FC, Drogheda United, Bohemians in Ireland and Kilmarnock FC, Forfar Athletic and East Fife FC in Scotland have been amongst the quickest to recognise the opportunity presented by transferring more of their lottery ticket sales online – allowing them to continue fundraising and engaging their local communities without compromising social distancing regulations.
But will this ever be any different for clubs again? The days of volunteers standing outside churches and supermarkets will cash collection buckets are likely to be a thing of the past – in fact there has been a dramatic decline in cash withdrawals from ATMs as people opt to tap instead of carrying cash, which as we all know can pass germs from one person to the next.
Down through recent years, sports clubs have relied heavily on club stalwarts selling books of lottery tickets in pubs but the days of that happening again seem an eternity away right now. Cash changing hands at crowded member registration evenings in the clubhouse are also likely to be a thing of the past and club treasurers are probably less inclined to want to queue for longer practising social distancing in a bank to lodge money to the club account.
Clubs have also hosted event-based fundraisers like quiz nights, annual awards celebrations and dinner dances – all of which will probably be very slow to return in a post-COVID-19 society. So there is a need to adapt and use online fundraising tools to reach and retain a remote audience.
Participating in games and training may be on hold but sports volunteers and club members continue to make themselves available to their communities – delivering food and supplies to elderly and vulnerable neighbours isolated by cocooning. This enduring community spirit will ensure that sports will resume and most likely sooner rather than later as sport provides such an important outlet for young and old.
What next?
When sport does return, what further changes are we likely to see? Will we be tapping at the turnstiles or will everyone have to purchase tickets to games in advance in far more limited capacities? We will have to wait and see.
What we know for sure is that when sport does resume, there will be thousands of sports clubs jostling with each other and cash-strapped charities for the best position to fundraise for their clubs – the best prepared will already be online and in a position to conduct digital fundraisers at the drop of a hat.
If your club wants to modernise fundraising efforts for the times we live in, call Clubforce today on +353-91-506048 or fill in the form below and a member of our team will be in touch with you!