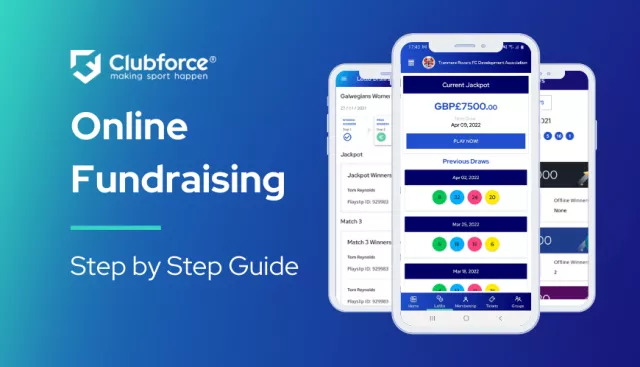 Clubforce online fundraising is the perfect way to transition your traditional offline selling activity online and to get more club fundraising tickets sold to a greater number of supporters at home and abroad – no physical tickets mean fewer limits on when and where tickets can be sold. Volunteers can sell tickets from anywhere in the world.
Why move online?
Some clubs rely heavily on having a good team of traditional offline ticket sellers who go door-to-door, sell at work, through local businesses and down in the local pub. Other clubs have had great success in selling club fundraising tickets online; requiring fewer volunteers as well as relying on social media and messaging platforms to get the word out. Both approaches generate healthy incomes for clubs but there's a missed opportunity to increase revenue if all available resources are not put to use.
Online fundraising allows clubs to get the best of both worlds as they can utilise their sellers on the ground and open the door to regular ticket purchasing online.

What makes online fundraising so effective?
Transparency for members and club administrators – a full record of all tickets sold online is available in the club admin panel.

No paper tickets are needed – players get an instant SMS confirmation of their purchase and their ticket is processed and checked online by club officials. No tickets getting lost in the washing machine!

Time-saving – countless hours manually comparing tickets to lotto results are eliminated as the Clubforce system does the check instantly and alerts the club to winning tickets.

Attract new players – volunteers spend less time selling to the old reliable lotto players, which means they can focus on attracting new support for the club

Worldwide players – when it's moved online, online fundraising can be played by anyone, anywhere at any time.

Worldwide volunteers – club members can volunteer to manage online fundraising from the other side of the world as they don't have to return physical tickets in advance of the draw.


Making the transition
Once a supporter has used the online platform (and opted into future communication via email), they can receive reminders to participate in online fundraising draws again when their tickets expire – and when playing online they can select to auto-renew their subscription, ensuring a regular contribution to the club.
Many clubs rely on a small number of regular contributors to generate a steady income and selling to these volunteers each week takes a lot of volunteering time. By transitioning these players online, club volunteers are then able to move on to targeting new players – broadening the base of players which increases the income of the club and improves the number of repeat purchases without placing extra demands on club fundraising volunteers.
Looking to learn more?
If you are looking to improve your club's fundraising, you can watch our webinar HERE
For more information on how Clubforce can help your club increase its income with online fundraising, fill in the request a demo form below and a member of our team will be in touch with you.