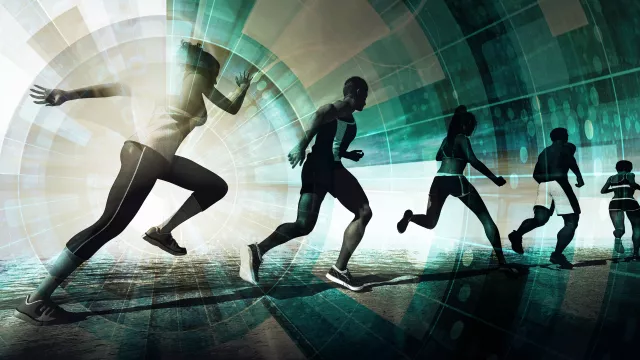 Technology has become increasingly prominent in everything that we do, and this is no different when it comes to sport. From leveraging social media for speedy communication to GPS tracking to measure performance, there's no denying the impact it is having on the sporting world. This blog will discuss the potential of technology for the GAA and how coaches, players, and clubs can use it to up their game on the field.
My personal experience with technology and the GAA goes back several years. Good communication is the lifeblood of every sporting organisation as engaging with players, members, and supporters at every level are vital. In many respects, email seems archaic given the plethora of social media platforms that exist nowadays. However, it still remains a critical communications tool for the GAA (likely for every other sporting organisation too).
The Arrival of GAA Membership Systems
The GAA's first email platform was supported by Google and facilitated 12,000 email addresses. For the most part, email addresses were linked to officer roles at the club, County, provincial and national levels, with some individual email addresses supported also. This ensured that email addresses did not have to change when a different member assumed an officer role. In subsequent years the GAA email platform transferred to Microsoft.
GAA Club Websites were initially developed using Google sites and later transferred to Microsoft SharePoint. Significant resources have also been committed to upgrading the central GAA Website over the years. To help support the management of some of the GAA's key activities, such as membership and games, the GAA partnered with an external software house to develop an online system to assist all its units. That system was redeveloped over the past two years and relaunched as Foireann. Clubforce was the first third party to automate the uploading of membership data onto the central GAA membership system.
Nothing has changed the face of GAA communications more over the past decade than social media. The GAA at all levels now embraces multiple social media platforms to engage with its players, members, and others. The communication is instant, giving members immediate access to important club news, especially the results of games and club events.
The Creation of Apps to Report and Measure Performance
The development of apps that provide immediate reporting of match results is proving extremely popular, especially where they provide details of scores and scorers. The use of technology to support players and coaches has taken the playing of Gaelic games to a new level. This is particularly evident at the inter-county level. Still, in many cases, clubs now embrace this technology which is being enhanced with every passing year.
Additionally, performance measurement technology such as STATSports' Apex Coach Series which was created with amateur teams in mind. It analyses performance so coaches and individuals can use the data to plan their future training sessions and improve. It is GPS technology that helps lessen burn-out and injuries. Coaches can use the data to regulate workloads and put appropriate tapering and recovery strategies into place to allow for the best performance.
In addition, Output Sports, a sports technology company, is making elite-level performance tracking more accessible than ever before. The technology involves wearable and phone camera sensing capabilities to monitor gym performance with lab-grade accuracy. It then integrates this data for improved training, injury risk stratification, and talent ID. The technology allows players and coaches to monitor power, speed, strength, and movement so they can up their game on the field. Last year, Clubforce joined a strategic partnership with both STATSports and Output Sports.
Enabling Fundraising in the COVID World
Volunteerism has been core to the GAA's operations since the association was founded in 1884. But nowadays, volunteerism is more challenging, with changing lifestyles impacting the amount of time people have to volunteer at their local club. It is also fair to say that the arrival of the COVID-19 pandemic is impacting how clubs will operate in the future. Good technology solutions which support club volunteers are now essential. Pre-COVID-19, many clubs embraced technology to support their activities, but all that changed dramatically in the first quarter of 2020 when the global pandemic landed on everyone's doorstep.
Club fundraising activities using one-to-one engagement are less likely in the future. While COVID-19 is the crucial reason for this change right now, the need to optimise technology to make life easier for volunteers is critical. This change is very evident here in Clubforce, where we have seen significant growth in online fundraising activities over the past eighteen months, passing the milestone of €1 Million in a month in Ireland last March. The message is very clear, with a growing number of clubs (and this applies to all sports, not just the GAA) now recognising the benefits of using technology to support their activities.
I recognise that some clubs may be reluctant to embrace technology to support their activities, perhaps due to a lack of knowledge of the benefits or indeed a fear of 'the unknown.' Here in Clubforce, we are conscious of these concerns. That is why we have several staff members who are dedicated to engaging directly with clubs to assist them in getting their activities, principally membership management and fundraising activities, online.
Final Thoughts
Technology continues to change the sporting landscape in so many ways, and there are many ways we can leverage it. From faster communication with members, the ability to track performance and provide insights on improvement to ways to continue fundraising in the COVID world, technology does prove to be a backbone of the GAA in recent times.
In saying that, at the core of every sporting organisation is the thousands of volunteers who 'keep the wheels turning' in their particular sport. Here at Clubforce, we are strongly committed to supporting those volunteers. We recognise your love for your specific sport, but we are very aware that your time is precious. Get in touch with us today to see how we can help you!