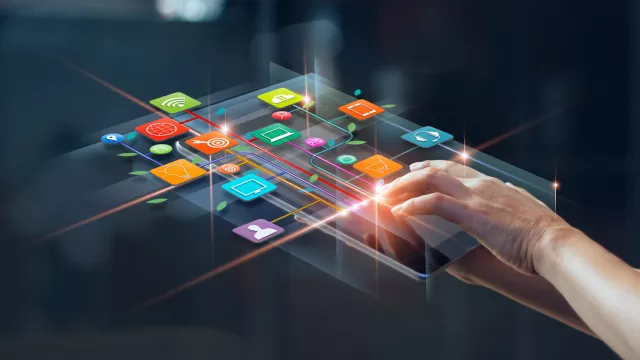 It has become evident over the past few years that digital marketing is growing more and more crucial to modern business success. In recent years people are buying increasing levels of goods and services online and are engaging much more than ever with online content. We can all notice how more and more people are veering away from local retailers and are shopping and purchasing online, I am guilty of it myself! Google now gets 77,000 searches every second, which would mean 2 trillion searches a year. Using digital marketing tools you can conveniently and quickly reach a very large audience and can measure the progress of your campaign. It is also a much more cost effective way of marketing your brand rather than other traditional marketing methods used in the past such as billboarding, telemarketing etc. It has been shown that traditional marketing generates 50% fewer interactions than in digital marketing. I believe that digital marketing will be the best way of operating any business in the near future and if you don't hop on the bandwagon now you may get left behind!
What is digital marketing?
Digital marketing is the marketing component that uses internet and online technologies in order to promote products and services. It is essentially referring to advertising through various platforms on the internet. There are many forms of digital marketing today, some of the most popular and effective forms of digital marketing include social media marketing, content marketing and influencer marketing. Social media marketing is the act of using social media platforms such as a method of promoting a product, service or brand. Content marketing involves creating and sharing material online to not promote your brand directly but to stimulate interest around your product or brand. Influencer marketing makes use of endorsements in order to promote the brand and entice customers to purchase their products. One of the reasons that digital marketing has become so prevalent is the engagement one can acquire when it's done correctly. It allows you to interact and solve issues with customers and reach a larger target audience. Digital marketing can help a business gain the edge over competitors and generate higher profits.
Benefits of digital marketing
There are many benefits of digital marketing in modern business. It can help the business reach a much larger range of customers, it can help build the brand's image and increase the brand's awareness. It can assist a company in tracking progress in their advertising and helps accurately measure the success of marketing campaigns and aid in the gaining of brand credibility. Digital marketing campaigns come with a low cost and can be quite inexpensive in most cases. It is important to note however that the return on investment from digital marketing campaigns is generally a good one: based on a litmus report, the return from email marketing is 4,200%, meaning that for every dollar invested, the company should earn 42. Nevertheless, advertising can begin to increase in price when using influencers to promote your brand. Influencer prices can vary and increase judging by how many followers the influencers have on their platform. This is often well worth the potentially high investment because people will often be inclined to buy or trust products and services that their favourite influencers are promoting. Prior to going down this route it is important to note that not every celebrity is attainable for brand promotion, some of the top followed people on Instagram are in positions to charge extortionate money for postings. Cristiano Ronaldo is now charging as much as 1.6 million dollars per post.
Digital marketing during lockdown
During the COVID-19 pandemic many businesses were given no choice but to adopt an online selling strategy and to begin their digital marketing journey. I speak with knowledge about this subject as my family's business was put in this unfortunate situation. My family has a small boutique for women's clothes based here in Galway, when the pandemic hit they could no longer operate for a number of months while still holding stock that had to be sold. This resulted in my family having some serious discussion about what we could do. We began with social media marketing and this began to really take off after a few months of hard work and perseverance, with orders coming in for the clothes we were marketing via social media. My brother then began learning how to build websites and eventually became quite accustomed with WordPress, building an aesthetically pleasing website with great functionality for the shop. This resulted in a place where existing and new customers could shop for their favourite products from the store as shown on the social media platforms and on the website itself, and then have their selected items sent directly to them while staying safe in the comfort of their own home.
Covid-19 digital marketing approach
We made use of content, social media and influencer marketing that I discussed above. We created lots of interesting online materials for our customers to stimulate interest around the brand and to persuade them to look at our products and our website with the ultimate goal of them purchasing. The main media platform we made use of for our marketing was Instagram, it was a very useful tool to reach out to our customer base and to attract new customers. Instagram was very useful for growing our brand and is an excellent tool for creating brand awareness. Influencer marketing was a very useful method of growing our online presence and resulted in an increased number of followers and online customers. These campaigns proved to be expensive at times (as expected) but were well worth it for the exposure the brand gained. The pandemic was a tough time for many small businesses and is still causing problems for businesses trying to operate today. However, it also gave impetus to many businesses that may have never gone digital to transform into the digital age and revolutionise their business. Speaking from my family's point of view, we are ultimately happy how it turned out as we can now be more competitive with the competition in the industry and are more present on the internet.
Our methods of digital marketing
Clubforce makes use of some very effective avenues of digital marketing. We are active on social media on platforms such as Instagram, Twitter and Facebook. I believe Clubforce implements excellent social media marketing on these platforms and great content marketing on Youtube. We are actively retweeting, posting stories on Facebook and Instagram as well as uploading interesting and informative content on our Youtube. I think all these methods of marketing have built brand awareness for the company and it represents the brand very well.
Implications of digital marketing
Although digital marketing has an undeniable amount of benefits, like everything, it also comes with some negative implications. Digital marketing can be very time consuming as it is not an easy thing to learn the necessary skills and techniques at the start of your journey. You must learn skills like creating different social media accounts, building websites, and preparing for campaigns. It will also require a tech savvy person and to have knowledge regarding social media, web development etc. which can be costly if the company does not have a suitable person for the task. It must also be said that security and privacy can be an issue, customer privacy must be kept as a priority in all operations as this service becomes harder when completing work online. It is also important to note that when entering the digital marketing space there can be very high competition when it comes to selling and marketing online due to the favourable return on investment and many other benefits that come with it. It can often be difficult for small businesses to compete with large online companies selling similar products as your business as they will already have a large amount of loyal customers and will have teams dedicated to managing the digital marketing space and that have trained for these positions.
Effectiveness of digital marketing
Successful digital marketing campaigns can result in huge publicity for brands. If a company focuses on creating quality content that will draw the attention of their audience it can result in lots of engagement. According to an article by the Digital Marketing Institute Heineken have done excellent work with their digital marketing campaigns. They launched a campaign to appeal to all audiences allowing people with different opinions on current news topics to work together to complete tasks. After completing the tasks they were given the option to have a beer to discuss their differences or to leave. This video received over 17.7 million views, 138,000 shares on Facebook, 324,000 engagements on Facebook and also appeared in 625 magazines following this campaign, proving once again the profound numbers that can be reached with digital marketing.
Conclusion
Digital marketing won't put a dent in your wallet, but it may put a dent in your free time. It is difficult to look away when a notification appears on your phone from Instagram, Facebook etc., but is more than worth the time and effort that comes with it. It is a revolutionary way of reaching customers and getting them to engage with your brand. It results in much higher sales and a much higher brand exposure when done correctly. There are many effective forms of digital marketing all of which are fantastic marketing tools. I believe this new form of marketing has revolutionized the way businesses can promote their products and services. To conclude, I think that it is of vital importance in today's digital age and every business should be going digital. The digital marketing age is upon us and it's time to become a member of the digital world!