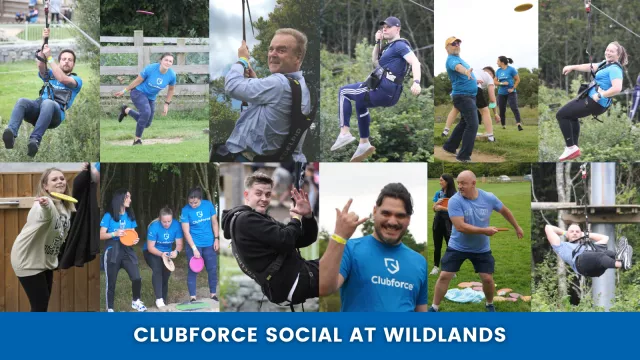 I joined the Clubforce team three short months ago but until last week I had met very few coworkers apart from my immediate Marketing team, who work from the office one day a week on a Tuesday. Although it's been great to sit together, brainstorm and work for one full day in the same space, socially distanced to be safe, it was difficult to get a real feeling and understanding of what Clubforce culture is really like.
With the majority of employees working from home since March 2020 and a workforce which has doubled in size since then, I was far from alone in this scenario. An "in-person" gathering (in a wide outdoor space for COVID compliance!) to get to know my colleagues beyond a picture on the screen was definitely in order.
Organised by the Clubforce Culture Club we headed to Wildlands Activity Centre in Moycullen just outside Galway. To be safe we split into groups which had been carefully assigned in our Google calendars. A few laughs and jokes were had and fears shared before we were hurtled through the air fifteen metres above the ground, ziplining through the Connemara trees followed by a relaxing twelve-hole round of disc golf.
Although we have sports stars at Clubforce not everyone is even interested in sport at all, and much to their own surprise some team members were completely out of their comfort zone with an outdoor challenge. To a person we all thoroughly enjoyed it though and worked as a team to get everyone through the activities.
Mission accomplished!
We finished off the evening with outdoor pizza and drinks with some of the younger members of the team adventuring further to explore some of the pandemic-adjusted Galway City nightlife.
So why was this event important?
The outing itself was important, not only for new recruits but for the Clubforce team as a whole. At a time when people are just not meeting as before the event served as something to look forward to. Something that involved building relationships for the future and in some cases breaking the isolation of living and working from home alone or indeed the feeling of overwhelm which can hit us all with the obligations of family.
There were a few other benefits too.
1. It boosted satisfaction
Our event was organised to give our team a break from the pandemic, to feel good for a few hours and to give everyone a chance to meet as many colleagues as they pleased. A recent Gallup study found that close work friendships boost employee satisfaction by as much as 50%. This event allowed people to have a proper chat with the extended team and start or develop their friendships which would likely have occurred already at the office.
"That day really forced me out of my comfort zone. But in a fun way! It's a healthy thing going outside your comfort zone every once in a while. During the ziplining we were all cheering and encouraging each other on the ropes.
Would I do it again? Not willingly!
Did I have a good time? I absolutely did!
During the golf I had a chance to have a real chat with Paul, the Head of Operations, who I'd only seen through the webcam during team meetings. We had a friendly disc golf match which ended in a tie! It's now much easier to work with Paul as I both know him and like him on a personal level."
Felipe from Dublin – a new UX Designer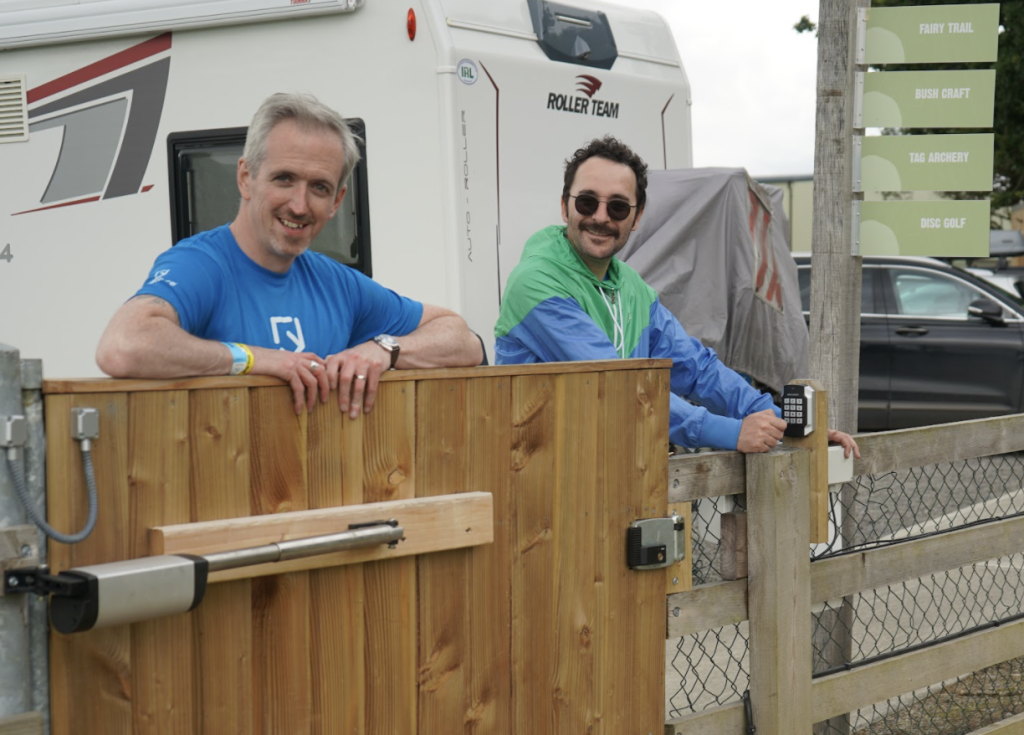 2. It forged new and improved existing work relationships
Activities in a new setting and doing things like zip-lining help people see each other in a whole different light. Encouraging each other to face a fear of heights or aim for a hole-in-one eased any awkwardness in meeting new faces for the first time. We all had a purpose and that was to help everyone else through. The same Gallup study discovered that 84% of their respondents said a job can't truly be great unless they have great coworkers.
Off-sites like Moycullen Wildlands give everyone the chance to connect offline and outside of the office. They bring people together randomly and encourage collaboration and teamwork to help improve communication, collaboration and ultimately performance.
3. Company culture could thrive and became visible
As mentioned by Paul Madden in an event earlier in the year. "Clubforce has a young and vibrant workforce." An active outing was very attractive for the majority of the team and so we chose what was culturally relevant. Clubforce has a Culture Club which sets the tone for our overall ethos and direction at work and the idea came straight from the stakeholders in that group.
Paul also refers to "a great solidarity and team spirit within Clubforce" which was evident as we faced the high wires in Moycullen. A real commitment to get everyone over the line. I can already feel it now myself at work, I feel more motivated to help the people I've met in person, there's just a natural drive.
4. It was fun!
During the pandemic, amidst the caution, restrictions and general feeling of danger, a sense of joy and freedom and simply having fun are missing from many people's lives. It can feel exhausting.
So was it a success? Did we achieve our goal? Yes we did.
New bonds were formed, comfort zones were smashed and most importantly some lighthearted fun was had. I took the opportunity to meet most of the team from all over Ireland. For the first time in a while it almost felt like back to normal.
An exceptional day in the last sixteen months.
Team events can have lofty goals about culture and performance and while I'm sure there were business benefits I think we can safely say, at a challenging point in time we simply had fun!
Thanks to the Culture Club and everyone who joined for getting it just right.