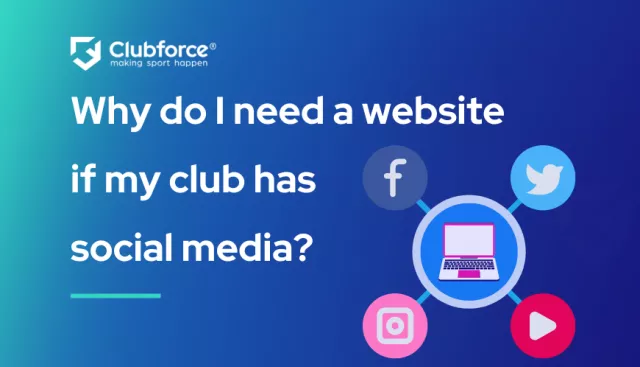 A website can be one of the most powerful tools to boost your visibility online, help engage your members and act as a central hub for all information surrounding your club.
Here are five reasons why your club can benefit greatly from having a club website:
1. Centralised hub for your club
One key thing social channels are lacking is the ability to link external sources in a simple way for your supporters to follow. Social channels are built for constant content generation, which makes it very difficult to find what you're looking for. A club website makes it easy to organise and structure your information so your members have an easy-to-follow hub when it comes to their memberships, club events, and even fundraising activities.

Pro Tip: use navigational menus and website footers to attach internal and external links to your membership forms, lottery, social channels, and anything else that relates to your club.
2. Add more value to your sponsors
Sponsorships are the bread and butter of sports club funding. A club website gives your club credibility and helps establish a professional presence, which can draw more members and sponsors. The more valuable your club is to your sponsors, the more likely they are to invest in your growth. A club website offers a place to showcase your sponsors and even provide a direct link to them on your homepage.

Pro Tip: external links are highly valuable in helping a website boost its rankings on search pages. Think of it as networking online, the more high-quality connections you have, the more credibility you gain – the same goes for websites. External linking can be very valuable to your sponsors and also help boost your own club up the search result pages.
3. Permanent location for your content
Remember MySpace and how it was one of the first and most popular social media platforms in the early 2000s? Now it's been replaced by Facebook, Instagram, Snapchat, Twitter, TikTok – there are too many to count! You never know what will stay and what will go.
A club website is more secure and versatile than social media. It allows you to share and store content like upcoming events, photos and videos, and long-form articles in a permanent location.
4. Attract new members
Owning a website is important for attracting new members and volunteers to your club because it allows you to pitch your club in a way that no other social media platform can offer. It provides you with a secure platform to collect contact information from interested supporters, post helpful content and act as a display for your club's achievements. An organised and regularly updated website can increase your club's visibility and recognition, create trust and credibility, and ultimately position your club as the more attractive option in your area.
5. Show your credibility
One of the most critical responsibilities of a club is to be as safe and compliant as possible for its members. In a world where data and information are easily available, members are becoming more conscious about their safety and security.
Unlike social media, with a club website, you can display important information regarding compliance, data retention, child welfare policies, and any other legal documentation required by your club.

That sounds great, but where do I start?
Clubforce Promote offers your club an easy-to-use website builder to quickly get your website up and running. Have a gander through Scarrif RFC Clubforce powered website.
"Scariff RFC started using Clubforce in 2020 and it has helped revolutionise our club digitally. Both the Clubforce platform and the Clubforce website have allowed us to establish our presence online quickly and easily. We launched the pre-built website without needing to start from scratch and having to worry about hosting and any technical issues. I have a background in digital marketing and have found the website very user friendly, even for other committee members who have no experience in building websites."

Emma Connor, PRO, Scarrif RFC