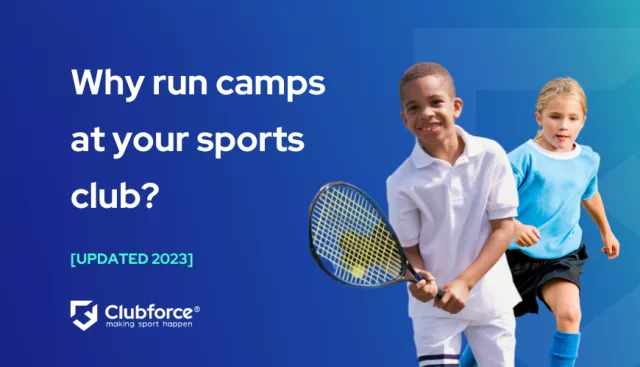 Running camps during the school holidays (such as Easter, Halloween or Summer Camps)can have many benefits not only for your club's revenue but also for your club members and the wider community.
What is a camp?
A camp is a supervised program for children of all ages which takes place during the school holidays. Camps vary from dance to rugby and usually take place for a number of days from morning to lunchtime.
Physical activity provides many benefits to children
Physical activity is beneficial for children for a number of reasons. As highlighted by the CDC in the USA, the sort of physical activity a camp provides helps both physical and mental health. Getting active can help physical health by strengthening muscles and bones, increasing cardiovascular endurance, and improving balance and coordination overall. It also helps to improve children's mental health by increasing self-confidence, reducing stress and anxiety, and improving concentration and focus.
Nowadays, "screen time" has also become a big issue for all ages, especially children. According to the World Health Organization (WHO), sedentary lifestyles can increase causes of cardiovascular disease, diabetes, and obesity to name a few. Camps can help get kids off their computers and phones instead of getting to attend fun sports events with their friends. This reduces the time they spend in front of a screen – which we can all agree is very important! In a world full of technology, some extra creativity to get kids active and limit screen time during the school holidays can be very beneficial. Camps also provide a safe and fun environment to make memories, build confidence, and develop many life skills.
Here are some key skills and benefits kids can build from attending camps:
1. Teamwork
2. Becoming more independent
3. Making new friends
4. Embracing the outdoors
5. Building self-esteem
Benefits for your club
Running children's camps during school holidays is a great way of growing membership and participation at your sports club whilst generating extra revenue in the process. The benefit of running your own club camp means the registration data and revenue stays within your club and not with a third party.
Camps can act like a free trial for potential new members, allowing them to see if they like it before signing up for a whole season. It can also help foster a sense of community and loyalty to the club.
Halloween is coming up very soon and sports camps are increasingly popular amongst school children and parents. This isn't just in one or two sports, like football or rugby, but as children look for more variety there is the potential for any sports club to run different types of camps. With this level of competition for participants, it's important for sports clubs to be organised to ensure that children or parents choose their camp over the other options available.
That's where Clubforce can help! With Clubforce you can make it easy for club members and other families in your community to register for camps online, making it easier for parents to select and pay for a camp at their own convenience. All communication with parents before, during, and after the camp can be managed securely through Clubforce's communications tools (including the mobile app, emails, and SMS messaging).

Existing customers – ready to go? Setup your Halloween Camp for free today