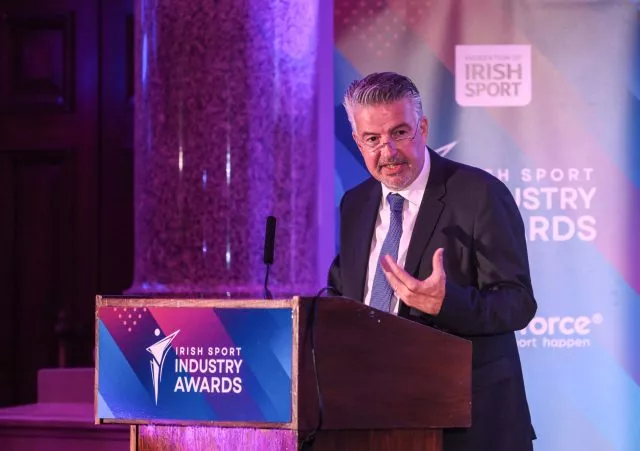 The winners of the 2022 Irish Sport Industry Awards, hosted by the Federation of Irish Sport in association with Clubforce, were announced at an awards ceremony at Dublin's Westin Hotel on Tuesday, 17th May. Minister Jack Chambers TD, Minister for State for Sport and the Gaeltacht delivered the keynote address to an audience of representatives from across the sports sector.
The 10 award categories recognise the value that sport adds to the Irish economy from the sports industry perspective, in addition to celebrating the ongoing work done by national governing bodies and local sports partnerships to promote sport and physical activity nationwide. The Sport industry in Ireland supports 64,000 jobs and stimulates €3.3 billion in household spending. For the full list of winners see below.
The coveted award for National Governing Body of the Year went to Volleyball Ireland.
Volleyball Ireland has made significant developments in their commitment to increasing participation and diversity in growing the game.
The winner for the Outstanding Contribution to Irish Sport for 2022 is JP McManus whose sporting altruism he has overseen the JP McManus Scholarship Programme, with over 1,500 students gaining college scholarships so far, many of them from sporting backgrounds in order to help them achieve their sporting as well as their academic ambitions.
The Jimmy Magee Sports Journalist of the Year Award was presented to RTÉ Broadcaster and Author Jacqui Hurley for her work in the area of sports broadcasting, and an author and for pioneering the work of getting female athletes getting the respect and recognition they deserve.
Mary O'Connor, CEO of the Federation of Irish Sport said, "Congratulations to all the award winners this evening. The awards are a celebration of the ongoing work done by national governing bodies and local sports partnerships to promote sport and physical activity nationwide. They also serve to recognise the invaluable relationship between business and sport in Ireland and the value that sport adds to the Irish economy. It is important to the Federation to highlight this and give prominence to the business of sport."
Noel Murray, CEO Clubforce said," It has been a real pleasure to work with Mary and her team to showcase the value that sport brings to our economy and to reward the contribution of individuals and organisations building communities, promoting participation and inspiring our own talent. As the industry becomes not only more important for our economy but also for our communities, health, and well-being, we are navigating through a critical period of transformation where accessibility, sustainability and technology are topics of major significance, especially in a post-COVID world."
PHOTOS: Sportsfile distribution.
Full List of Award Winners
Best Sports Sponsorship
Sky Ireland and FAI Women's National Team
Best use of Communications Platform in Sport
Her Sport, media platform dedicated to women in sport
Best Initiative to Promote Women in Sport & Physical Activity
Swim Ireland Women in Sport Leadership Programme
Best Initiative to Promote Inclusivity in Sport & Physical Activity
The Sanctuary Runners inclusive running community
The Jimmy Magee Award for Sports Journalist of the year
Jacqui Hurley
Outstanding Achievement for Contribution to Irish Sport Award
J.P. McManus
Best New Sports Business of the year
MOBY Bikes
Best Sports Business of the year
STATSports
Local Sports Partnership of the Year
Sligo Sport and Recreation Partnership
National Governing Body of the Year
Volleyball Ireland
About Volleyball Ireland
Volleyball Ireland has taken a serious approach to its Governance structures with the appointment of two Independent Directors, the roll out of a comprehensive induction programme for Board and Committee members and the publishing of an award-winning Annual Report becoming the first Sports body to win the prestigious Carmichael Good Governance Award for Annual Reports. Volleyball Ireland has continued to grow the game despite the setbacks of Covid 19 and restrictions on indoor sports in particular Volleyball Ireland increased participation by 55% and a 47% rise in social media followers and has seen a +325% increase in the number of active and licensed juniors playing the sport. Their growth has been noticed at international level, with their CEO Gary Stewart recently invited to present their story of success at the Annual European Volleyball Congress.
About JP McManus
JP McManus has made an enormous contribution to sport both nationally and internationally as both a philanthropist and investor. These contributions have lifted so many organisations and many different world-class sporting talents to this country. Despite his interests worldwide, he has retained a binding attachment to his own place and his own people.
About Jacqui Hurley
Jacqui is a revered sports journalist and broadcaster, and tonight's award is recognition of a stellar 2021. She was the anchor of our nightly visits to the Tokyo Olympics last year and is the weekly anchor of RTE Radio One's Sunday Sport as well as numerous outside sports broadcasts. In addition to her presenter role with the national broadcaster, Jacqui is the now Author of multiple Girls Play Too books which cover Inspiring Stories of Irish Sportswomen that aim to inspire the next generation of Irish sportswomen and in Jacqui's own words help to continue the shift towards female athletes getting the respect and recognition they deserve. More recently been appointed as an Adjunct Professor on the MA in Sports Journalism at the University of Limerick.