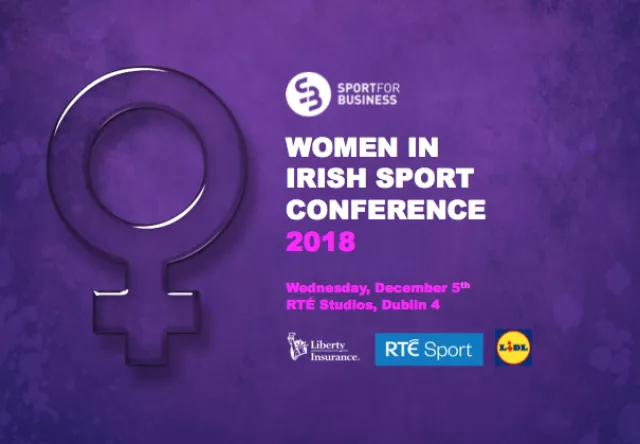 On Wednesday 5th December at RTE Studios, the 2018 Sport For Business 'Women in Sport' Conference took place and Clubforce were delighted to be a part of the event for the first time.
Keynote presentation on the day came from Polly Bancroft of UEFA who gave a very interesting presentation on the hugely successful #WePlayStrong campaign which drives awareness and builds participation in women's football across Europe with the help of national associations, players and a celebrity endorsement from Rita Ora. The digital media campaign hit some amazing metrics and featured the following video:
The event began with a panel discussion chaired by organiser Rob Hartnett of Sport for Business and involved Aoife Lane (WGPA Chair), Maria Kinsella (Carlow Footballer) and Anne Dalton (Kilkenny Camogie All-Star) – who discussed the challenges faced by the WGPA, the commitment required to play Gaelic games at the highest level, the lack of female coaches and the work involved in getting recognition for the female athletes who play our national games.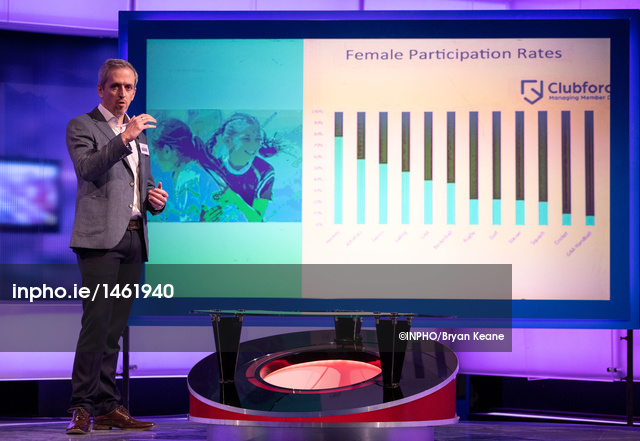 Clubforce Marketing Manager, Paul Madden was next on stage delivered the first of four five-minute 'Knowledge Burst' segments at the conference. The presentation focused on female participation levels across 12 sports and identified trends in participation across different ages in team and individual sports.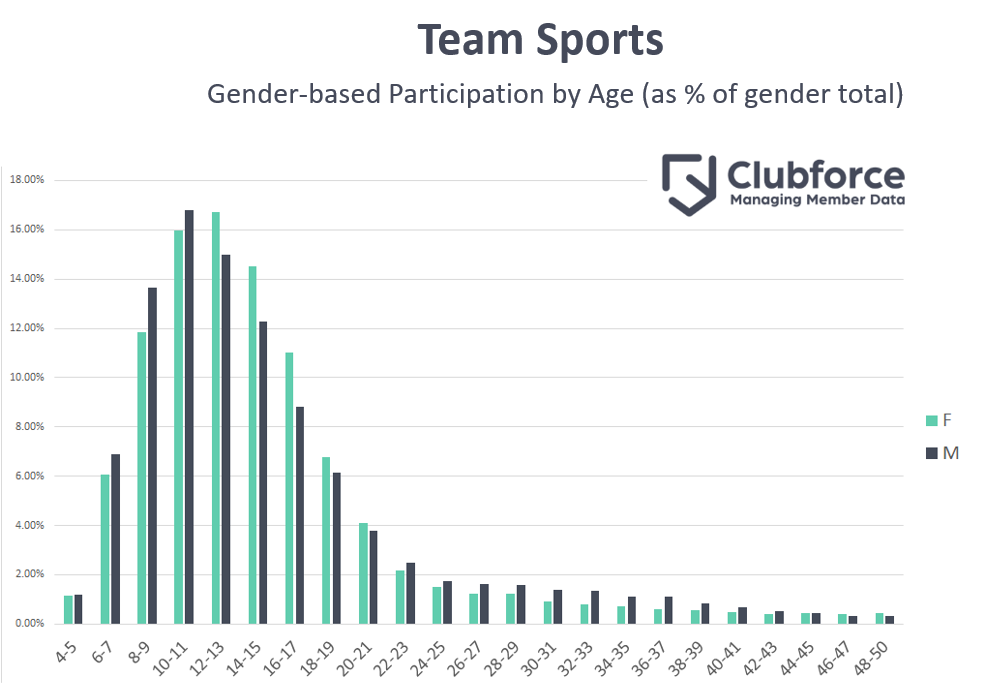 As a general trend, the data showed that female participation in team sports peaks a year or so later than male participation and that the decline in female participation (versus male) accelerates from the age of 21. This trend held true across team sports generally with rugby bucking the trend – it appears from Clubforce data that women are more likely to stay in rugby into their late twenties and early thirties than across any other sport.
In comparison to individual sports, the trend is chart is notably different with a decline in registration at these clubs in the mid-twenty age bracket. This picks up again towards the mid-thirties – perhaps as a consequence of people migrating away from team sports (where a greater commitment is required).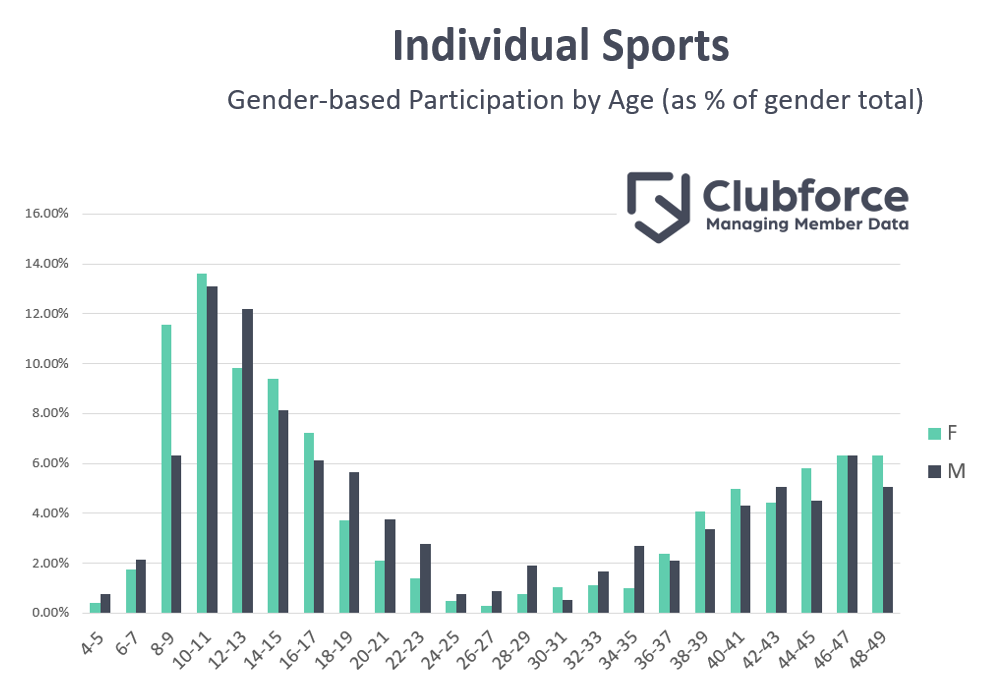 "The key thing to consider from this dataset is that it is not a set of hard facts to be taken in isolation. The numbers don't lie but are indicative only and must be considered in the context of the particular sport or with respect to a particular development initiative for really useful insight to be extracted from the data reported," Paul noted after the event.
If you would like to know more about how Clubforce data can help with the development of new initiatives in your sport, contact us.
Mary O'Connor of the Federation of Irish Sport and Sarah Colgan of Dublin-based creative agency Along Came A Spider, and Elaine Buckley of RTE were next on stage to talk about the 20×20 campaign which aims to shift the societal perception of girls and women in sport. This campaign has a real strategic intent and measurable objective set of objectives – 2o% more media coverage, particpation and attendance at women's games by 2020 – and the audience got to see another intriguing and thought-provoking video on changing the mindset for young girls by giving them inspirational figures they can more easily associate with as a means of sustaining their involvement and enjoyment of sport.
Three further 'Knowledge Burst' sessions covering Northern Ireland Sports Forum, RTE Audience Insights and the IRFU's 'Women in Rugby' strategy followed with a discussion involving John Coffey (Liberty Insurance) and Aoife Clarke (Lidl) on the commercial success of their pioneering efforts in sponsoring women's sports in Ireland and how the competitive landscape is now changing with greater commercial interest in women's sports generally – which should ultimately contribute to the success of women's sport for years to come.
The event concluded with the release of the 50 Women of Influence in Irish Sport publication in recognition of the role women play across all sports in Ireland and abroad. All in all it was an informative conference – there was a noticeable energy and tangible mood for continued change in how women's sport is perceived amongst all the sporting and commercial entities and individuals in attendance. Great work by Rob and Sport for Business in creating such an event to highlight the challenges, but also to recognise the success, of Irish women in sport.