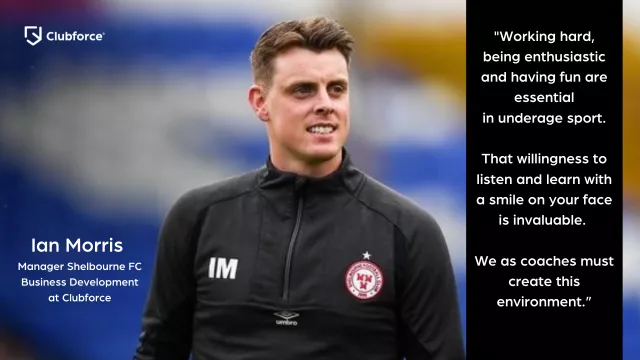 I recently visited one of our underage clubs, Ardmore Rovers, and got the chance to meet some players, who despite the worst of weather conditions, were in full flight at their Summer Camp. I was delighted to see that there was also a brave female player amongst the boys, all together persevering in the tough conditions and still managing to have fun. Things are definitely changing for the better and it's great to see that more and more clubs are now enjoying the benefits of diversity in football.
The visit reminded me of myself at that age. When I was a teenager I absolutely loved playing football. Or any sport for that matter. Being around other kids, making new friends, laughing, smiling, sweating (!). Having competitions with my mates, whether it was shooting, mini-world cup, three and in, the craic, camaraderie and competitiveness was always great.
I have always been an "all in" kind of person. Even as a kid I committed fully to whatever I was doing. I believe if you give your all you will enjoy what you are doing more.
Sport should be fun. It should be a release, a safe place of enjoyment no matter what is going on off the pitch. When we are training or playing games it's a place to smile, to be active and to have fun.
Being competitive will always come into sport. What mattered most to me was giving my best every time I was playing. I was lucky to have had some fantastic coaches that pushed me when I needed pushing, and made training and playing fun at the same time.
At 15 I signed for Leeds United. This was the start of my "serious" football career. Performance was essential. It was my job, It was my career path. Again, having good coaches who understood the pressures and could bring enjoyment to player development kept me feeling good as I worked as hard as I could. That is something I try to bring to any players I have the pleasure of coaching.
As I told the group and the parents and coaches at Ardmore Rovers, working hard, being enthusiastic and having fun are essential when you are underage. That willingness to listen and learn with a smile on your face is invaluable as a player.
Enthusiasm and positivity may sound unnecessary but in my experience they are important because you will learn more, play better and have more fun which is infectious and motivates the whole team.
It all comes back to the same things for youth football. Working hard, being physically active, showing enthusiasm and having fun are all essential ingredients. They not only benefit you as a player with a more rewarding and positive experience but they encourage your teammates, help the club, your community and the sport in general.
We as coaches must create this environment.