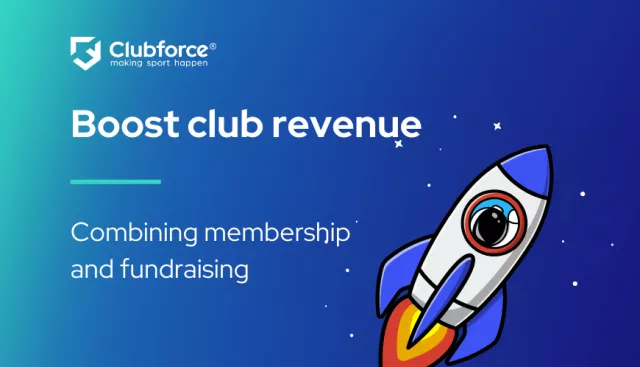 Raising enough money to sustain sports club operations can always weigh heavy on club chairs and treasurers. Fundraising and membership combined can help boost sports club revenue by creating a continuous stream of income. This in turn help reach your club's strategic goals.
Part of the same stream
A snowball keeps on rolling, it grows bigger and bigger as it gains momentum. That same logic can be applied to your club funds.
Membership fees give your club the revenue you need at the start of the season when it's needed most to cover your baseline costs. Fundraising events can then help generate an additional stream of income of recurring revenue throughout the season through ticket sales, draw games, and donations. Combining these two elements also helps promote your club's mission and create a sense of community among members.
Think smarter, not harder
Enough time can be spent on managing memberships alone, add fundraising into the stream, it can seem like an overwhelming amount of work. However, with the right system and processes, it can be easy to boost your sports club revenue.
How you manage your membership and fundraising streams is just as important as the execution. A single management platform looking after all your financial processes (payments, reporting, promotion) can give you an easier and more digestible way to keep on top of all your club's membership and fundraising efforts.
Clubforce offers a full management system designed to maximise your club revenue and streamline your clubs day to day operations.
Gain full visibility
Can you quickly check where your club stands financially? Can you quickly make changes or shifts to your strategy based on how your club is performing?
Ideally, the answer to both of these questions is YES! However, many clubs can't confidently do this. Using a platform that shows full visibility on all your revenue streams is critical to gaining a clear perspective of where your club truly stands financially.
Clubforce Insights provides clubs with full visibility on their financial reporting through revenue streams facilitated by the Clubforce platforms Generate and Core.
Take out manual work with automation
Chasing up memberships and reminding members to participate in fundraising events can take too much time out of your day. So, managing your club processes online gives you the ability to automate a lot of the manual work involved with running your club.
Automatic Reminder Mails (ARM) do exactly that! They automatically contact your club members and remind them to renew their memberships at the start of the year. The reminders will continue until they've processed their payment with your club.
Clubforce Core's membership tool sends automatic reminder mails (ARM) to your members once your new membership plan is launched – these emails help drive higher renewal rates for your members.
Auto-renewal features on the lottery draw automatically opt-in players to play multiple times with your club. Your members and lotto players can choose to set up a recurring payment (autorenewals), boosting revenue for your club!
Clubforce Generate online lottery can help drive higher participation rates for your online fundraising efforts and build a recurring revenue stream on top of your memberships.