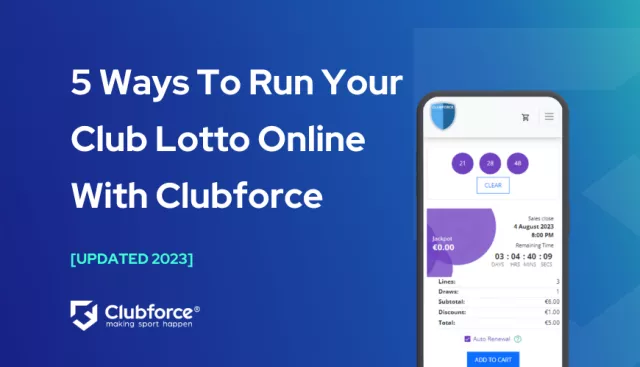 Club lotteries have proven to be an effective means of fundraising for clubs and leagues of all sizes. However, finding the time to sell tickets takes a lot of effort week-in, week-out and it can be very difficult to guarantee repeat purchases. Thankfully, there is technology out there to help with this!
Automating your fundraising through recurring purchases and selling lottery tickets online allows club members and supporters around the world to participate in multiple draws. To get automated and immediately start generating revenue for your club, you'll need to start with a few simple tasks.
Create your lotto draws
You need to consider how often you'll be running your lottery draws. Previously, this would have required a lot of thought and planning, checking schedules and dedicating volunteers to physically run weekly draws. When you do this online, you can answer and set-up your draws for the entire year within a matter of minutes! Set out a plan for the season by asking a few simple questions:
How much do I need to raise this season?
How often do I need to run a draw to meet this goal?
What's my jackpot?
How much will I charge per ticket?
Communicate with lotto players and club members
Communication is key! Keeping your supporters informed is one of the most important parts of fundraising. Make sure you're reaching out to your supporters through multiple channels. This could be through social media, your club website, via email reminders or even poster boards outside your club grounds. The more exposure you have, the higher the chances your club has at growing its supporters.
Run online lotto and offline lotto together
You're probably thinking, "this is all great but I already have a loyal group that likes to attend our in-person lottery nights", and to that I say – that's great! Having an in-person event is also a great way to have some fun and engage the community. A benefit on running online and offline lotteries is the security of online payment processing. You minimise your cash handling and maximise your funds coming in through two separate streams. The best part? With Clubforce, your payments for offline and online lotto are combined into a single report when you use Clubforce contactless terminal.
Repeat ticket purchase and auto-renewal
This is where automation technology comes into play. Do you ever have a supporter that is always keen to support your fundraising but is chronically forgetful? It can become a hassle when you have to remind supporters to play each time. Clubforce online lotteries allow supporters to opt-in for their ticket to automatically renew a purchase for each week or timeframe your draw is live for. Auto-renewals save time on the clubs end and opens up more time for valuable activities, as well as gives your supporters an opportunity to fund your clubs development anytime, anywhere!
Review your fundraising year-on-year growth
We all know how busy our personal lives can get. You're looking at reports all day at work and now in your spare time too! However, having vsibility on how your fundraising is performing is critical to your club strategy success. Clubforce revenue reporting allows club-allocated volunteers to quickly pull breakdown reports of revenue coming into your club. It's perfect for busy treasurers and allows easy sharing amongst club admins.
Bonus tip – Upsell your fundraising with membership!
Unique to Clubforce, clubs can cross-promote their fundraising lottery to new and existing members purchasing membership to give a strong boost to club revenue at the start of the season – when clubs need it most!
Clubforce lotto automation is simple to set up – let technology do all the hard work and save you lost time and effort selling tickets, chasing payment, handling cash, visiting the bank, checking tickets, and communicating draw results. Club members and lotto players can sign up for multiple draws or set a recurring payment – ensuring they never miss the chance to win while guaranteeing more revenue for your club! Playing the club fundraising lottery online is simple – users register once to play; log on anywhere at their convenience; choose their numbers and the number of draws and pay securely via credit card.
If you're interested in Clubforce, request a demo today!