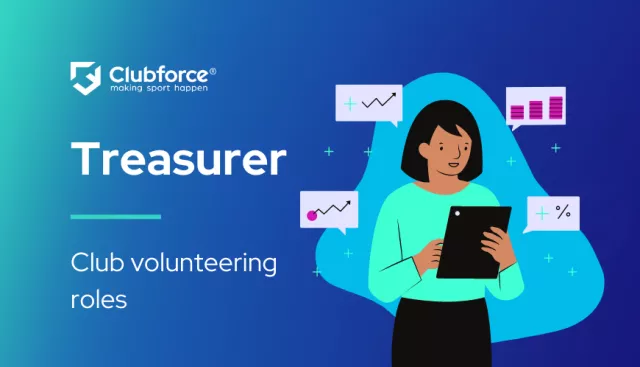 Clubforce is publishing a series of articles on the roles club volunteers can play at their local sports clubs, looking firstly at the club officer roles and then at coaches and other volunteering roles. If you are new to a volunteering role at your club or if you are considering contributing to your club as a volunteer, this series may prove useful in assessing which role would suit you best.
What is the Club Treasurer?
The Club Treasurer is responsible for managing the flow of money into the club and for allocating and recording how that money is spent to run the club. This is a vital role in a club as the treasurer works to ensure the club is able to meet its day-to-day expenses and prompts the need for increased club fundraising where a shortfall in income exists. The treasurer also works in conjunction with the chairperson in planning the development of the club e.g. creating annual budgets, estimating funds required for a capital project like a new pitch or clubhouse and projecting membership and income for future years to contribute towards prudent planning of the club's future. 
What are the typical traits of a Club Treasurer?
Like any position with responsibility for handling money, the treasurer is expected to be transparent and honest in their dealings as a representative of the club. Good record-keeping is essential and while a background in finance or accounting is not imperative for this role, it is preferable to have someone who is experienced in managing accounts. This role is often filled by small business owners, accountants, and other professional people who manage money in their professional roles (e.g. bank officials). 
What are the duties of the Club Treasurer?
The club treasurer typically manages the finances of the club, reports on the clubs financial performance and spearheads the fundraising effort to ensure the club has the necessary funds to be successful. 
The treasurer takes responsibility for the following:
Creating and maintaining the club's annual budget
Ahead of the club AGM, the treasurer will review the previous year's financial performance (or multiple years) and prepare a budget for the year ahead. This can be a time-consuming task without a consolidated record of club income and expenditure – but more and more club treasurers enter this volunteering role with many years of experience in financial services and have the tools and processes to conduct this role efficiently. 
Working with other club officers to generate and collect funds
Fundraising is a never-ending activity for sports clubs and treasurers are always encouraging new fundraising efforts to boost the club's financial position. This can take on many forms including working with:
Ensuring accurate and up-to-date records of all club income and expenditure
Club treasurers are responsible for keeping an accurate historical record of transactions covering income such as membership payments, fundraising income, sponsorship income, and payments to bank accounts, NGB accounts, and third parties.
Payments to third parties
Sports clubs have many different expenses throughout the year and bills to be paid. Typically the average sports club would transfer funds to their National Governing Body for affiliation and membership and might have significant insurance, utilities (e.g electricity/gas), bar suppliers, and maintenance expenses. Other costs might include issuing refunds to club members for overpayment, paying kit suppliers, physiotherapy and medical bills, and rent.
Prepare and issue invoices
Clubs collect money from a variety of sources and the treasurer will issue invoices and reconcile payments for sponsorship, rental of club grounds to other sports groups, rental of Astro-turf facilities, and/or rental of the clubhouse for social events. Depending on the club, there might be other opportunities to raise revenue also – for example by invoicing personal trainers for the use of club facilities/gyms, etc. 
Manages the club's bank account
The club treasurer is responsible for maintaining the club's bank records. This involves collecting incoming funds from all club activities including membership payments, sponsorship, and fundraising, lodging the funds to the club bank account either by transferring electronically (or in person), and reconciling bank records against those money-generating activities. 
Issue payment reminders to coaches
Treasurers have financial oversight at a club and know when memberships have not been paid. This is usually communicated to the member via the coach and can take several weeks before all members receive the communication in this ad hoc way. 
Seeking approval of the club's committee for major expenditures
Different clubs will have different policies when it comes to spending money but a club treasurer would typically have to get the signature of either the Chairperson or Secretary or both to authorise payments from the club bank account and significant expenditures may need to be ratified by a board meeting or even a club AGM.
Preparing financial statements ahead of the Annual General Meeting
Modern sports clubs have a considerable amount of financial comings and goings throughout the year and this activity is reported on at the club AGM. A treasurer must detail a report including income and expenditure and assets/liabilities (premises, machinery, debts, loans, etc.) of the club, which requires a detailed review of income from all sources and a detailed record of what club funds were spent during the year and what they were spent on. Many treasurers will use Excel spreadsheets or some kind of accounting software to keep a record of the club's finances. 
Reporting on the club's financial performance at the club AGM 
Once the preparation is done, the treasurer's report will feature on the club AGM agenda, budgets and financial records will be reviewed by members and a new budget will be agreed upon for the year ahead. 
Continuity is a challenge for all club volunteering roles but is particularly important in the role of treasurer. Where one treasurer leaves the committee at AGM to be replaced by an incoming treasurer, the handover of all financial records and bank accounts is important. Having a centralised record of finances makes this transition easier and a full record can easily be taken on by the incoming treasurer. 
How Clubforce can make the role of club treasurer easier…
The Accounts module of Clubforce makes it easy for club treasurers to transfer funds to the club or NGB bank account; report finances and do multi-year financial comparisons; to issue discounts and/or refunds to members. The Clubforce system also maintains a complete record of all financial transactions and service charges and issues automatic receipts with unique identifiers to members for any purchase made. The member also has access to their own member account – so don't need to consult the club treasurer to check their own payment status. 
The Clubforce system also allows sponsors to advertise on club receipts and treasurers can create, issue, and track invoices for anything from the admin panel. 
Clubforce also reduces the likelihood of things being lost in communication between treasurers, registrars, and coaches in regard to payment status as all of this information is available to the different roles at the click of a button on the app or desktop. 
For more information on how Clubforce can help your club treasurer fill in the form and one of our team will be in touch to organise a demo.