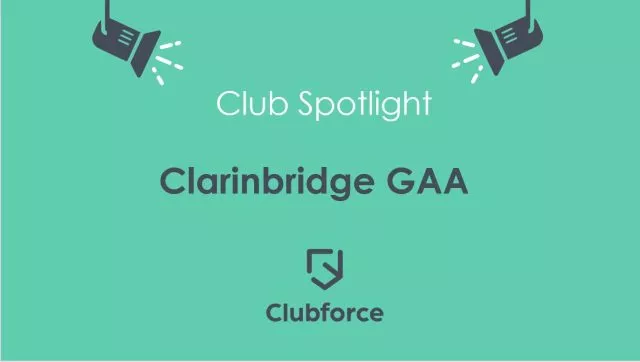 Every month in 2019, Clubforce will feature one of the clubs using our system to manage club membership, raise funds and communicate with members. The idea behind the Club Spotlight is to shine a light on the efforts of club volunteers, to draw attention to well-run amateur sports clubs and to share ideas and best practices with other clubs around the country who are looking for ideas on how to run their clubs more efficiently. This month we have Clarinbridge GAA club based in County Galway.
Club of the Month: Clarinbridge GAA
About the Club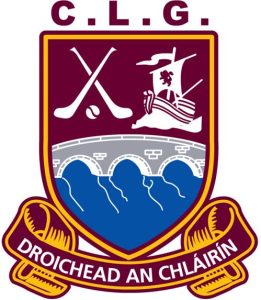 Clarinbridge GAA was founded in 1889. The club won its first county senior hurling title in 2001 beating Athenry eventually going on to lose to Birr in an All-Ireland club Final. The club's most heroic moment in its history was winning the senior championship for the second time in 2010 and going on to win the All-Ireland Club Championship in 2011.
Clarinbridge have been renowned for their young talent in recent years winning Minor A Championships in three out of the last four years!
The club is always active when it comes to keeping members updated with the latest news, match fixtures and results, lotto promotion, club shop promotion and all the latest club fundraising activities through their Facebook page.
The page itself has over one thousand followers and their Twitter page also has 680 followers. The Club also has a website clarinbridgegaa.ie.
Moving Online with Clubforce
Online Lotto
Clarinbridge has used Clubforce since 2016 to register members and also uses the Clubforce platform to sell lotto tickets online.
"We have been using the platform for the last four years now," says Chairman Bernie Conlon, "I have only got involved this year but judging on our previous figures our membership has consistently grown year on year which is encouraging."
The club currently has 580 members in the club and has grown by 15% in the last three years since moving to online.
"Our lotto has been a bit up and down, but we have addressed that this year and it seems to be going in the right direction! We have introduced a few different elements to the lotto to promote it a bit more."
Bernie went on to mention the changes they have made to their online lotto promotion.

Sponsored Prizes
"Sponsored prizes have been a success, people are more likely to enter online if there in a draw to win a voucher or a bit of club gear," added Bernie.
He went on to say "if a club is able to get 8 or 9 sponsored prizes throughout the year, it will cover your costs and will add more interest to the local lotto. Members who win a sponsored prize are happy, and what I have noticed is that they are more inclined to purchase again."
Online Lotto Signage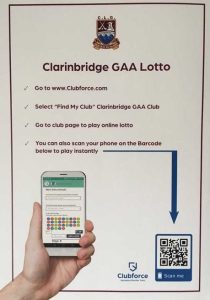 "We have also introduced signage to promote online play, and it seems to have helped to build online awareness."
"A high percentage of our offline players are of a higher age group, so our signage is simple, it clearly outlines the steps involved and we are hoping that this will encourage the older players to play online!"
"Our posters and billboards all have a QR code present, which allows you to scan your phone and it will bring you directly to the Clarinbridge lotto landing page."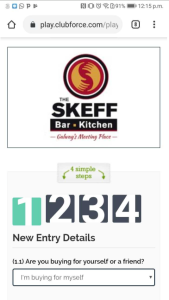 Sponsorship Tab
A sponsorship tab is commonly used with sports clubs using Clubforce to display on their landing page and receipt emails and can act as another source of revenue for a club.
"We managed to secure sponsorship from the Skeff in Galway, they have been very supportive of the club and is something we decided to put on our lotto landing page, a lot of clubs do this I noticed and is a great way to generate more revenue for the club!"
Communication
"We have assigned someone to solely look after the online side of the lotto this year and it has helped a lot. There is a lot of functionality to be used to help your lotto sales, you just have to assign someone who will push it."
"The SMS function is useful; it costs about €30 for five hundred credits which allowed us to contact all our club members to inform them about our August Madness month offer."
"I think anything related to your club lotto, you have to post the link! There is so much content online these days, if people are going to play it has to be quick and easy."
Bernie also made reference to Ee-mail communication using the Clubforce system – "we also changed our approach when contacting expired lotto players, I have been sending personalised e-mails and have had some success in doing this, I think if you keep sending generic messages, people tend not to respond."
August Madness Month
We asked Bernie about the most recent promotion they used for the Clarinbridge club lotto and how it has worked.
"For the month of August we decided to give our members a half price offer for an annual ticket, so they could purchase the ticket for €50 instead of €100!," he said. before adding:
"It has been a major success, as we have raised close to our overall revenue for 2018 and we still have four months left to trade this year!"
Everyone at Clubforce wishes Clarinbridge continued success and encourages other clubs to take a leaf out of their book when it comes to organisation of their club administration and fundraising efforts.
If your club is looking for simple ways to improve your lotto and you would like to learn more about how Clubforce can help your club – get in touch!