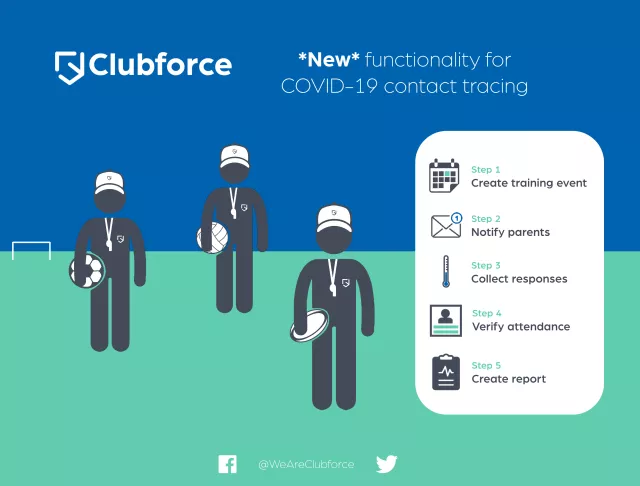 Sports governing bodies have started the process of returning to sporting action in the weeks ahead with the GAA, the IRFU and the two football bodies – the IFA and most recently the FAI issuing updates detailing how respective sports plan to resume in line with the easing of COVID-19 restrictions. Hockey Ireland have also issued a 3-step return to play protocol while Basketball Ireland have created a Return to Play working group focused on getting sport to resume as soon as possible. In line with protocols and assumed best practice, COVID-19 contact tracing is now a critical area of importance for sports clubs.
Like everyone involved in sport we are excited by the prospect of a return to action and are working hard to ensure Clubforce can play its part in making life easier for volunteers tasked with and additional set of tasks as sport. We have been monitoring the developing situation with regard to return to train and play protocols from the various governing bodies.Now that these protocols have been established by most of the leading sports bodies, we are finalising and releasing a significant upgrade to the Clubforce mobile app to make it easier for your club, volunteers and members to navigate COVID-19 contact tracing as sport resumes.
This is an integrated solution that requires no new member accounts, no data gathering exercise beyond the simple COVID-19 contact tracing questionnaire and no new software subscription or additional cost to the club. 
The group management function in the app will also make it easier to manage communications and tracing contacts will be straightforward. New arrivals at training can simply create an account on the Clubforce app and ask to join the relevant group to begin the process.
The simple five step process is as follows:
Step 1: Create a training event
A coach create a training event including event date and time and a name for the event e.g. for a GAA club that might be "U-16 hurling training".
Step 2: Notify parents and issue COVID-19 questionnaire
The coach sends an invitation to the training session in a notification to the parents of team members including the questionnaire relating to COVID-19. Respondents can be added to sub-groups as per protocols in respective sports (e.g. 15 including coaches for FAI, 12 including coaches for GAA)
Step 3: Parent confirms attendance responds to COVID-19 questions
The parent responds to questions in the app including the child's recorded temperature before leaving home and replies to the notification.

Step 4: The coach checks information before training and confirms attendance
The coach (or COVID19 officer) checks the information provided and verifies attendance at training using the attendance tracking function in the Clubforce app. If the club is checking temperature and a different temperature is recorded, that can be inputted by the club volunteer.
Step 5: A report for each training event is available to the club
This information is saved securely to the club admin panel and can be emailed to the COVID-19 officer or other club official as required.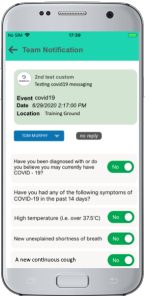 Track and Trace on the Clubforce App
The Clubforce app has been updated since June in both the Apple and Google Play stores – giving club coaches and COVID officers the tools they need to prepare for a safe return to play).
We have added the ability for families with multiple children, different responses can be given for different family members on the same account via a dropdown menu. For more details on how the app works, stay tuned to our weekly webinars.
This new functionality will make it easy for volunteers at all clubs (GAA, soccer/football, rugby, hockey, basketball, cricket etc.) to conduct contact tracing and keep a secure, permanent record of data. It will also be simple for COVID officers in clubs to report on the status on participants at any training session where the app has been used.
Get the Clubforce app here!
If your club is interested in helping Clubforce to test this new functionality and be one of the first clubs to use it, please fill in the form below or call us on +353-91-506048.
Book a demo of this and other Clubforce functionality by filling in the form below.