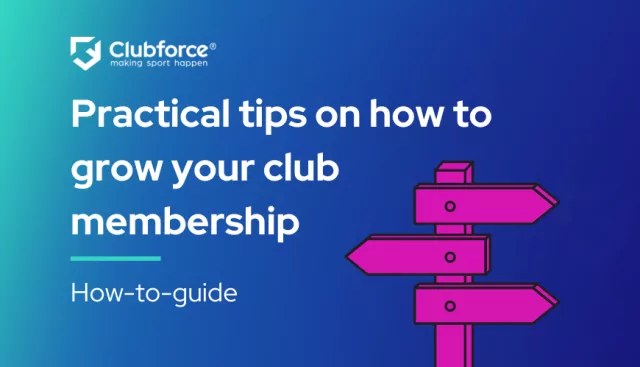 Most sports clubs look to grow their membership year on year and there are a few different ways they can go about this. We've collated our how-to guide to help you approach growing your club's membership:
Start with who you have
Before you start to grow your club, you should try to understand what your club's existing membership looks like. This will help you consider what is appealing or not appealing about your club and the sorts of members you are already attracting.
If you use the Clubforce platform for your membership you can access insights on your existing membership from our reporting tools.
Who are you targeting?
Now that you know who's in your club, it's time to think about the opportunities for growth. Whilst it may seem obvious and easier to bring in more people who fit the standard mould of your club, don't forget that larger opportunities may come from reaching out to different people throughout your community. The wider and more diverse your membership base is, the wider and more diverse your support will be – bringing in different skills, ideas, and connections to help grow your club in the long term.
Think about how to reach people: who, what, when, where?
The next step is thinking about how to communicate with the groups you'd like to reach. Think about:
Who do you want to reach out to?
What do you want to communicate to your potential members?
Where is the best place to reach then?
When will they be most receptive to your message?
Think about how the wording and imagery your club is posting on social and digital channels can affect the perception of your club. Are you looking to attract more female players to your club but your socials mainly highlight male players – or vice versa? It's important to share content relevant to the members you'd like to attract. 
Don't forget your existing members
In your growth, don't just focus on bringing in new people to the club. The same truth applies to clubs as to businesses – it's easier to retain an existing member than attract a new member. The key to this is good communication and activities to keep members engaged throughout the year. Don't forget the obvious too – make sure you are communicating when you want members to pay for their renewal!
The Clubforce membership tool sends automatic reminder mails (ARM) to your members once your new membership plan is launched – these emails help drive higher renewal rates for your members.
How to introduce people to your club?
When new people consider joining a sports club, they may not be 100% sure at the start and may be put off by an upfront annual commitment. Does your club offer potential ways for people to dip their feet in the club with a smaller commitment first? This could be as simple as an Easter Camp or Summer Camp, open days, a beginner's course, or even an introductory membership.
Another good practice tip is to assign a member to be a point of contact for all new members – pick someone sociable to do this who can agree to meet people at the club, get them set up, and introduce them to other members.
The Clubforce platform can deliver flexible structures to deal with a wide range of membership options. The platform can also run events including Easter Camps, Summer Camps, and other courses.