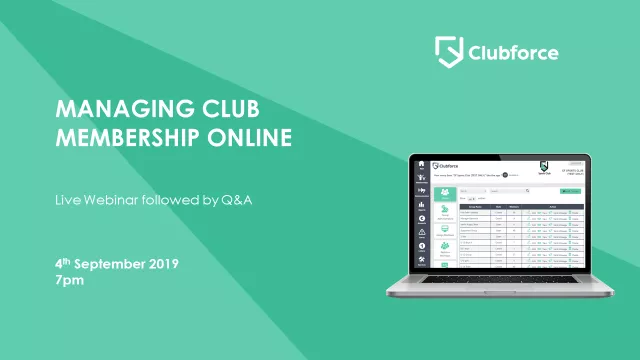 It's that time of year again for some clubs, AGM's, EGM's and late-night phone calls are being made before the season starts. Discussing the plans for the season ahead with the main priority being, when registration is going to take place. To help club volunteers during this busy time, Clubforce has a dedicated webinar showing you how easy it is to manage member registrations online with Clubforce.
For some volunteers, registration can be time-consuming and burdensome having to deal with lots of paperwork and cash. This year why not manage the entire membership process online, allowing members to register at their own convenience at home, at work – via a computer or mobile device, paying securely by credit card/debit (with the option to pay in installments if required). Saving your volunteers administration time & paperwork. Clubs can send registration announcements and reminder notifications to members as they wish.
One feature club's find very helpful when taking registrations is the ARM (Automatic Reminder Mail). This allows clubs to email their members weekly, bi-weekly or even daily if the club wishes regarding membership fees. Once the member has paid, they will not receive any more reminder emails.
Volunteers can save time in preparing for club board meetings with real-time reporting. Covering your memberships, fundraising and communications, membership growth can be monitored in detailed reports also.
On our system, clubs can have multiple admins, so different club volunteering roles can access the system for different purposes. Treasurers can see detailed income reports; registrars can instantly report on membership growth and the club secretary can report on club communications – with all data centralised on one secure platform. Club's also have the ability to sync data to NGB systems, transfer funds to bank or NGBs and more.
Another Feature which helps clubs manage their members is Single Member View, this gives clubs an overview of their membership and volunteer base. Instantly reporting on membership status, the number of volunteers available for the season ahead, knowing who has relevant coaching badges, First Aid training and police vetting.
Webinar Recording
To view the a recording of our recent webinar on managing club memberships online click on the link below.
Every Wednesday we will host a webinar focused on a different aspect of running a successful sports club and looking at specific ways in which Clubforce can help club officers to achieve their goals in a more efficient and effective way. If this evening doesn't suit, Click here to see the full schedule.
For more information on how Clubforce can help your club, call us today on +353-91+506048 or fill in the form below and one of our team will be in touch.