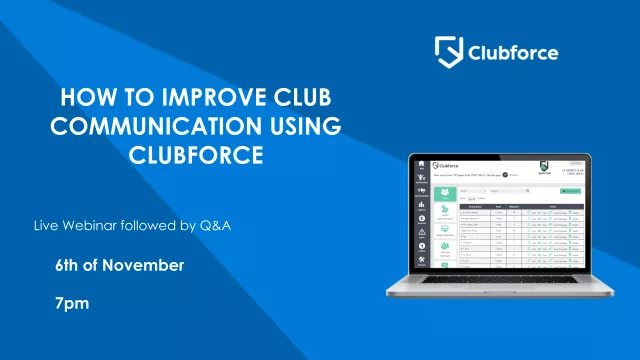 Each Wednesday we host a webinar showing how Clubforce makes life easier for your club's officers. Join Clubforce training specialist Francis Creaven for a presentation and Q&A session to discover how your club officers can get more done in less time.
This Wednesday (6th Nov) Francis will be discussing " How To Improve Club Communication using Clubforce ". This webinar would best suit PRO's, secretaries and chairpersons.
How Clubs communicate with members and volunteers has taken on a new dimension since GDPR legislation was enacted in May 2018. Clubforce provides club volunteers with the tools to communicate with members and volunteers.
In this webinar we will look at:
– Creating dedicated, private messaging groups for committee members in the Clubforce mobile app
– How coaches can message team members (and/or parents) through the app
– How members can stay up-to-date with team and training announcements without scrolling through endless group messages
– Keeping members up-to-date with club news through the easy-to-use Newsletter function
– Updating lotto players with the email alerts – Using SMS messaging
Centralised communications is a vital part of a successfully run club, with Clubforce, busy members, parents and volunteers receive the information they need when they need it ensuring they don't turn up for training when it's cancelled, they don't miss membership renewal periods and nobody has access to their contact information unless authorised.
Club officials can communicate with members via dedicated groups in the new Clubforce mobile app, via SMS or through email.
Email messaging relating to membership payment, ticket purchases and lottery is done automatically by the Clubforce platform – reducing the need for club officers to send updates directly.
To find out more about "How To Improve Club Communication using Clubforce", why not register for our webinar next Wednesday 6th November @7 pm.
If this evening doesn't suit, Click here to see the full schedule. All webinars are available to watch back also.
For more information on how Clubforce can help your club, call us today on +353-91+506048 or fill in the form below and one of our team will be in touch.