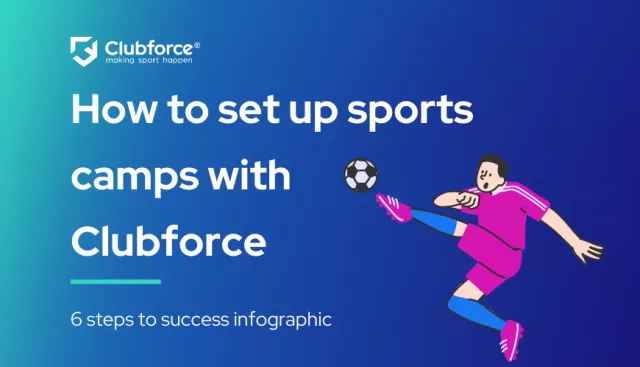 School holidays are a great time to run sports camps at your club. In our previous blog, we spoke about why clubs should run sports camps, and in this blog, we will showcase how simple it is to set them up via Clubforce.
Choose your dates and build your team
To get started, first pick the dates when you'll be running your camp, and then make sure to check that the facilities will be available. You will need to get some volunteers and coaches to help out, so start recruiting! The club should set a limit on registrations as this will help when making sure you have the correct number of coaches, volunteers, and facilities. This also provides a revenue target to help you drive sales and promotion. 
Promote your sports camp
Speaking of promotion, make sure to utilise the Clubforce Classic app and email communications feature to let club members know about the camp. It's very important to share the registration link on all social media channels to reach out to potential new members. Tag Clubforce into any social posts too and we'll make sure to give it a share!
This year, Clubforce will also be maintaining a Camp Finder on our website, helping parents looking for a sports camp to find one in their local area. Your camp will automatically be added to this to help you recruit more camp attendees.
Communicate
All communication with parents before, during, and after the camp is done securely through the Clubforce Classic app, newsletter, and integrated SMS messaging. The Clubforce Classic App gives admins and coaches the tools they need to run a sports camp safely. Groups can be created for different teams, coaching groups, volunteer groups, etc and no contact numbers are visible, ensuring the club's communications are GDPR compliant. 
Clubs have the ability to notify parents and guardians what food and kit are needed for children and ask them to confirm their daily attendance on the app. This reduces the administration workload on club volunteers, allowing more time to come up with new and interesting ways to make your camp unique and make it stand out from the competition.
Enjoy!
That's it, you're all set!! Make sure to share the infographic below to get your club volunteers thinking about making the most of camps to grow club membership and revenue this Easter.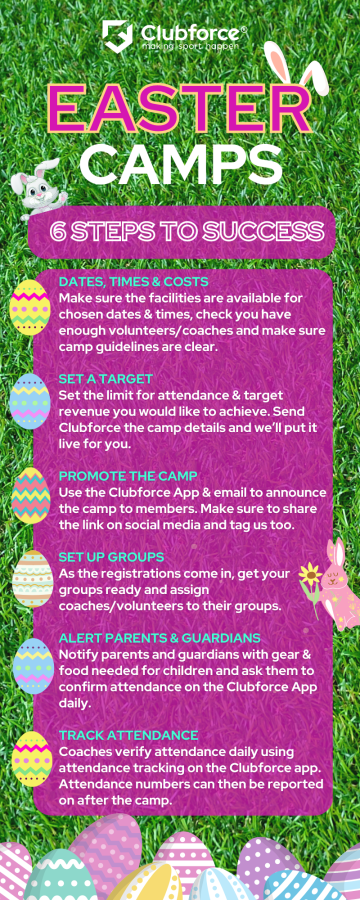 Special offer for new customers – set up your Easter Camp with Clubforce for a reduced fee of just €99 – request a demo today!
Existing customers – ready to go? Setup your Easter Camp for free today