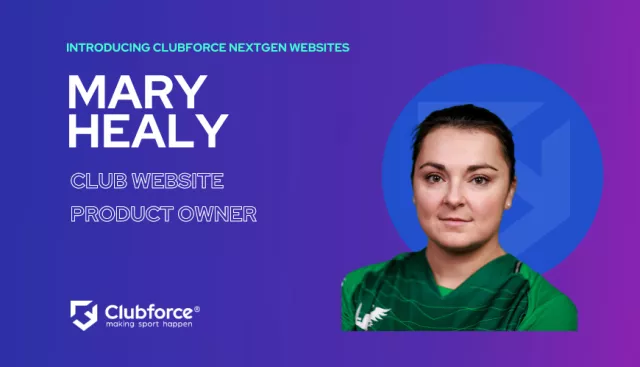 We recently released our biggest-ever update to our platform, Clubforce NextGen. The platform combines everything we've learnt from working with thousands of grassroots sports clubs and the latest technologies, user design concepts and best practices in data security.
A key new element of the Nextgen platform is the club website builder and so as part of our series exploring the thinking behind the new platform, our Commercial Director, Rich Stock caught up with Product Owner, Mary Healy.
Mary, thanks for speaking with us today, the website builder is a new addition to the Clubforce platform, why did we choose to add this?
These days the internet is at the centre of lots of the things we do day to day and sports clubs are no different. For many years, sports clubs have used social media profiles like Facebook or Twitter to promote their club instead of a website but increasingly these platforms are becoming more 'pay to play' – in other words, if you're not paying to promote your content, it's not necessarily shown to your members in their feeds.
The new website builder allows clubs to quickly create their own, independent part of the internet that is fully in their control and where you know your members can access all the information they need.
What's stopped clubs from creating websites in the past?
Some clubs have produced websites in the past but the internet is littered with old club websites that haven't been updated in years! Often clubs are heavily reliant on one particular volunteer who has set the site up and then steps back from the club and no-one else knows or has time to keep the site up and running.
How does the Clubforce NextGen website builder address this?
The key thing is that you don't need any technical expertise at all – our website builder handles all of that for you and we'll make sure that the technical elements are all covered off. You can fully customise the site to suit your needs without needing to worry about coding – something that's really helpful if a volunteer moves on and someone else needs to take up the responsibility!
What if a club already has a website?
Some clubs will clearly have a website already but this is where you can be versatile about how you use the Clubforce website. If you want to continue to use your current site that's grand, you can use the Clubforce site as a hub for the purchases a member might want to make. Equally, you can use it as an opportunity to transition to a site that doesn't require as much maintenance while you still have the technical skills so you don't hit a cliff edge with your existing website.
What are the key elements of the new Clubforce website builder?
Clearly, this product is in its early iterations so there's a lot more to come but there's already all the basics you need for the vast majority of sports clubs. The obvious elements are there, you have the ability to create news articles and pages to tell the story of your club and provide all the information your members need. The bit that adds huge value though is the full integration of membership and club lotto purchases within the website.
How easy is it to keep up to date?
I'd say if you can post on Facebook then you can create a page or upload a news article to the website. We've made the interface as simple as we can whilst giving you the flexibility to personalise the content to your club with photos and branding.
Talking of branding, as someone who's led sponsorship for one of the leading Olympic teams in the UK, I know just how important branding and presence can be for sponsors. Is that something you've considered?
100% – we know that sponsors are often the lifeblood of grassroots clubs and so we've tried to make sure clubs can integrate their sponsors across their website. There's two key benefits of the Clubforce approach – number one, there's no premium on this – all the ways you can promote sponsors are available within our standard packages without having to pay any additional hidden charges. Equally, there's complete flexibility in the site so you can present your sponsors in a flexible way.
So you can really tell the story of your sponsors?
Yeah, as you'll know these days sponsorship is more than just branding so the ability to create a page for each of your sponsors on the website allows you to really put their sponsorship in context. You often see this from clubs with professional sponsorship teams – rather than just pointing at a company's website, they will point at a page on the club's website which explains how the sponsor supports the club and what they can offer to you as a supporter or member of that club.
Earlier, you alluded to more to come from the website product – what can clubs expect here?
Like the whole of the new NextGen platform we're constantly working on new improvements. We've already made some little tweaks that will be rolled out since the initial launch. There's a few little additions we have up our sleeves for the coming weeks and look, we're open to feedback.
This is a product designed for clubs so it's really important to hear from the volunteers running these clubs what they'd like to see. The website builder is a key part of our new platform so we'll keep listening to see what we will make volunteers' lives easier.
Thanks Mary, we'll keep an eye out for those updates coming down the line!
—
The Clubforce NextGen platform is available immediately. If you'd like to find out more about the NextGen platform, request a demo from our sales team.
—
Read More in this series