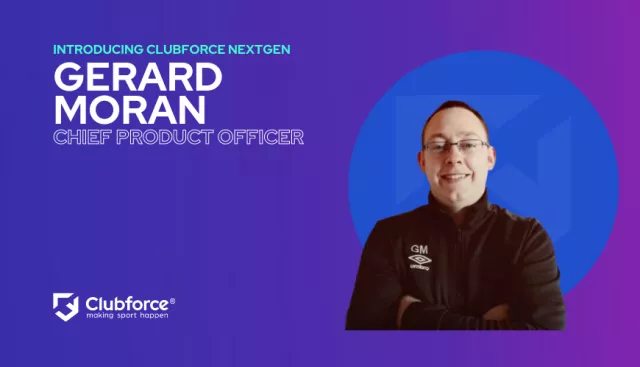 Today we've released our biggest-ever update – taking everything you know and love about Clubforce and combining it with the very latest in technology, user design and security. It's been a huge team effort to deliver Ireland's most advanced sports club management platform and so to celebrate the launch, each week we'll be catching up with our product team to understand the thinking behind the new platform. Today, it's the turn of our Chief Product Officer, Ger Moran.
Ger, thanks for joining us today, what can we expect from the new NextGen platform?
Thanks for having me – we're thrilled to unveil the new platform today. Clubs can expect a platform that's really simple to use, for both volunteers and members; a platform that looks great and one that is designed at every level to make running a sports club really easy.
That sounds fantastic – what are some of the key features we can expect from the platform?
Well, all the key features that you'd expect from previous versions of Clubforce are there but with a completely redesigned user interface. I know you'll be catching up with the specific product owners to talk about some of the detail of the platform over the coming weeks but my top three favourite features are:
The new integrated checkout – we've built a unique checkout that connects your fundraising and membership purchase flows. This sounds a bit technical but basically what it allows you to do is promote your fundraising while members are signing up for membership. We can even set it up so before a member checkouts it prompts them to purchase a lotto ticket. We believe this will be a real game changer for clubs, growing their fundraising.
The mobile app, Clubforce Connect – the new app makes it really simple to communicate and manage the day-to-day things happening in your club – who's coming to training, where is this weekend's match etc. It's fully integrated into the rest of the platform so it's easy to use and manage plus we've just rolled out a brand-new tool providing in-app visual insights into participation trends which will really help coaches keep track of attendance.
The website builder – so many clubs struggle to maintain a good website and so our new platform has a website builder at its core. This lets a club build a website without any technical skills and one that is fully connected to the rest of the Clubforce platform including membership sign-ups and your club lotto.
Those are my top three but there's a whole host more across the platform!
I know security has been a big consideration with NextGen, why is that?
Volunteer clubs perhaps don't pay enough attention as they should to security assurances of systems they take on and this is largely because clubs don't necessarily understand what responsibilities are placed on them by legislation such as GDPR. It's no longer good enough to simply shrug your shoulders and say I think the software supplier we're using is secure. Based on the legislation, clubs are required to seek proper reassurances from any suppliers processing their member's data on their behalf.
As part of the development of the NextGen platform, we have completed our certification to international standards of data security (ISO27001). This has been an onerous and ongoing undertaking – we are the only platform of our kind in Ireland with this certification – but it's something we believe is the only way for a club to properly know they have fulfilled their legal obligations.
Transitioning to a new platform can often be a concern, what is in the plan for easing that process?
The NextGen platform is designed with usability and user experience at its core making it really easy for anyone to pick up, but where needed, we have a great training and support team on standby to help. These guys are not only there to show you how to use the system but also how to really get the most from the platform. We've learnt a lot from working with thousands of clubs over the years and a large proportion of our team are involved in clubs themselves as volunteers and so they have some great real-world experience on a wide range of scenarios.
What does the future hold for Clubforce? Any other exciting developments we can look forward to on the horizon?
There's definitely some really exciting ideas coming down the line. We have a fantastic product development team here at Clubforce and they're already working on a number of updates and refinements that will be rolling out between now and the end of the year.
We're also excited to listen to clubs using the NextGen platform. We know the club volunteers using the system will have some great suggestions and ideas on how we can make Clubforce even better.
What's really exciting for me is that Clubforce is uniquely placed with the right team and resources to keep developing the platform even more!
Thanks Ger, we can't wait for clubs to see the new Clubforce NextGen platform!
—
The Clubforce NextGen platform is available immediately. If you'd like to find out more about the NextGen platform, sign up for our webinar on 18 May for a full tour of the platform or request a demo from our sales team.