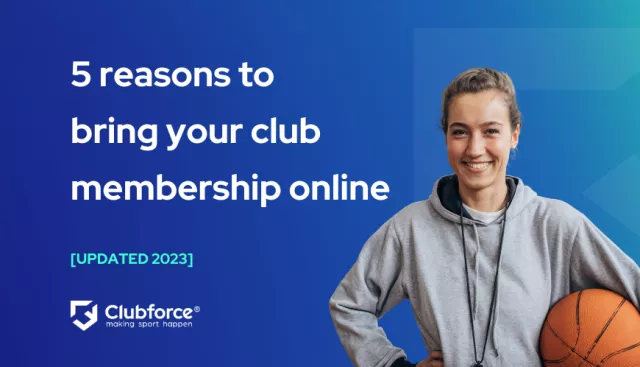 What does bringing your club "online" actually mean? It's putting processes in place that make managing your sports club easier! Most clubs will have a Facebook page, instagram or some sort of social media, which are all great! What is not often considered is that yes, your club is visible online with a website and social media, but your processes may still be very slow.
With manual work, Excel spreadsheets, or an outdated system that is more stressful than it's worth, "Going online" means so much more than posting on Twitter. Here are our five reasons you should consider bringing your club membership online. 
1. Streamline your renewal process
An online membership system makes it easy for your members to renew their memberships quickly and easily. This reduces the need for manual processing and increases retention whilst making it easier for members to stay up to date with their membership status.

Clubforce membership makes it easy to automate your membership renewal process with scheduled Automatic Reminder Mails(ARM) – speak to your account manager to set up ARM for your club.
2. Improve your member engagement
Bringing your membership onto an online system provides an easy way for members to interact with each other and the club in a GDPR-compliant manner. You're able to do so much more than just take registrations. You're able to involve your members in more online activities without having to go through additional third parties.
Clubforce offers an ecosystem of online activities designed to engage your volunteers and club members to gain the maximum in-flow of revenue into your club – speak to your account manager on all the options included in your Clubforce plan.
3. Increased visibility
Online membership systems give you clear visibility of where your club stands in terms of members and finances. It makes it easy for your volunteers to track membership renewal trends and helps you pull the reports you need a lot quicker.

Clubforce reporting is included with all packages to provide your club with in-depth reporting on all aspects of your clubs' membership, participation, and fundraising revenue.
4. Enhanced security
Clubs are responsible for the safety of their member's data. Bringing your membership online gives you the ability to control who has access to your membership information. This means that only authorised individuals can view and change information – keeping it secure. As a club, your member's data is your responsibility so It's important to research your software providers and make sure you're choosing to work with the right people.

Clubforce has extensive measures in place up to the international standards required for certification and cybersecurity insurance to provide the pave of mind that your members' data is safe with a compliant provider – Clubforce is ISO27001 Certified.
5. Easy online payments
Make it easier for your members to pay their membership fees. Going online allows you to easily accept payments from your members and place them directly into your club's bank account removing all manual cash-handling and reconciliation processes. This saves time and ensures your payments are secure and accurate.

Clubforce provides a secure and compliant payment processing platform for your club. Read more about our partnership with Stripe here.