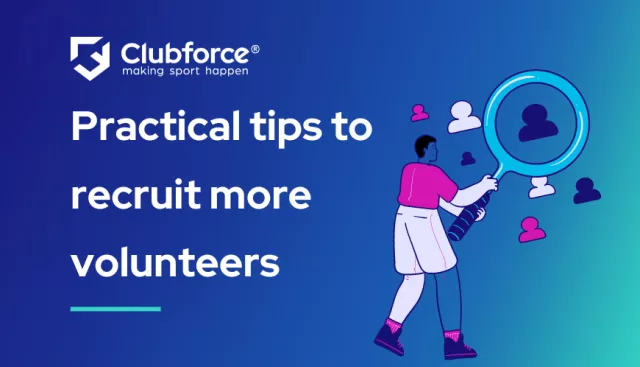 After the disruption of the last few years, recruitment of volunteers is more important than ever in 2023. Previously, we've explored the motivations that attract volunteers to join and stay with your club and in this article, we're looking at some practical tips on how to recruit those volunteers.
Here are five practical tips to help you recruit more volunteers:
1. Be clear about what you're asking someone to do
Would you apply for a job if there was no clear job description and you had no understanding of what to expect? The same applies to volunteering, if you don't set out what the volunteer role involves then a potential recruit will fill in the gaps or simply not put their hand up.
2. Set realistic time expectations
There are some incredible club stalwarts who give up what seems to be an endless amount of their time to clubs, however, not every volunteer needs to do this! Help potential recruits understand how they can keep a sensible balance by indicating the likely ask of a volunteer in terms of time. Think about whether roles that seem huge could potentially be split into a number of smaller, more manageable roles.
Clubforce is a club management system designed to streamline processes and reduce volunteer workload making tasks easier to manage.
Normally in a sports club, skills related to sports like coaching are relatively obvious but a lot of the volunteer roles you'll need to fill don't require sports skills. For example, do you want a new club treasurer who can coach a strength and conditioning session or one who knows how to do your accounts?  These skills might not be as visible within the club so a great practical tip is to identify some of the skills you might need and ask people if they have any of them in your membership form.

Clubforce clients often use their customisable membership forms to discover volunteers who can offer their club valuable skills.
4. Promote your vacancies
Don't rely on just word of mouth to recruit your volunteers – you never know who might exist across your wider audiences and networks. Advertise your volunteer roles like you would a job vacancy, make sure they're listed on your website and posted on your social media channels.
5. Be prepared for change
It's important to be prepared to adapt your approach to volunteers. A lot has changed in recent years so think about how you can make volunteering more attractive to a potential recruit. Consider options for roles such as:
Can volunteer jobs be divided so the workload can be shared?
Can some volunteer roles or meetings be carried out remotely?
Can certain roles be created that are short-term for specific projects?
If you're interested in finding out how Clubforce can help you recruit and retain volunteers – speak to your Account Manager and we'll get you set up!