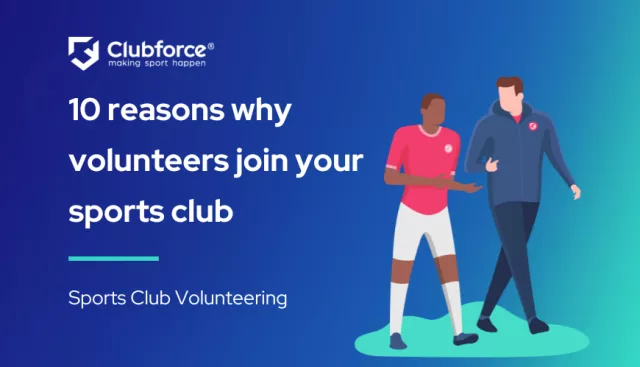 Too much to do and not enough time to do it all? – your club probably needs more volunteers! There are many factors influencing the recruitment and retention of volunteers – here are 10 things to consider in order to maximise the likelihood of getting a 'yes' instead of a 'no' when you ask someone to volunteer.
1. You understand their motivations
So why do people volunteer? There are many motivations for volunteering but for most people, it's an opportunity to give something back to their local community, network and meet other people or learn something new. Others do it because their kids are involved. Factor these motivations into the conversation when you ask someone if they are willing to volunteer at your local sports club.
2. You advocate for diversity
Modern sports clubs need a diverse volunteering profile to cater for a diverse member base – male/female, young and old, people from different ethnic backgrounds, able-bodied/disabled and people in different types of employment. Recruiting volunteers from a broad range of backgrounds can help to broaden the club's appeal and grow its stature in the community.
3. You accommodate flexibility
Due to professional commitments (e.g. shiftwork) and family life, people are busier now than ever before so it's important that volunteering obligations take into account busy lifestyles. Perhaps different volunteering roles can be shared by one or more people.
4. You identify the right volunteer
We have given a breakdown of what is involved in different sports admin roles such as the chairperson, treasurer and club secretary and who is likely to fill these roles. For coaching roles, think about who has free time on weekday evenings and Saturday/Sunday mornings for training and matches.
Also, local universities/colleges might be a place to advertise volunteering roles as students involved in sports courses (e.g. physiotherapy, physical education, sports nutrition) may be on the lookout for some practical experience.
5. You implement an easy recruitment process
What volunteering gaps need to be addressed at your club? Fifty people putting up their hands to be a coach is great but if you already have all the coaching volunteers you require but nobody to do club administration, then you need to adjust your recruitment to address the gap in your volunteering team.
Clubforce adds a volunteering field to all membership forms to attract and keep volunteers interested on-file at the beginning of their journey with your club.
6. You find the right time to ask
When is the timing right to ask someone to volunteer? Volunteering is a year-round challenge but recruitment is very often done at the start of a sporting season. Given that many volunteers are drawn from the pool of parents bringing their kids to play sports – asking them to be involved, and asking regularly each week can be a great way of gradually growing a volunteer base rather than a one-off recruitment drive once a year.
7. You are persuasive but never pushy
No is never a no. People often decline volunteering roles when asked first but later regret not saying yes, so remember to check in and ask again where possible, showing them that volunteering is an enjoyable pursuit rather than a burden.
8. You identify your competition (and do better!)
Who else is competing for your target volunteers' spare time? A rival club down the road? A different sport? How does your club stand out? Do your clubs make life easier for club volunteers by providing them with the tools and equipment to carry out their roles in an effective and enjoyable way?
9. You show recognition and appreciation
Volunteering is a big commitment so recognising the efforts of volunteers is an essential part of positive club culture. From simply saying "Thank You" to the people who get up early on cold, dark, wet weekend mornings to make amateur sport happen to formally recognising their contributions through a volunteer award, it's crucial that volunteers feel appreciated if they are to be retained over many years.
10. You make sure your club has good management
With a broader volunteer base comes the challenge of managing many volunteers – a good problem for a club to have but one that creates additional work for a club secretary or club volunteer coordinator. Managing your volunteer base can include document management tasks like processing police vetting documentation, first aid qualifications, coaching qualifications etc. and issuing reminder notifications; setting up teams and teamsheets and updating coaches on membership status. A well-organised, well-run volunteering team is an attractive prospect for new recruits, so having a system that allows the club to manage all of their information securely in one place is important.
The Single Member View function on the Clubforce platform allows volunteers to upload documentation for club administrators to view in their admin panel and club volunteers can create messaging groups for coaches and their teams on the Clubforce app.
Clubforce is dedicated to making life easier for sports club volunteers – fill in the form below to see how we can help your club retain volunteers by making their life easier!