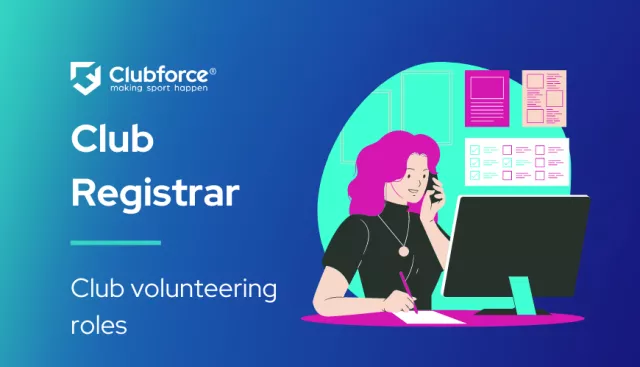 Clubforce is publishing a series of articles on the roles club volunteers can play at their local sports clubs, looking firstly at the club officer roles and then at coaches and other volunteering roles. If you are new to a volunteering role at your club or if you are considering contributing to your club as a volunteer, this series may prove useful in assessing which role would suit you best.
Club Membership Secretary / Registrar
Depending on the sport and the role of the Membership Secretary may also be known as the Membership Officer or the Registrar. These roles are largely the same with the same responsibilities and workload.
What is the Club Membership Secretary or Registrar?
The primary role of the club membership secretary or registrar in an amateur sports club is to manage member registrations and membership renewals each year. The role also involves assisting coaches with team sheets and updates on who is available to train/play having paid their membership subscriptions. Many sports governing bodies insist that all members are insured in order to participate and this can be a condition of registration, so it's important that members have paid their fees in order to play without worrying about being insured.
What are the typical traits of a Membership Secretary / Registrar?
Typically, the club registrar will maintain a working relationship with club coaches and other club officers, so, therefore, needs to be available regularly. For many sports, the sporting season is aligned to the school term and registrars are busiest before the season starts as members renew their membership and new members join.
The role of the registrar requires very good organisational skills, computer literacy and good written communication skills in order to ensure that memberships are processed in a timely and secure manner.
What are the duties of the Membership Secretary / Registrar?
The club registrar has a vital role to play at the start of each season and has an important role throughout the season. It can be a very time-consuming and labour-intensive role without the appropriate systems in place The typical duties of the club registrar include:
Managing the club registration and membership renewals processes
The start of each new sporting season is a busy time for a club membership secretary as they must process all club membership applications and renewals before the registration deadline specified by the National Governing Body (NGB). Membership types and fees and payment methods would be agreed upon by the club's committee at the AGM. These membership types and rates must be communicated to members and prospective members before the season begins, giving them enough time to submit an application and have it processed so that they can participate in training, register as eligible players and participate in other club activities.
Processing membership applications for new members – issuing and collecting and approving registration forms and fees
Issuing and collecting registration forms and ensuring they are completed correctly can be a frustrating experience for a membership secretary and for busy periods can feel like a full-time job for a time-pressed volunteer. Some clubs still operate this process on paper forms and accept cash for payment – paper records then have to be transcribed into a spreadsheet and returned to the NGB. All of this creates a lot of pressure for the membership secretary to cope with and there's also the data privacy concern of where paper records are stored.
Maintaining accurate and up-to-date membership records including payment status, age grade status, playing status etc.
When a member submits their details in year 1, they shouldn't have to resubmit again in year two – that's not convenient. The same applies for the registrar who shouldn't have to repeat the same tiresome work year after year. Also, when filling in paper forms and transcribing them – or even when filling in electronic forms – errors can occur and fixing those errors to maintain an accurate record of membership should be quick and simple.
Maintaining a basic membership record of members' details, contact information and payment status but a complete club membership management system provides greater data security and integrity and virtually eliminates the likelihood of membership records getting lost (e.g. stolen laptop).
Works with the club treasurer to reconcile membership payments, discounts, refunds etc.
This is where the role of the registrar can get tricky. If your club is taking cash and registering members via paper forms, reconciling payments and registrations takes a lot of time. Even using an Excel spreadsheet or Google Docs sheet as a membership record will take time and patience to keep it up to date. This record and any funds collected must then be transferred to the club treasurer who is responsible for managing the club's finances.
Contacts members in payment arrears to pay club membership dues
Many clubs operate an instalment-based membership payment system, which if done offline can be almost impossible to manage. The registrar must ensure that members who fall into arrears are contacted and make payments to ensure they can continue to participate in games.
NGB data administration – sending/uploading membership information to the NGB and reconciling membership numbers
Almost all sports NGBs have membership databases where individual members or clubs submit data. For many clubs, the responsibility for submitting this data on time falls on the membership secretary or registrar. All memberships need to be compiled into a single file, in the correct format to upload to the NGB system.
Updates coach each week on who has paid their membership and is eligible to play
By the time training gets underway a lot of the hard work should already be done for the registrar but there's still quite a bit to do each week notifying coaches of the payment status and eligibility of players. Depending on NGB rules and insurance policies, this can be a show-stopper for members participating in games so most Friday evenings, membership secretaries are busy cross-referencing lists they have received from coaches (by text message/email) against their membership record and then updating the coach on who has and has not paid.
Ensuring data privacy and meeting GDPR obligations as an officer of the club who are a data controller
Volunteering roles in sports are coming under increasing scrutiny and roles are becoming more onerous. Managing club member data is a huge responsibility and ensuring the club has a secure record and an audit trail of user permissions is very important. For the membership secretary and all club volunteering roles. this is very difficult to do in a cohesive, collaborative way without a centralised data record.
Sharing National Governing Body (NGB) registration numbers with members
Members might need their NGB number for insurance purposes or for direct communication with the NGB – this happens relatively frequently and the registrar can be inundated with requests from time to time. With Clubforce this is simple because the club can connect their NGB data system and import the NGB number of each member so that is displayed in their member account – removing the need to contact the registrar to find out their number.
Reporting to the club secretary on the progress of memberships (growth/decline) etc.
The club membership secretary is the authority on how membership is progressing year on year. But if a new person takes up the role, do they have all previous records? As a club secretary is busy preparing for a club AGM, a membership secretary should be able to quickly tell of growth/decline in membership amongst different age groups across genders – this can be a time-consuming report to compile from an Excel spreadsheet and is impossible to do accurately from paper forms.
As you can see, there's a lot of work in being the person responsible for membership in a club – before the days of online payment processing, databases and online communications tools, the job of registrar must have been a very difficult one. Luckily today – all of this is made easier for club volunteers thanks to Clubforce.
How Clubforce can make the role of Membership Secretary easier…
Clubforce gives club membership secretaries can easily customise club membership options and send email notifications to prospective members letting them know of these options and the registration deadline.
For members renewing the Automated Reminder Mail (ARM) is sent at regular intervals until a member renews. Registrars can also easily search the member database to check the status and instead of manually compiling and uploading spreadsheets for NGB systems, registrars can sync pre-formatted data directly to an NGB system from the Clubforce dashboard and update Clubforce records with the NGB membership number for cross-reference.
Another significant time saving that Clubforce provides to the person in charge of membership in a club is having to notify coaches of who has and has not paid their membership. For many sports and NGBs, unpaid members are not insured to participate in club activities, so this is a vital function. With Clubforce, it's simple – the coach assigned to a team simply checks Manager View in the Clubforce app to see payment status in real-time. From the app, they can send reminders to the member/parent by email, app notification and/or SMS – eliminating a lot of the time-consuming 'to and fro' that happens between registrar and coach.
For more information on how the Clubforce sports participation management system can help your club membership secretary/registrar call us today on +353-91+506048 or fill in the form below and one of our team will be in touch to organise a demo.