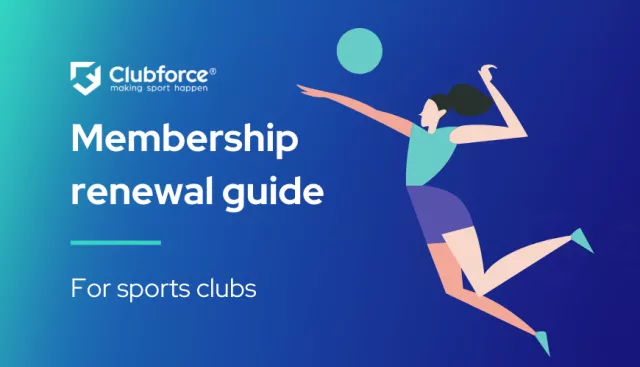 Pre-season is a busy time for sports clubs. Club officers are probably readjusting after hosting the club AGM, welcoming new club volunteers, digesting new guidelines from their governing body and preparing for a return to action. Getting members to renew their membership is one of the most important but time-consuming tasks for volunteers as it impacts participation numbers, competition entries, insurance, volunteer requirements and more.
This guide is intended to help clubs prepare for renewing members for the new season and reduce the workload. The average club volunteer works 18 hours per month and that climbs significantly during pre-season without the relevant tools to help them work efficiently.
Set a target
Adjust club membership fees
Incentivise early renewal
Offer multiple ways to pay
Spread the word…
Send regular and relevant reminders
Set a deadline (and grace period)
Send payment confirmation / receipts
1. Set a target
This is often overlooked by sports clubs but the club should start the year with a plan to grow membership (unless resource constraints don't allow it). A growing club membership keeps the club vibrant and breathes new life into training and the general atmosphere at the club.
What should the target be? A breakdown of current club membership is a vital starting point – a report that will identify membership by different age grades, gender etc. can give the club a clear idea of where they are starting from at the start of the season.
The Clubforce Secretary's Report and Retention Report give this breakdown to club officials instantly so historical membership can be compared across a 3-year window and drop-offs can quickly be identified and contacted directly if required.
The first goal should be to retain all of last year's members and then grow membership by say 10%, 15% or 20% depending on other factors. The target will differ depending on the size of the club, location, popularity of the sport and competing alternatives.
2. Adjust club membership fees
So many clubs undersell the value of club membership. In terms of value for money – the cost of club membership is low compared to competing alternatives – so a club should not sell itself short when it comes to setting fees.
Look back at the previous year's club finances to see how much membership fees contribute to costs and adjust if necessary.
Many clubs default to "the same as last year" but over a number of years, this leaves the cost of club membership too low to be able to provide members with an experience that they value. Look at competing clubs in nearby towns, villages and counties to make comparisons before settling for "the same as last year".
3. Incentivise early renewal
Early bird booking discounts are a good way of collecting membership revenue early – especially where clubs need the funds to get ready for the start of the new season.
Also, given the stop-start nature of club membership at times, clubs may consider offering a reduced rate to members in this scenario. A system like Clubforce can apply such a reduction automatically (per cent-based or nominal value) by looking up the membership from the previous year, thereby reducing the burden on the club volunteers.
4. Offer multiple ways to pay
You can use discounted packages for families, offer discount codes for new members or repeat memberships and offer membership payment schemes to help spread the cost of high membership fees. These are all just a few ways to make it easier for members to meet payments while ensuring they get to participate and the club gets paid.
5. Spread the word…
Depending on the club type and location, different channels will prove more popular for getting the word out there that membership is due and/or a deadline is approaching. If you don't already know what channel works best, try as many as you can until you can discover which works. Adding membership details to the club website, Facebook and Twitter accounts and any messaging apps is always a good start.
Email, SMS and clubforce app notifications prove to be very reliable for prompting a direct action with the majority of membership renewals on Clubforce coming through email reminders sent through the Clubforce admin panel.
Relying on a single announcement won't get the job done however – reminders are very important.
6. Send regular and relevant reminders
The key word here is relevant – if you are reminding someone to pay after they have paid, that's a nuisance. But how do you know? You need to cross-check who has paid or has not paid and update your mailing list, SMS list or another messaging channel – this takes a lot of effort for the club registrar in a relatively short period before the season starts.
Adult members and parents of underage members are very busy and often inundated with communication from a range of different sources so it's important to send them regular reminders to ensure payment is made – especially if there is a hard deadline.
The Automated Reminder Message (ARM) on Clubforce eliminates the nuisance for the member and the workload for the club volunteer by sending reminders only to those who have not paid. The list of recipients automatically updates once payment is made – so a member only receives reminders that are relevant.
If a member has paid offline (e.g. at the clubhouse) – they can select "Paid at club" on the email reminder to update the system and stop receiving emails.
7. Set a deadline (and grace period)
There are inevitable stragglers coming back from holidays or newcomers who will have missed club communication so it's important to have a window of opportunity for them to join and pay for their membership. This shouldn't be allowed to drag on indefinitely though as the club will need to submit details to NGB for registration, competition management, insurance policies etc.
8. Send payment confirmation/receipts
Members will want a record of their payment – so an email receipt detailing their membership payment is the least they will need. With Clubforce, members will receive payment confirmations by default and can also check their membership status, NGB number and payment history at any stage (with any club they are involved with) through the Clubforce member account.
Summary
If you are managing the renewals process without a sports participation management system like Clubforce, you will need a very robust process for communicating with prospective members, chasing payment and reconciling records. If you are interested in taking the hard work out of renewing member registrations, contact Clubforce today by filling in the form below.