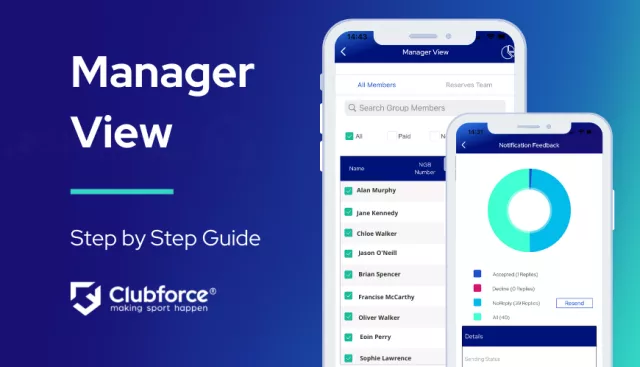 The Manager View functionality in the Clubforce app will shave at least 20 hours of volunteering time! Get your club coaches using the Clubforce app by downloading and sharing this simple 5-step Manager View overview with them.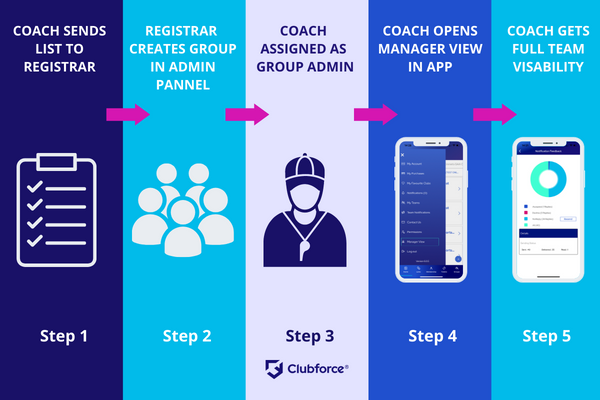 Here is a quick overview of how easy it is to use Manager View:
1. Coach Sends List to Registrar
The team coach gives a list of players to the club registrar. If age grades are not split between different coaches, the registrar will be able to create the group without a list from the coach as the players will already be paying their member registration fees on Clubforce.
2. Registrar Creates Messaging Group in Clubforce Admin Panel
The Club Registrar logs into the Clubforce admin panel and navigates to Communications > Groups > Add New Groups to create the new group.
3. Assign Group Members
For the newly created group, the registrar can now assign group members using the Assign Members tab.
4. Coach Assigned As Group Administrator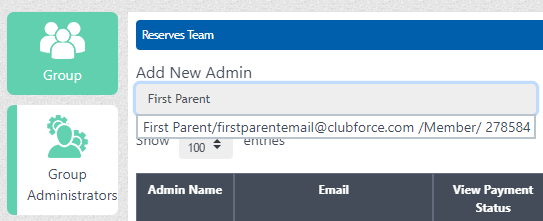 The registrar adds the coach as a group administrator by simply selecting the relevant group from the blue dropdown menu and adding the email address of the coach. If they are already a club member, their email address is recognised and they can be added instantly, if not, they are first verified via two-factor authentication and then confirmed as group administrators.
5. Coach Opens New Manager View tab in Clubforce App
Once the coach has been assigned as a group manager, the Manager View tab will appear in the Clubforce app menu. From here the coach can check player payment status, send messages to members and view responses.
What Next?
Once the lists are created, the registrar's work is mostly done – unless a latecomer registers. The Clubforce system will update in real-time every time a member pays, so no more to-ing and fro-ing between coaches and club administrators.
When the coach has access to Manager View, they can easily see (on the app or desktop) who has paid or not; message members about training, matches etc., and see updates on member responses. The club committee can also assign new members to a group, approve group members and send messages to group members from the club administration panel.
No more spreadsheets, no more printed lists, no more scribbling on pieces of paper in the rain!
For more information on how Clubforce can help your volunteers manage club members, fill in the request a demo form below and a member of our team will be in touch with you.