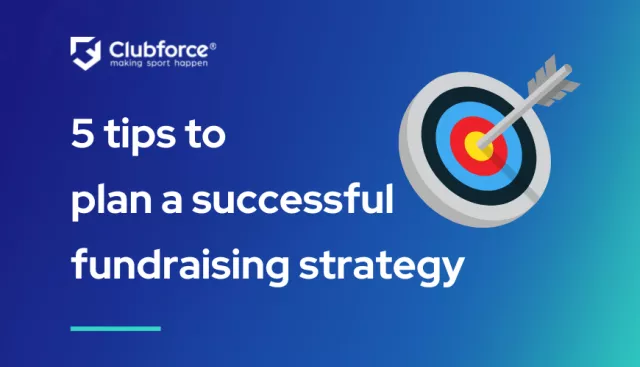 Treating fundraising at your sports club as a business can help you drive a successful fundraising strategy. When you start to view your club through this lens, you'll be able to spot maximise revenue opportunities and keep costs under control. Fundraising should form a central part of your club's ongoing business plan.
Try to keep in mind these top five tips when building your club fundraising strategy:
1. Set a clear vision
The vision for the club is generally set out by the Chairperson and club committee. Visualise where you want your club to get to and then start working backward. This one clear goal will trickle down into every aspect of your club – especially fundraising. Setting targets will become easier and will drive motivation for more effective fundraising events.
2. Make it an inclusive vision for all
It's important you're all pulling in the same direction. Your club's goals need to appeal to the majority of people involved in the club, perhaps even to people outside the club in the community who can play a part in delivering the vision.
3. Get feedback and refine the vision
The club should speak to members, parents, players, coaches, other volunteers, and community stakeholders to let them have their say and gauge their appetite for the club's ambitions. The more people from the community that become involved and feel the vision belongs to them, the greater the likelihood of success.
4. Share the vision
As with any ambitious new project, once agreed upon, the vision should be shared throughout the club and externally with local businesses, community groups, and media to drive interest. This will help with early engagement and build momentum from the start. Selling the story of where the club wants to be as a result of raising funds will attract wider interest and support.
5. Turn the vision into action
Turning any idea into a reality requires planned action and consistency. To start your journey, you need to communicate your goals, targets, and timelines. Set key milestones that you can track and follow and agree to regular meetings to keep your fundraising team on track.
Choosing the right partnerships and suppliers is a key factor in delivering your strategic vision. Make sure your goals and values align with those who you're working with to get the most out of your investments.
Clubforce offers an all-in-one platform designed to streamline your club processes and maximise your revenue efforts. Alongside the Clubforce solution, your club is designated an account manager to help your club meet its strategic goals. Share your vision with Clubforce and see how we can help turn your vision into a reality.