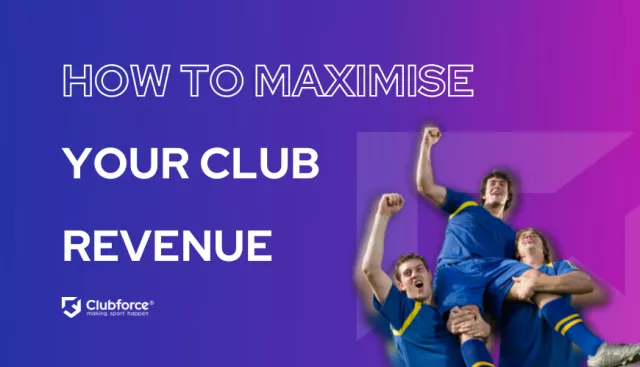 Effective fundraising is an invaluable skill that can really make or break your sports team. Strong, regular fundraising can make sure your club's finances remain healthy and take the pressure off your Club Treasurer! In this article, we'll take you through everything you need to know to set up, manage and make the most out of your fundraising.
How to build your fundraising strategy for success?
How to build your dream fundraising team?
What you need to be aware of from a legal perspective when fundraising online.
How to maximise your fundraising efforts with the tools you have.
Why fundraise for your club?
Whatever your sport, you'll be well aware that nothing comes for free: kit, equipment, maintaining pitches, coaches, transport to games, recruitment – the list goes on. Even if these costs are covered, your club may have aspirations to develop your facilities or support outreach projects to make your club more accessible to all members of your community.
For any club to succeed and grow, it has to have cash flow behind it. Whether it's to pay for the basics or to provide opportunities to develop the club, there are always opportunities for sports clubs to maximise their fundraising potential. Having a consistent strategy for fundraising means that your club's finances will stay healthy even when times are tough.
As well as the financial benefits to your club, when well executed, fundraising activities can be a great team builder, galvanising and bringing your whole club together.
How to build your fundraising strategy for success?
In many clubs, fundraising is managed by individual teams on an ad hoc basis. The team's coaches and groups of parents will kick off a fundraiser and put in maximum effort over a short period of time to reach a particular objective for their team. While this process can be effective, its fragmented nature of it means that different fundraising teams within the club can often end up in direct competition for the same funds.
A better approach is to treat fundraising at your club as a business and consider a 'whole club' approach to fundraising. When you start to view your club through a strategic lens, you'll be better able to spot maximise revenue opportunities and keep costs under control. Your fundraising should form part of your ongoing business plan for the club.
Try to keep in mind these top 5 tips when building your club fundraising strategy:
1.Set a clear vision:
Visualise where you want your club to get to and start working backward. This one clear goal will trickle down into every aspect of your club – especially fundraising.
Top tip: think like a mountaineer! When setting a vision, it can be tempting to start where you are now and try to build from there, in steps, to where you want to get to. Flipping this on its head and starting with where you want to be, may feel ambitious but often helps make a goal feel more achievable. Think like a mountaineer setting out to climb Everest – they have a very clear objective – reach the top of Everest and map back from there. What is your club's 'Everest goal'? A new clubhouse, a hardship fund or a whole set of new equipment?
2. Make it an inclusive vision for all:
This goal needs to appeal to the majority of people involved in the club and perhaps even to people outside the club in the community who can play a part in delivering the vision and supporting the fundraising.

3. Get feedback and refine the vision:
The more people from the community that become involved and feel the vision belongs to them, the greater the likelihood of success.

4. Share the vision:
With any ambitious new project, once agreed upon, the vision should be shared with local businesses, community groups, and media to drive interest and early engagement and build early momentum.

5. Turn vision into action
The vision, for a whole-club approach to development and fundraising, requires consistent action. The team, target, a clear timeline, and an agreed set of milestones should be decided and communicated to the wider club as early as possible.
How to build your dream fundraising team?
It's important to set up a fundraising team/committee specifically dedicated to raising money for the club. Your dream fundraising team will lead to a better inflow of fundraising revenue and get a more consistent reward from the many hours spent volunteering to raise funds.

When looking for your dream team, keep an eye out for these five characteristics. Not everyone on the team needs to have all these skills but you should look to get a balance of them across the team:
Creativity – someone who is creative can come up with new and fresh ways to engage your members to participate in fundraising activities.
Talkative – someone who isn't afraid to reach out and have a conversation.

Organised – fundraising events will require structure and planning, you need someone who can stay on top of everything.
Tech savvy – someone who can use social platforms and online tools to help maximise your fundraising potential.
Responsible – someone who can be trusted and held responsible for handling and processing transactions.
What's the best fundraiser for your club?
There are so many different types of fundraising avenues you can take. Whether you're creating your yearly strategy or you're simply getting through a mid-year hump, here's a list of creative fundraising ideas for clubs, that can get you started online and offline or even spark a new idea of your own.
9 top fundraising ideas
Online
Online Lottery
Online lottery fundraising is the perfect way to engage all your stakeholders to get more buy-in fundraising. Going online means no physical tickets and fewer limits on when and where tickets can be sold. Lotteries are governed in Britain & Ireland by gaming legislation. Before your club promotes a particular type of gambling-based fundraiser, it's vital that you consider these key questions to ensure your fundraising efforts are compliant.

50/50 draws
Sometimes, financial needs can be urgent. 50/50 raffles allow organizers to move quickly to create a fundraiser without a lot of advanced planning or preparation. In these draws, the money raised is simply split between a prize fund and the club. A 50/50 draw can be run as a one-off or regular draw.

Last man standing
Last man standing competitions are another quick way to raise funds. An online version of the game saves much of the time and effort that would normally go into managing the events and can be set up to handle money and update online in less than five minutes.

500 Clubs
A 500 club is a form of private lottery that's simple to set up and easy to maintain. You don't need any special prizes or equipment, and it doesn't take hours of planning – just some willing participants who are prepared to have a bit of a flutter in the name of a good cause.
There are many more fundraisers that can be run online, here's a link to more examples from Clubforce clubs.
Offline
Camps
Running children's camps during school holidays is a great way of growing membership and participation in your sports club and generating extra revenue in the process. Camps are becoming increasingly popular amongst players, so with an increased level of competition for participants, it's important for sports clubs to be organised. Taking bookings online can help make sure you fill all your spaces!

Events and dinners
Events can be a great way to engage your community, members, and supporters. Who doesn't love an excuse to hang out with their friends, especially if there's a fun time involved? Events can range from simple dinners and awards nights to more creative club events like Lip Sync Battles and ballroom dancing!

Offline lottery
Running a lottery offline is a great way to engage your club members who want to get out of the house and prefer face-to-face events. However, cash-handling at in-person events comes with a potential financial risk or someone might only carry a card and not be able to participate in the draws. It could be worthwhile investing in a contactless terminal to process transactions.

Bake sales
Yum! I know we sure do love a good bake sale with all tasty treats waiting to be bought.
What you need to be aware of from a legal perspective when fundraising online
When you are fundraising online, there are some important considerations from a legal and compliance perspective. Although they may sound offputting, they are relatively simple to understand and make sure you have in place. Choosing a reputable supplier for your online fundraising
GDPR
You probably will have heard about GDPR but ensuring that GDPR compliance is implemented is a different matter. Centralising your member data and club finance in a single GDPR-compliant location reduces this burden and ensures the club is well-positioned to expand its fundraising efforts with confidence.

GDPR compliance when it comes to communication platforms are often overlooked. Typical chat apps tend to lack child protection policies and GDPR compliance measures required for sports clubs to follow.

Security standards and insurance
While cyber security certification is not mandatory for club fundraising platforms, any platform that can demonstrate certification should give club officials the confidence that their data and funds are secure. ISO27001 is the recognised international standard for information security.

Another indicator of whether or not the platform you are using for online fundraising is secure is the level of cyber insurance coverage that the platform providers hold. Without this, your funds and the data of your supporters are at greater risk.

Secure online payments
When accepting credit and debit card payments online, you should use a provider that offers secure online transactions. Make sure that you are working with a credible payment provider. Some clubs process their transactions through a sports management vendor, it's your club's responsibility to choose a credible and secure platform to process online transactions.

Fundraising/gambling regulations
Any fundraiser that involves gaming (for example, bingo, lottery, 500 clubs) must consider gambling regulations in the jurisdictions where tickets will be sold. The regulations vary slightly from country to country so you should take appropriate professional advice when setting up for the first time.


Irish Regulations
In Ireland, clubs and associations running a fundraising lottery must hold the relevant permit or license depending on the size of the prize you want to award, regardless of whether the lotto is run online or offline. For a lot of lotteries, a Lottery Permit, obtained from your local Garda is all that will be required. For larger draws, a license issued by the courts is required.

UK Regulations
In the UK, the Gambling Commission has oversight over all forms of gambling. Regulations apply to both the club running the fundraiser and the software platform used to operate the lottery. Any software platform must be authorised and licensed by the Commission (as Clubforce is). Any club wanting to run a fundraising lottery would also need to register their lottery as a Small Society Lottery with their local authority.
How to maximise your fundraising efforts with the tools you have.
Have you ever thought to yourself: "we're putting so much effort into our fundraising but we're not making money fast enough". You've probably exhausted every idea you can think of, but sometimes the idea isn't the problem. Have a deep dive into your fundraising processes and see if you can improve on any of the following.

Good communication
Regular communication with your members is critical to getting your fundraising efforts across the line. Make sure you have multiple communication channels open to get your message out. Some of the best ways to communicate with your members are through digital efforts:

– Website news articles: Publishing news articles on your website is a great way to get information out to your whoel club – you don't have to individually message members for an update.

– Social media: You can then share your news articles or updates on social media and even better it's easy for your supporters to amplify your message too.

– Group chats: They help organise your groups and teams so that only the relevant information gets sent out to the right people and you can avoid sending a stream of white noise to those who don't need to be involved.

– Email newsletters: Add in direct links to your fundraising, membership, or any events you're promoting directly into your emails.

Automation
Automation can seem daunting at first, but its true purpose is to speed up and make club processes a lot easier to manage. Going with an online fundraising option can open the doors to a continuous revenue stream by automatically renewing a member's donation/lottery draw entry.

One-team
It can be difficult to track all your fundraising efforts when you have multiple teams working towards different goals. Building and dedicating one team to organise and manage your fundraising efforts will help streamline ideas, better organise your time and have a more reliable method of tracking and monitoring your fundraising revenue. You may still build separate teams for particular events but they should be coordinated by a central fundraising group.
Build your network – diaspora
Choosing an online method of fundraising opens up countless opportunities to maximise your revenue outside of your local community. Think about the amount of families living abroad or even in the next town who can't drive down to participate in your club's events. Going online allows your supporters to engage with your club from anywhere in the world!
How to promote your club fundraising
One of the best ways to get your supporters and members excited to participate in your fundraisers is to be as creative and excited as you can be in your messaging.
Here are six suggestions to help you generate more fundraising through your lottery:
Be creative and post regularly on social media
Make sure you're posting regularly about your lottery – remind people to play, share the draw and let supporters know the results and winners. There are some great examples of this from Naomh Fionnbarra & St Anne's GFG where each week they create a topical post and graphic reminding people to play.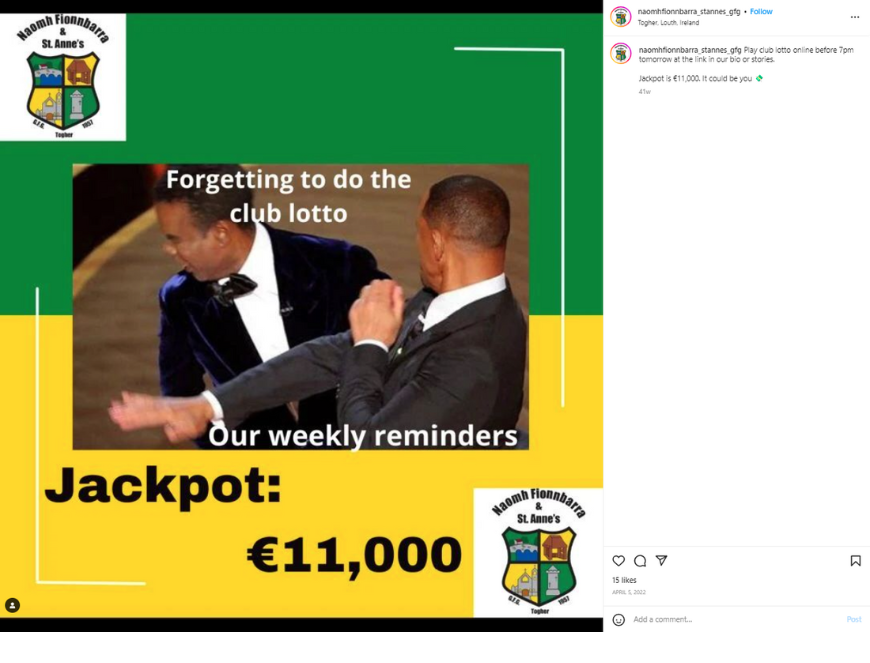 Don't forget to let people know how and where to play
When posting on social media, don't forget to remind people to play and give them a link to play in the next draw!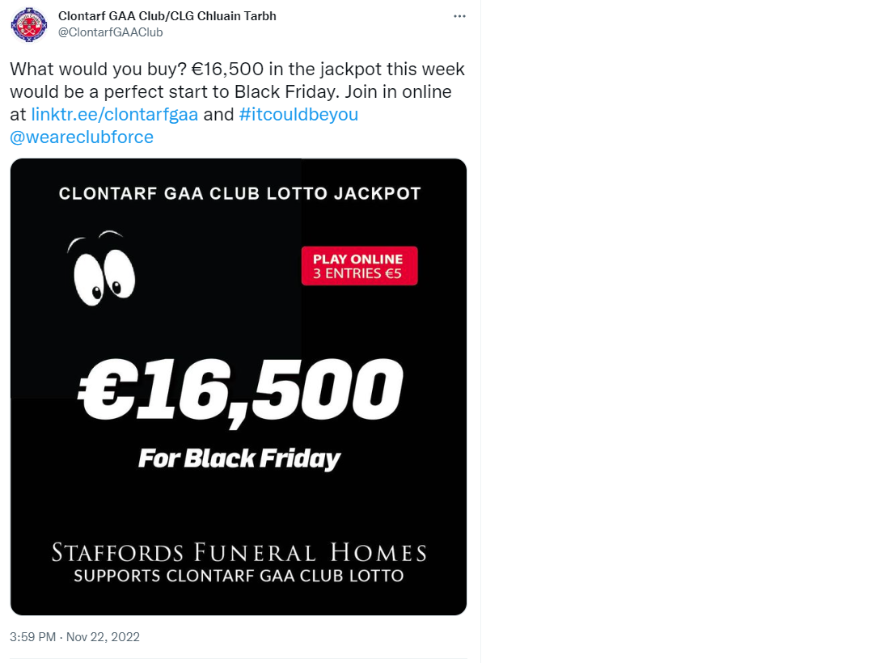 Remind your members and supporters
Don't forget to remind your members why fundraising is so important and ask them to share with their personal networks. Think about messages that demonstrate the direct benefits of the fundraising such as – "the funding raised by the lottery helps make sure we can keep your membership fees lower" or "this fundraising is key to us being able to maintain/upgrade the club's facilities".

Broadcast your draw live
You can broadcast your draw live on so many social platforms: Tiktok, Instagram, Youtube, Facebook! From our experience with clubs, Facebook is their no.1 choice for live broadcasts. Setting up a Facebook Live is really simple and can be done from any mobile phone these days. See how Dunshaughlin & Royal Gaels broadcast their weekly draws and winners through Facebook Live!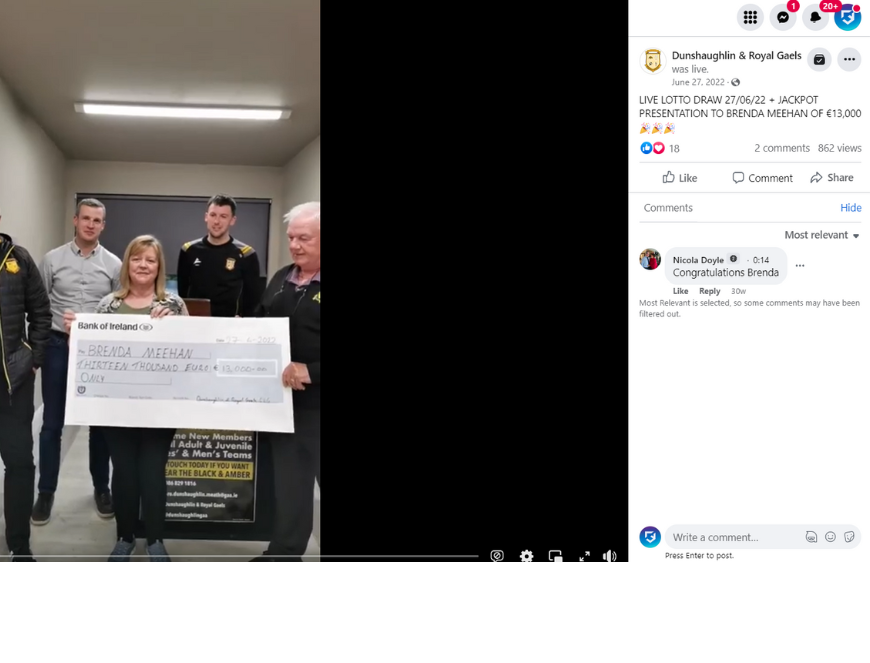 Use QR codes
Add a QR code to the poster to make it easy for someone to open up a link to your lotto and sign up on their own device.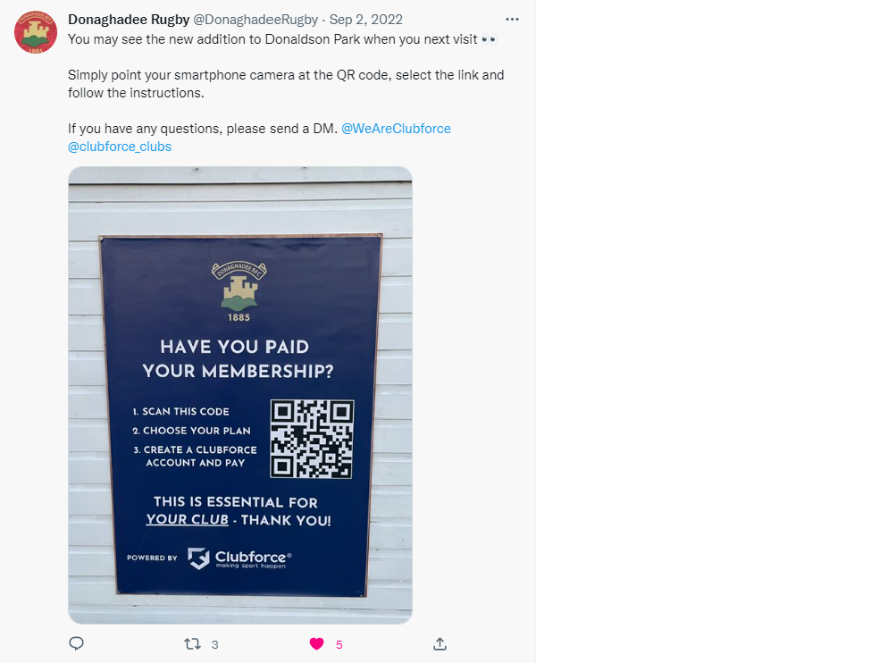 No cash, no problem!
For years clubs have raised extra funds and secured more lottery supporters at in-person events but these days this is made harder by less and less people carrying cash. To help support this, Clubforce has developed a Contactless Terminal to help you collect payments via debit cards in-person. This can be used to garner support from parents at training sessions, in the club bar or at club events