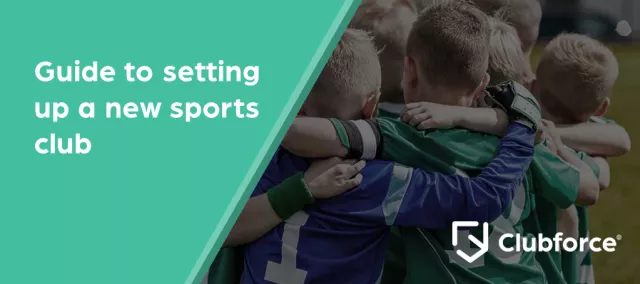 The following guide will give you an overview of things to consider if you are thinking about creating a new sports club in your neighbourhood. Setting up a new club in your neighbourhood whether it's football, rugby, hockey, basketball – or whatever the sport – is a time-consuming effort but can bring many benefits to your local community. Clubs using the Clubforce sports participation management platform span a wide range in terms of maturity of their development from relatively new clubs to well-established community cornerstones with thousands of members.
Preparing to set up a new sports club
Before you get started, there are a many things to weigh up when thinking about setting up a new sports club.
Opportunity
If you are setting up a club for an existing sport, where are the nearest competing clubs – how many are there? How many members do they have? Are they near capacity? Are they well served? Is there a gap in the market?
If you are planning on starting a new sport, does an opportunity exist to do so? If the idea is right – it may grow into something more significant – for example the Australian Rules Football began in the late 19th century as 'a sport to keep cricketers fit' during the winter months and has grown to become the national sport of Australia. That may be an extreme example but it's important to have an realistic opportunity in sight.
Motivation
Why are you starting a club? Maybe you live in a growing population centre with a cohort of young kids at a similar age that need an outlet for physical education and development.
Perhaps there is no existing girl's football team in your neighbourhood or there is a growing interest in another sport like hockey or basketball that is currently unserved in your neighbourhood. Or maybe you played football as a kid and would like to be involved in creating a similar experience for your own kids or kids in your neighbourhood.
People
Whatever your motivation, you will need to be able to communicate it to others in order to get the help of like-minded people or people with motivations that complement your own. Volunteering at your local sports club is challenging and if a small number are carrying the workload, it can become stressful.
Your club will need a committee – a group who make decisions and ensure the orderly running of the club. This is usually made up of a Chairperson, Club Secretary, Treasurer and a PRO and can also include a Registrar (or Membership Secretary) and safeguarding roles like Child Welfare Officers.
Objective
So what do you want to achieve – are you aiming to keep kids occupied during the summer months or would you like your sports club to become the hub of a growing local community? Whatever the objective, it should guide the committee as they form plans for establishing and growing the club.
Affiliation
National Governing Body (NGB) affiliation will be required if your club intends to participate in competitions. The process for registering a new club with various NGBs will differ (and some may have already reached a saturation point) so it's best to consult the NGB head office or regional representatives directly to understand the process before you commit to building your club.
Insurance
Insurance is a requirement for affiliated clubs for most NGBs – either self-funded or as part of an affiliation fee. Operating a club without adequate insurance is a significant risk given the likely costs if something went wrong (e.g. serious injury).
Who are you targeting?
When starting a new club, the key is to start small and grow gradually. A new club most likely won't have the resources to serve many members well initially and given the competition for participants from different clubs, a good experience for participants and members is crucial to ensure a club can grow and survive.
Demand can often drive this – if there are enough kids of a certain age not currently served by a club nearby but you may have to source additional participants of a similar age range.
How will you reach these people?
Initially, notices in shops and schools will attract some interest but this is difficult to sustain over time so you will need at least one outlet to reach people more frequently. A new club website, an email and or SMS/messaging list and a social media presence are the most obvious avenues to consider when looking at communications options for clubs but there are pros and cons to weigh up with each of those.
Websites can be expensive to create and maintain and that cost can be prohibitive for clubs – at least initially. There are cheaper alternatives using a free website builder like Wix or Weebly but these have functional limitations and if the club doesn't have dedicated volunteers, it still might not be well maintained.
Social media gives the club an instant online presence at no cost and can be updated by different committee members. The difficulty with social media is cutting through the noise as members and parents are active on different social media platforms and follow a range of different interests so may not catch the latest news if the club relies solely on Facebook, Twitter, Instagram etc.
With SMS, email and messaging app notifications you know there is a greater likelihood the recipient will see it – but it requires gathering the members contact data first. Collecting data can be very time consuming but in terms of effectiveness, these are the most effective channels of club communication.
What you will need to run a successful club
If you are satisfied that the right opportunity and demand for your new sports club exists and have managed to get the commitment of a number of like-minded volunteers, that's a great starting point – the workload can be shared and progress will be quicker with many hands making light work. Outlined below are the things these volunteers must get to work on.
Recruiting Members
Beyond the initial cohort that have created demand, have a plan in place to seek out new members e.g. family members / friends / schoolmates / colleagues of the founding members are a good starting point.
Facilities
Your members will need somewhere to train and play – initially this might be a public park (if you don't require specialist facilities) or your new club might be able to hire facilities of another club or a local school hall or community centre depending on the sport. For some sports clubs (e.g. rowing), facilities may be far more of a necessity as the club needs a secure location for bulk equipment.
Small clubs dream of having their own facilities but this can only become a reality with proper strategic planning which would include purchasing land, seeking planning permission and funding development of facilities such as clubhouses and pitches. A club may be lucky enough to be donated land but even if they are that fortunate, developing new facilities requires a huge amount of effort and know-how when it comes to seeking club sponsorship and applying for grants.
The availability of facilities may also be a deciding factor for when your team can train / practice.
Equipment
Training equipment will vary from sport to sport but for field sports, there will be a need to invest in balls, training cones, training bibs etc. With facilities, equipment and insurance, the bills will start to mount up – how is your new club going to pay for it all?
Funding
Fundraising is an eternal challenge for sports clubs and volunteers will need to pound the pavement seeking sponsorship and putting tried and tested fundraising ideas to use in order to grow club funds. There are many costs associated with running a sports club, including affiliation fees, insurance, facilities hire, equipment and team kit, so kicking off the fundraising effort early is key.
The club may look into how to set up a club lotto or send sponsorship proposal letters to local businesses to drum up financial support.
Policies and Procedures
A document outlining how the club will be run will be required so that everyone understands how the club operates and their roles as club volunteers. This will cover things like the aims of the club, how and when a club AGM is run, the process for electing club officers to the executive committee, how to become a member, rules of membership, code of ethics etc.
For clubs affiliated to a NGB, this club constitution will most likely be provided as a template when the club joins the NGB like this one from the Football Association (FA) in England, one of the longest running and most successful sporting NGBs.
Systems
Given the financial responsibility on club volunteers and the administrative workload associated with growing a club, a secure club management system has to be a key consideration. Initially this might be a simple spreadsheet to manage membership and payments but as a club grows, so does the responsibility associated with managing member data and funds in a secure way. A complete club management system like Clubforce is a must for clubs growing beyond 100 members.
Club Name
The name is an important part of the identity of a club. Many GAA clubs bear the name of Irish patriots and Christian saints while football clubs might simply take the name of their town or append United, Celtic, Rangers or Athletic to the name while basketball clubs often follow the NBA teams by using an animal or other noun in their name e.g. Chicago Bulls. You want a name that is memorable and in some way relevant to the origins of the team.
Club Crest & Colours
The club crest is another identifier and the colours can take on their own significance e.g. the All Blacks rugby team, Liverpool Football Club's all-red strip, Celtic FC's hoops. The club crest may require the help of a graphic designer and a club member or volunteer (e.g. design student) might do it for the club for free but a high resolution graphic (.jpeg or .png format) is required for easily sharing the crest to be added to kit, social media, flyers etc.
Team Kit
Once you have confirmed the club name, crest design and colours, it's on to creating the club's kit. This might just include jerseys, shorts and socks for a football or rugby team initially but as a club grows and gets better resources it can extend to branded tracksuits, training bags etc. This may be something that a local sponsor can help with in return for having their logo on team jerseys and other kit.
Many sports team kit suppliers will be able to supply templated designs for a range of different styles and designs so the club can avoid incurring an additional design cost. The options for football team kits are broad with different price ranges available from a wide number of suppliers – be sure to shop around to get the best value for your club.
First Aid
Training in first aid, a basic first aid kit and access to emergency medical support are important considerations for sports clubs. Documenting health status of members may also be important e.g. allergies, – so a secure place for managing club documents is also worth having.
Bank Account
A secure place for club funds will be required – the days of managing a club on cash and paper are long gone and members expect their funds to be kept securely.
Bookkeeping software
Keeping an accurate record of financial transactions (sponsorship, fundraising, membership payments) is important to ensure traceability and instill trust in club members and the wider community. It's important to have a simple software package or a tool like Clubforce that allows club officials to manage all payments and refunds, issue invoices and report on financial performance.
Summary
Every team in every neighbourhood around the world has their own story of how they started and grew. Those that have been successful in becoming a focal point in their community or a consistent trophy-winning team have done so thanks to the hard work of club volunteers behind the scenes.
It's a lot of work but if done well, creating a new football team can be very rewarding and a well-run sports club can play an instrumental role in the health and well-being of the community it serves.